Lilly Mossiano is a transgender mother living in Burlington, North Carolina, whose series of children's books aims to help kids with transgender parents understand the process of transitioning and wrap their heads around the concept of gender identity.
Titled The My New Series, the franchise currently includes two books, My New Mommy and My New Daddy. She is currently in the process of penning a third, which will serve as a resource for children who have a sibling that identifies as transgender.
The Huffington Post chatted with Mossiano last week and discussed her inspiration behind The My New Series, as well as her experiences living and working as a transgender parent in a small southern town.
The Huffington Post: Why did you decide to write The My New Series and what purpose do you hope the books serve?
Lilly Mossiano: Well, I am a parent and being a transgender parent I started looking for resources that would help a child understand a parent that is going through transition. I found a serious lack of resources -- there wasn't really much information for little children. Having a four-year-old child at the time, I had to come up with a way to try to explain it to my daughter. So, I came up with the first book, My New Mommy, as a way to explain it to her. She wrapped her head around it very easily with the book and fell in love with it so I decided that, seeing as how there was a lack of resources, what I wanted to do was get a resource out there. So I turned and got My New Mommy published, which gave birth to people asking me questions like, "Are you going to do any other books continuing on with other transgender aspects?" and parenting and what happens with two parents [when one transitions] -– because I wrote it as a single parent for my daughter.
From there, My New Daddy came about because my best friend is a trans man and I wanted to have a resource for his son. That's how the series started -- I've got plans for more versions of the books. One is going to deal with a brother that's transitioning, [one with a] sister that's transitioning -- children -- as well as what happens if two parents are separating because of it. I want it to be a foundation in the trans community for the children because there are so many resources for the adults but not enough for our kids. And the reality is that a lot of us have children.
When you initially wrote the book and your daughter read it for the first time, how did that help move forward the conversation surrounding trans identity for the two of you?
Well, I wrote it from her perspective. I put it in a way that a four-year-old could wrap their mind around it easily, and she wrapped her head around it and looked at me and said: "So you are my daddy?" And I said, "Yes, I will always be your parent." And her response was, "But now you're my mommy?" And I was like, "Yes dear, I am." She then said, "So, God made a mistake and you were born in the wrong body? I get it." And that was how it came about. A former associate of mine also gave my book to her autistic child -- she wrote a blog post about it -- and he was able to wrap his mind around it with no problem. He looked right at it and was like "Wow, I understand now," because he had met me but he couldn't understand that I was born one way and I was changing to become who I was inside. And then he was really confused but after reading the book he all of the sudden was able to understand it because of the way I tailored it.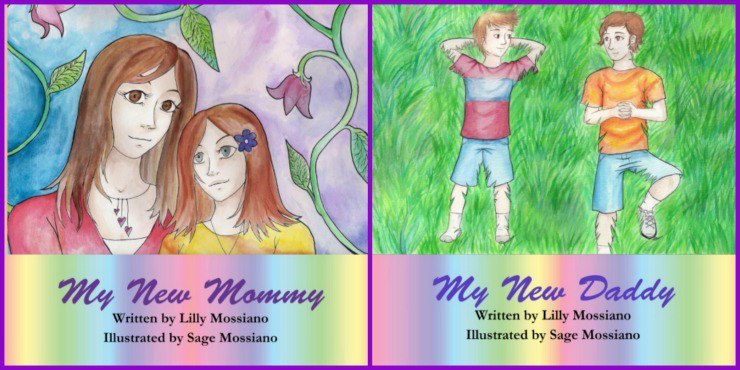 Do you think that trans people have a responsibility to children understand what it means to be transgender?
I think everybody has a responsibility to educate the next generation. If you go back through history with racism, the only way we can really exterminate racism is educating the next generation so that we can stop it. And when it comes to transphobia and homophobia, the only way that I think we as a community can stop it is if we take it upon ourselves, instead of fighting with the radicals or the extremists -- don't fight with them. We set an example and we educate. That way the children understand as they're growing up that there's nothing really wrong with these people. These people are not any different than they are. They have different views and they do different things but they are still human beings. So, that's the only way that acceptance can actually come about -- through education.
You switched publishers recently in order for the price of your book to become more affordable. What has the response been like since your book became more easily accessible?
After I changed publishers the book actually started gaining speed, more speed than before. On places like Tumblr my book went viral, people were posting it everywhere including an actor, Mischa Collins, from the "Supernatural" series. He reposted it -- put it out there. Since switching publishers more people have been able to buy the book because the original publisher wanted to charge $25 for a small children's book. I was wrapped into a scam job of a publishing company that I later found out about. So, once I got the release from the contract I did a self-publishing by starting up my own publishing company called Spun Silver Productions. We're trying to slowly build this up at the same time as building my book up to get it off the ground so people like me can get their books out there without running into these bad companies.
You live in Burlington, North Carolina. What is it like to be a transgender mother in the South raising a child?
Scary. I don't have custody of my daughter because of being transgender. The state stepped in when her mother's [current] boyfriend abused my daughter and they put my daughter in foster care. The reason why they did that [instead of giving me custody] is because they didn't view -- and I'm still in the process of dealing with that -- they didn't view me as a good enough parent because of my being transgender. They thought it would be too confusing. Being a transgender parent in the South, you face adversity but it's not like any adversity anyone faces up North. There's still going to be the bigots, there's still going to be the haters and you just have to set an example. I, for one, am not religious but I will quote a line from the Bible as the best thing, in my opinion, for it and that is to "turn the other cheek." I don't believe that watching violence and responding with violence will actually change anything. But I am fearful when I go out sometimes because I have been attacked. I went out to eat at a Red Robin and I had a local reach over, call me a freak and grab my press-on nails that I had because that was the only thing he could get his hands on and he yanked those off. Then while at the restaurant, I felt again another form of fear from the fact that they decided to parade all their servers around me and withheld my check so that they could, as they put it, "go look at the freak sitting in the booth." It's an establishment that I don't go to anymore down here but it was a very frightening thing. I was about in tears and when I got out I was crying because at that point all I wanted to do was pay my check and leave. I was on a date at that time and the person I was on a date with wanted to get angry and I was trying to stop a scene from happening because I just wanted to pay the check and go.
But on the other hand there are good things that have come from down here. There are good people who do seek to change the status quo and I've met a good support group.
You mentioned that the court claimed you couldn't have custody of your daughter because your transgender identity would be confusing to her. Do you intend this series to in some way impact the custody battle itself?
I'm not going to use the series to impact the custody battle directly. But I do want it to be there in case another parent is facing down what I'm facing -- this would be a preemptive strike for that parent to be able to go, "Well, I have a resource here that would actually teach my children so that they can understand what's going on and it's not confusing." At this point all I'm really trying to do is set the stage for if anyone else ends up following -- which I'm sure will happen -- ends up following the road I unfortunately ended up going down. I want them to have the resources handy, and that were not available for me.
Besides your frustrations as a parent regarding a lack of resources for children, are there any other influences or driving factors behind your decision to make the series?
My family. My mother, my father, my brother and my best friend all told me as I was explaining it to them, they all gave me support and have the faith in me to continue onward. They think what I'm doing is a tremendously wonderful thing and their desire to see me succeed and their desire to see me help educate others -- when things get bleak for me it is a strength I can draw upon that helps me continue onward. If it weren't for their help I probably wouldn't have gotten any of [the books] published.
Mossiano is currently working on the series' third installment, focusing on children who have a brother that identifies as transgender. She expects the book to be published by February 2014.
For more information on Lilly Mossiano and The My New Series, visit the author's website or Facebook page. The series itself is available for purchase in print or e-book format through Amazon, Barnes & Noble, and Smashwords.
Also on HuffPost:
Loading Slideshow
1. Defining Transgenderism

The root of the word "transgender" comes from the Latin word "trans," meaning "across." A trans-Atlantic flight goes across the Atlantic Ocean; a transnational issue affects people all across the country; and so on. "Transgender" literally means "across gender." "Transgender" is defined today as an umbrella term with many different identities existing under it. <em>Image via ccharmon on <a href="http://www.flickr.com/photos/9439733@N02/4922468556/" target="_hplink">Flickr.com</a></em>

2. A Few Words Of Advice

When trans people reveal their trans identity to someone, it is a highly personal moment. It takes trust and courage to talk about gender identity or gender transition. The best-case scenario is probably to: 1) ask what questions, if any, are appropriate; and 2) give the trans person an out if he or she feels like you are overstepping your bounds (even though your questions may be born of an innocent curiosity). This makes it easier for a trans person to maintain privacy and integrity.

3. The Gender Binary

The gender binary exists for easy categorization and labeling purposes. For most people, it is something that is taken for granted. Females who identify as women use the women's restroom. Males who identify as men dress in suits and ties or tuxedos for formal events. It is the way it is, and that fits well for many people. But for trans people living in a culture where the gender binary rules all, it is a daily battle. <em>Image via kimberlykv on <a href="http://www.flickr.com/photos/kimberlykv/2681705695/sizes/z/in/photostream/" target="_hplink">Flickr.com</a></em>

4. Gender Expression

Out of the three terms -- "sex," "gender identity," and "gender expression" -- which do you think we notice most about people on a daily basis? If it were a person's sex, then we would have to see under that person's clothes or test his or her chromosomes (and even then we could get a conflicting report). If it were a person's gender identity, we would have to either ask that person how he or she identifies or somehow get inside the brain and find the answer for ourselves. By process of elimination, you guessed it: it's gender expression. <em>Image via MuLaN™ on <a href="http://www.flickr.com/photos/mulan5/1586972480/sizes/z/in/photostream/" target="_hplink">Flickr.com</a></em>

5. Orientation And Gender

If we look at society as a diverse group of individuals where heterosexuality might be the most common sexual orientation but not necessarily normal, then we can more easily see that human sexual orientation varies: some people happen to be straight, some gay, some bisexual, and so on. This does not necessarily have anything to do with a person's gender identity or expression.

6. Coming Out To Oneself

Realization that one is trans can take anywhere from a few moments to several decades. Usually, trans people have an inkling early on in their lives that their assigned gender feels out of sync with their bodies. The self-realization process is extremely complicated. The human mind does its best to help us survive, which can translate into triggering intense denial. Because of societal constraints, it is common for a person to try to ignore signs pointing toward transgenderism, whether consciously or unconsciously.

7. Surgeries

Health insurance covers transgender surgeries in very few cases. Some people have fewer surgeries than they would like because of the high prices. Still other trans people elect not to have surgery at all because they simply do not want to. For a long time, and still in many places today, people refer to some transgender surgery as "sex-change" surgery. Later on came the less-harsh sounding "sex-reassignment surgery." Today, more and more people are realizing that surgery for trans people is not a gender "reassignment" but rather an affirmation of the gender that a person has always been. Gender-affirming surgery seems to be the most accurate reflection of this.

8. Hormonal Transition

For trans women, taking hormones is a two-step process. To help feminize a genetic male, it is very important to suppress production of testosterone. The other step that transgender women frequently take is the administration of estrogen, which is the chief hormone at work in biological females. Unlike their male-to-female counterparts, trans men do not have to take any estrogen-suppressing substances as part of their hormone treatments. Testosterone (called simply "T" in the female-to-male community) is a powerful hormone. The raising of testosterone levels in a trans man overpowers existing estrogen levels.

9. Transgender Children

There can't really be transgender children, can there? Kids can't know for sure how they feel when they're really young, right? Wrong. Gender identity is thought to be solidified by age 6. This does not mean that children absolutely, positively know how they identify by that age. It simply means that their gender identity is there. If it doesn't match up with the sex they were assigned at birth, then that will start to manifest itself in different ways. <em>Image via libertygrace0 on <a href="http://www.flickr.com/photos/35168673@N03/3595145967/sizes/z/in/photostream/" target="_hplink">Flickr.com</a></em>

10. Sex, Gender And Nature

Many plants and animals can be both male and female, biologically speaking, at the same time or at different points in their lives. In a comparison of 34 postmortem human brains, scientists found that the part of the brain comprising a small group of nerve cells thought to pertain to gender and sexuality were similar in trans women and non-trans women. Although the study only had one trans man's brain, it found that group of nerve cells to be similar to that of a non-trans man. Perhaps Dr. Milton Diamond put it best when he said, "Biology loves variation. Biology loves differences. Society hates it."

11. Transgenderism As A Mental Health Issue

Gender identity disorder (GID) appears in the Diagnostic and Statistical Manual of Mental Disorders (DSM-IV), which is the American Psychiatric Association's official diagnostic book. GID, soon to be changed to gender dysphoria in the DSM 5, is classified as a mental health condition in which a person desires to be the "opposite" sex of that assigned to him or her at birth. Due to its criteria, many trans people fall under this diagnosis. It is still classified as a mental disorder by virtue of its existence in the DSM.

12. The Bathroom Debacle

Imagine resigning yourself to not ever using the bathroom in a public place. For trans people, this is often a reality. Those who are in transition or do not pass on the outside as "clearly male" or "clearly female" are thrown out of both men's and women's restrooms on a daily basis. Some places provide "unisex" or "family" restrooms, but the majority do not. If a transperson wants to go out and enjoy a concert, sporting event, or simply a day outside the home, he or she must make concessions that most people never have to think about.

13. Lesser-Known Types Of Transgenderism: Genderqueerism

People often find the notion of genderqueerism difficult to understand. They may hear that a genderqueer person is in between male and female, or is neither, but they may continue to ask, "OK, so what sex or gender does that make them, really?" This is where it is perhaps most difficult to live as a genderqueer person. The constant explanations that sometimes get nowhere can be frustrating and disheartening for genderqueer people.

14. Transgender By The Numbers

Unfortunately there is no major consensus on the number of transgender people in the United States or the world today. Hard-and-fast statistics are lacking for a couple of reasons. One is that many trans people are not out and are either living as trans behind closed doors or living stealthily, meaning that people do not know that they were born differently than they appear now. Another reason for the lack of statistics is that so many different varieties of transgenderism fall under the umbrella term that it is hard to discern which subcategories should actually be statistically counted as transgender and which should not.

15. Parting Words

In America we have seen that teenage suicide because of bullying has reached epidemic proportions. Many of these kids are LGBT, and most of them are taunted due to some component of their gender expression. I hope that you will talk to others about what you have learned about transgenderism. No one should have to suffer because of who he or she is, but we know that reality tells us differently. People have been bullied and persecuted for who they are since the dawn of time. But we are not defenseless. The more education that is out there about what is means to be different, the better.