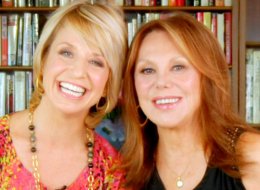 Everyday Health Leader Dr. Laura Berman joined me this week on Mondays With Marlo to tackle all of your complex questions on love, sex and relationships. Dr. Berman covered everything from cheating through social media to tricks for great sex to sexuality after a cancer diagnosis. Watch the full interview -- you're bound to learn something from this seasoned expert!
See Dr. Berman's Love and Sex Tips for more:
Dr. Laura Berman's Love And Sex Tips
If you're looking to spice up your sex life, create a "fantasy box" with your partner. Sit down with your mate and write down all of the fantasies you'd like to act out with each other. Decide which ones you're comfortable with, and throw them into a box. Once a month, pull one out and give it a try!

When you're feeling self-conscious about your partner seeing you naked, take a look at your body through his eyes. Stand naked in front of a mirror and focus on the whole silhouette of your body. Your mate is not seeing the problem areas that your eyes are automatically drawn to. And always remember, there's nothing more sexy than confidence!

Take it slow when you begin to experiment with sex toys. Start with something non-threatening, simple and external. Sites like Drugstore.com and Amazon.com have "Sexual Health" pages, so you can browse in the privacy of your home. Massagers and external vibrators are perfect to start with.

If you're no longer attracted to your partner because he or she has put on a lot of weight, approach the topic with caution. In a loving way, explain that you're concerned about their health. Offer to exercise or go on a diet together. Tell your mate that when they're fit, it really turns you on. If this doesn't work, you may need to visit a relationship therapist.

Make a proclamation to get out of your sex rut and stick to it! Take it slowly – start with first base and go a little further each night. Work your way back into it by being playful. This will eliminate any awkwardness that you or your partner may feel.

Experiencing post-menopausal discomfort during sex? Estrogen plays a big part in the flexibility, lubrication and blood flow to the vaginal area. Even if you don't want to take hormonal contraceptives, you may want to talk to your doctor about taking locally delivered estrogen that you can apply as a cream or a suppository. The medical community has determined that it is minimally absorbed into your system, and even survivors of estrogen-sensitive cancers are using it.

Mothers who have delivered children vaginally will often have difficulty achieving orgasm. It's like pushing a bowling ball through your pelvic floor! If things are loose there, you won't get the friction you need to have an orgasm during intercourse. Go to your gynecologist and ask for a referral to a gynecological physical therapist. These professionals will tell you about the steps you can take to strengthen your pelvic floor.

Did you know that only 30% of women have orgasms during intercourse? In order to achieve this, aim for clitoral stimulation during sex by positioning yourself the right way or using a sex toy. You can also strengthen your kegel muscles, so you can squeeze them during sex and create more friction.

Moods swings, problems with sleep and dryness are common symptoms of perimenopause. As you move into menopause, you'll have hot flashes, moodiness, dryness and low libido. The symptoms occur on a continuum that may begin in your late 30s. However, you're not officially in menopause until you've had a year with no periods. Don't worry, these symptoms won't last forever and there are many ways to suppress the unpleasant side effects of menopause.

If your spouse's social media habits are making you uncomfortable, speak up! Let your partner know that it's not appropriate to say or do things online that they wouldn't be comfortable doing in front of you. They may not be physically cheating, but these acts can be just as hurtful. You don't need to check up on each other, but be open about passwords and other online activity.

Tantra is an Eastern philosophy towards sex – the principle is that sex is an intimate, spiritual connection between two people. There are exercises like soul gazing and breath sharing that will meet the needs of women who want intimacy and excite men who are looking for something new in the bedroom.

If you're looking to have a child in the future, one great option for birth control is the IUD, now known as the IUC (intra-uterine contraceptive). There is a plastic version that lasts for five years, and a copper version that lasts for ten. You can take either one out at any time if you want to get pregnant.
Add Marlo On Facebook:
Follow Marlo on Twitter:

Weekly Newsletter

Sign up to receive my email newsletter each week - It will keep you up-to-date on upcoming articles, Mondays with Marlo guests, videos, and more!

Sign up here