Sheldon Adelson Wants To Help Obama With This Whole Syria Vote Thing, Apparently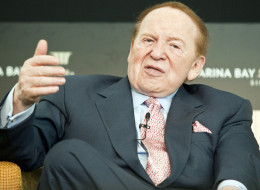 As our national debate over how little we can get away with doing in response to the Assad regime's use of chemical weapons while still being able to credibly say that we've done something rages, we have apparently entered the "another county heard from" stage of the discussion.
I say this because, for some reason, billionaire casino mogul and quixotic campaign donor Sheldon Adelson has shown up on the scene, and he says he's ready "to roll up his sleeves and help Obama" with this whole Syria thing.
In an interview with the National Journal, Adelson said, "I would be willing to help out the administration because I believe it's the right thing to do. He is our only -– we don't have any other commander in chief." Presumably, he looked around for another one, at the sports book or something, but came up short.
Per the National Journal's Shane Goldmacher:
The comments are Adelson's first public remarks on the Syria situation, although the Republican Jewish Coalition, an advocacy group that he chairs, did support a Syria strike last week. His offer of a helping hand comes as Russia floated a diplomatic solution in which Damascus would cede its chemical weapons to avoid a strike, something Obama called a potential "breakthrough" on Monday.

For Adelson, Israel has long been a defining issue (he owns the nation's biggest-circulation paper). He said he worries about missiles, and chemical and biological weapons falling into the hands of Hezbollah. And he sees the potential that America might back down after Obama drew a "red line" against use of chemical weapons in Syria as poor precedent – in the Middle East and beyond. "I wouldn't want to see North Korea come down and trample on South Korea because they think they can do it with impunity. And the same thing with Iran and Israel, and Iran and Europe," he said.
Adelson has, essentially, bought the whole "existential threat" package of the Syrian intervention soft-sell -- wherein if Congress fails to authorize the use of force for a small bombing campaign in Syria, the inevitable outcome is deadly weapons making their way to Hezbollah, as well as North Korea, and an emboldened Iran. The rough estimate of the total death toll in Syria tops 110,000, but according to this theory, any decisive action taken on behalf of the approximately 1.3 percent of that number killed with chemical weapons will have an amazing geo-political influence on the leaders of several psychopathic regimes and terrorist groups.
The big newsy thing about Adelson offering to phone up his GOP pals in Congress and rally them around the president is, of course, the fact that Adelson spent a sizable number of ducats to keep Obama from getting elected. So, to political reporters, this is a bright and shiny thing that's happening in the discourse. Old antagonists have become bedfellows! United over the common good! Transcending partisanship!
Sorry, but the real story here is simply that Adelson is a strange guy full of myriad inconsistencies. If you recall his many comments during the 2012 elections, you might remember him saying things like, "I'm in favor of a socialized-like health care," and "I'm pro-Dream Act," and "abortion shouldn't be brought up as a political issue," and "I'm supporting stem-cell research."
And then Adelson went out and spent "nearly $150 million" to support the party that's steadfastly against all of the stuff he wants. So, in an admission that should surprise nobody, Adelson tells the National Journal that despite all of the charity he's bestowed on the GOP, he is nevertheless "not qualified to turn this thing around" because he doesn't "have that kind of clout." He should pause and reflect upon why that is.
I've said this before, but it bears repeating: Sheldon Adelson is a low-information billionaire. But if Obama really wants to annoy GOP members of Congress, he should totally give Adelson a room in the White House and a telephone to call up whoever he wants for as long as he wants to try.
In the meantime, I'm off to find some weird billionaire who wants to get us out of Afghanistan, so wish me luck.
[Would you like to follow me on Twitter? Because why not?]