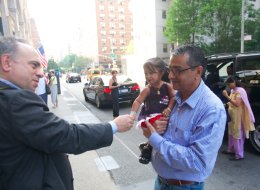 When Ranjana Amge was in the final months of her fifth pregnancy, she feared that she'd never hold that baby in her arms.
The doctor's exams didn't go well. Experts didn't know what to make of her sonograms. Something was wrong.
Now, 20 years later, Amge has reason to be proud. Her youngest daughter is happy, healthy and world famous.
"All the bad feelings are erased, replaced by good ones," Amge tells The Huffington Post. "We are lucky."
At just under 25 inches tall, Jyoti Amge of Nagpur, India, is the world's shortest woman. She's a college-bound student, with dreams of making it as an actress. Still, she weighs just 12 pounds -- only nine pounds more than she did at birth.
Even among dwarfs, Amge is tiny. "Game Of Thrones" star Peter Dinklage is more than twice her height. But Amge remains an optimist.
"It's hard for me to reach things," Amge says. "It's good I have brothers and sisters to help."
On her first trip to New York, Amge visited the Statue of Liberty, before a media tour to launch the Guinness World Records 2014 edition, which would include a profile in the Daily News, a visit to the ladies of "The View" and a press conference at the top of the Empire State Building.
PHOTOS:
World's Smallest People Have Big Dreams
To promote the newest edition of Guinness World Records, Chandra Bahadur Dangi, who at 21.5 inches is the world's shortest man, met the world's Shortest Woman, Jyoti Amge, who measures 24.7 inches.

Jyoti Amge, 18, of Nagpur, India, who is 24.7 inches tall, has just been declared the world's smallest living woman. Amge is a budding fashionista who customizes her own clothes and jewelry. She is also pursuing a career as an actress in Bollywood films.

Bridgette Jordan, 22, of Sandoval, Ill., who is 2 feet 3 inches tall, and her brother Brad, 20, who is 3 feet 2.5 inches tall, are the world's shortest siblings. Bridgette loves dancing and cheerleading while Brad enjoys gymnastics and doing magic tricks.

Stacey Herald of Dry Ridge, Ky., is only 28.5 inches tall, but that hasn't stopped her from giving birth to three kids in the last five years. Or from running a business called "Katari's Corner," named after her oldest daughter, that sells used baby items.

The Philippines' Junrey Balawing, 18, who measures 23.5 inches tall, has limited mobility preventing him from following in his dad's bigger footsteps and becoming a blacksmith. But he is developing into quite the foodie with an appreciation for chocolate and beer -- but only in small quantities.

Douglas Maistre Breger da Silva, 42, and Claudia Pereira Rocha, 39, of Curitiba, Brazil, are the shortest married couple in the world. He measures 35 inches tall and she is an inch taller. Thirteen years of happy marriage is an even more impressive feat for anyone, tall or short.

Vince Brasco poses for a picture at a firefighter training station on Dec. 14, 2011 in Pittsburg, Pennsylvania. Firemen are typically big with lots of braun but dwarf Vince Brasco is showing them it's not the size that counts. Determined Vince, 19, from Pittsburgh, USA, has been a volunteer fireman in his local area for four years and mans the hose at neighborhood blazes with the rest of his crew. Despite being only 4ft 2in, tough Vince, who works part time in an electronics store and is studying to become a nurse, can bench press over three times his own 6-stone 3lb weight, lifting a whopping 265 lbs. at his local gym. His strength - and his determination to never let his height stop him from doing anything - means he is powerful enough to wield the fire hose and go on rescue jobs.

Jyoti Amge, the world's smallest woman being interviewed by Nacho Abad, interpreted by Dinesh Govindani of Academia De Español.

On her 18th birthday, Jyoti Amge who measures 62.8cm from Nagpur, India is named the new world's shortest woman by Guinness World Records, taking the title f...
Amge is the only little person in her family. She was born without the growth hormones necessary to achieve a normal height. Though she has a severe form of dwarfism, she attended public school and helps her parents around the house as she can.
Amge entered the Guinness World Records book several years ago, as the world's shortest teen. As spokeswoman for the new book, she's in town to remind us that the 2014 edition is filled with amazing photos, stories and interactive apps, including one that will allow you to see how you'd look with the world's longest tongue.
This year's book features the largest walking robot, the shortest donkey, the tallest useable pogo stick, and a tightrope-walking dog.
Amge kicks off festivities for the Guinness World Records 2014 launch Thursday with an event at the Empire State Building.
AMAZING GUINNESS WORLD RECORDS 2014 PHOTOS
Guinness World Records 2014
At 25.29 inches, KneeHi is the world's shortest donkey. A registered miniature Mediterranean donkey, KneeHi is owned by Jim and Frankie Lee of Gainesville, Florida.

The smallest roadworthy car measures 25 inchies high, 2 feet, 1.75 inches wide, and was built by Austin Coulson.

The largest drum kit is a 5.2 : 1 scale replica and was created by Drumartic (Austria).

The largest rideable bicycle has a wheel diameter of 10 feet. It was was built by Didi Senft of Germany.

The tallest rideable motorcycle measures 16 feet, 8.78 inches tall from the ground to the top of the handlebars. It was constructed by Fabio Reggiani of Italy. The motorcycle was ridden over a 100-meter course at Montecchio Emilia, Italy.

The farthest distance skateboarding by a goat was 118 feet. It was achieved by Happie of Fort Myers, Florida. The distance was completed in a time of 25 seconds.

British citizen James Brown owns 322 types of vacuum cleaners, the largest collection in the world.

Julie Blecher of Germany ran 100 meters in 14.531 seconds -- in high heels.

Leilani Franco travelled 65 feet, 7.2 inches in in a backbend position in a time of 10.05 seconds.

The fastest crossing of a tightrope by a dog was 18.22 seconds and was achieved by Ozzy, a Border Collie/Kelpie cross, in Norfolk, UK.

The lowest limbo skating was 9.84 inches, and was achieved by Rohan Kokane of India.

The smallest dog living, in terms of height, is a female Chihuahua in Puerto Rico named Milly, who measures 3.8 inches tall.

The largest collection of Star Wars memorabilia is owned by Steve Sansweet, who has amassed an estimated 300,000 unique items at Rancho Obi-Wan in northern California, USA. To date, only 68,592 items have been accurately audited and catalogued –- a figure sufficient enough, however, to beat the previous record by a factor of three.

The largest walking robot measures 51 feet, 6 inches in length; 40 feet, 5 inches; and 26 feet, 10 inches in height. It was made by Zollner Elektronik AG in Zandt, Germany.
"I don't regret being my size. I am happy the way I am," Amge says. "It's allowed me to do amazing things."
In her travels for Guinness, she's met 8-foot-3-inch Sultan Kosen, the world's tallest man, and 21-inch-tall Chandra Bahadur Dangi, the world's smallest man.
"It was amazing to see a person smaller than me. I was excited to see him, the way other people are excited to see me."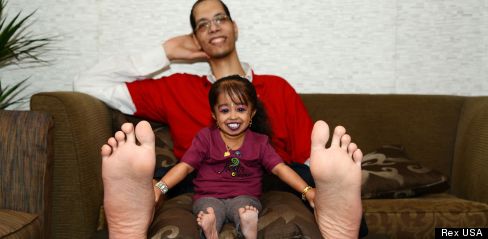 Jyoti Amge and 8-foot-1 Brahim Takiollah teamed up for the Amazing Feet challenge -- one of the largest mass-participation records ever attempted.