"We did it," read the Save The Miami-Dade Public Libraries Facebook page in the early morning hours Wednesday.
Yet the budget shortfall hasn't been solved, just postponed another year.
Commissioners voted to use $7.8 million in library reserves, according to the Associated Press, in lieu of a $20 a year tax hike or increasing the library system's mileage rate.
That means that in 12 short months, the libraries will lack necessary funding again, Mayor Carlos Gimenez warned, and either a tax increase or cuts will be likely.
(Story continues after photo.)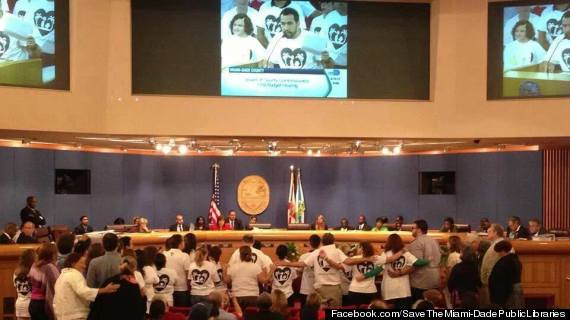 Many donned white Save Our Libraries t-shirts and had the political support of several city mayors, according to the Miami Herald.
In July, Gimenez proposed a tax increase that would have avoided budget cuts at libraries and fire stations, and would have funded a no-kill program at county animal shelters.
Earlier on HuffPost:
Rally To Save Miami Libraries
SUBSCRIBE AND FOLLOW
Get top stories and blog posts emailed to me each day. Newsletters may offer personalized content or advertisements.
Learn more