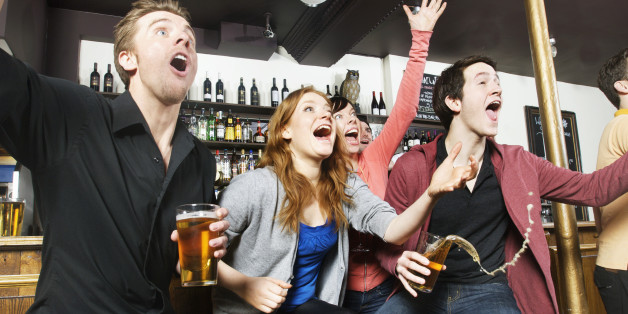 Things can get dicey when the big game goes down during your trip (or, more appropriately, when your trip goes down during the big game).
But never fear, football fans! Many European cities know how to run a nice, old-fashioned sports bar. Here are the #1 spots to catch your team on the screen this NFL season.
LONDON
Sports Bar & Grill
Melcombe Place
Inventive name, eh? This spot shoots for American but just can't shake its adorable British quirks. Enjoy burgers with English muffin-looking buns and hotdogs adorned with "wallys," the U.K.'s answer to relish.
On big game days, the pub doesn't mind keeping its 15 screens lit till 4 a.m. in order to satisfy packs of "rowdy Americans."
PARIS
The Great Canadian
25 Quai Grands Augustins
There are maple leaves and hockey sticks on display at "TGC," but Americans rave about the variety of U.S.-born beers on tap.
The pub's sidewalk patio gives way to a cozy oval bar and five TV screens. Monstrous plates of cheese fries, an English-speaking bartender and Canadian ice hockey during NFL commercial breaks: what more do we need?
AMSTERDAM
Satellite Sports Café
Leidseplein 11
Five words: All. You. Can. Eat. RIBS!!! Reviewers admit the BBQ is not exactly gourmet, but this place has the highest concentration of TV screens in the canals, so you'll be there anyway.
Pregame at a table on the patio before heading upstairs, where stadium-style seating encourages socializing.
DUBLIN
The Woolshed Baa & Grill
Parnell Street
This silly-sounding spot's image gallery is loaded with photos of American fans in game day gear. Yelpers are giddy over "countless TVs" that offer "a view almost anywhere you stand."
Come back on Monday night for cheap comedy shows and karaoke sessions.
PRAGUE
The Dubliner
Tyn 1
This spot's got a beer hall type of feel, with vaulted archways leading up to a hulking projector screen. Thirteen other TVs are sprinkled around the bar, which is usually "buzzing with excitement."
When things get rowdy, escape to the cobblestoned front patio for chicken wings or a steak sandwich.
ROME
Scholars Lounge
Via del Plebiscito 101B
As the name suggests, this is a pub for scholars (read: crazy study-abroad kids). Some boisterous English-language rallying can feel nice, though, when there's a big game to rally around.
Escape that notoriously omni-present Italian fare with a baked potato or platter of nachos in one of two rooms flecked with flat screens. Then watch from the bar and sample what many call the biggest whiskey collection in Italy.
BERLIN
Salamas Bar
Niederbarnimstraße 24
This local bar has a more authentic feel than Belushi's, the rival NFL hotspot that's located in a buzzy hostel.
Salamas boasts a dartboard, HD screens and "nice management" willing to open early or stay up late at fans' request. And apparently Salamas is an actual man who enthusiastically greets regulars and passers-through alike.
STOCKHOLM
O'Learys
111 20 Stockholm
This chain has 23 locations in Stockholm ready to whip up some "pretty bland" mozzarella sticks wherever you might be on game day.
But there's American brunch on Sundays! Plus you're here for the football, and food becomes less important when you can "see a TV from every table."

ALSO ON HUFFPOST:
PHOTO GALLERIES
15 Bars to Visit Before You Die