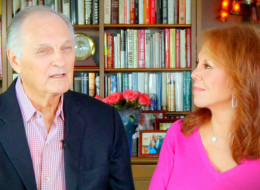 Does Alan Alda still hang out with his buddies from M*A*S*H? When he dropped by Mondays With Marlo this week, he told me that the cast still gets together regularly. Alan said that he and Wayne Rogers are still very close, and that all of the actors care for each other. It's no wonder -- they worked together for 11 years!
Watch Alan's new PBS broadcast, "Brains on Trial" for a fascinating look at neuroscience in the courtroom.
See below for more on Alan's work in science and his legendary career:
Alan appears in a new two-hour special on PBS called "Brains on Trial," where a fictional courtroom drama illustrates how neuroscience may affect the legal system in the future. The second broadcast will air on September 18th at 10 p.m.

Professor Alda addresses a Communicating Science class at Stony Brook University. The topic of the discussion was learning to ditch scientific jargon and communicate scientific ideas in easy-to-understand English.

Alan visits the CERN Control Centre in Switzerland, where operators prepared the commissioning of the Large Hadron Collider, the largest and most powerful particle accelerator in the world.

Alan hosts "Scientific American Frontiers" on PBS, where he performed an autopsy on this "alien" in a series special called "Beyond Science?"

Alan's passion for science inspired the creation of The Center for Communicating Science at Stony Brook University, which aims to assist scientists in communicating effectively with each other and with the public. In 2012, Alan launched "The Flame Challenge," challenging scientists on their ability to communicate intricate scientific ideas to an 11-year-old audience. Here he is with the winner of the challenge, Ben Ames.

Alan Alda grew up in show business and became involved in acting after serving in the U.S. Army. His career took off in 1966 when he starred in the Broadway hit "The Apple Tree." The role earned him a Tony Award nomination for Best Actor in a Musical. Pictured with him are Barbara Harris and Larry Blyden. I saw Alan in this play! He was so wonderful that I wanted him to be my co-star in my first movie, "Jenny."

And here we are! -- Alan and me in "Jenny" in the late '60s. We didn't know each other before the film but we have been great friends ever since. He is so much fun to work with.

In 1968, Alan scored big playing George Plimpton in "Paper Lion," which chronicled a writer's experiment in moonlighting as a professional football player.

In 1972, Alan became world-renowned for his sensational portrayal of Hawkeye Pierce in the TV show "M*A*S*H."

Over the course of 11 years, Alan wrote, acted in and directed segments on "M*A*S*H," earning 21 Emmy nominations for his work and winning five! He is the only person to win Emmys in the comedy series for acting, writing, and directing the same show. He won another for his supporting actor role in "The West Wing" in 2006.

Alan and I worked together again -- on "Free to Be...You and Me," a book and record album that promoted non-sexist, non-racist themes in its stories, poems and songs. He directed the album and we costarred in several stories and songs. It was first released in 1972.

Over the course of his career, Alan has used his fame to shine the spotlight on issues he cares about. Here he speaks about women's rights, teaming up with First Lady Betty Ford to advocate for the passing of the Equal Rights Amendment.

In the late eighties and early nineties, Alan memorably starred in several Woody Allen movies, including "Everyone Says I Love You," "Manhattan Murder Mysteries" and "Crimes and Misdemeanors."

In 1999, Alan made five guest appearances on the popular TV show "ER," playing a new attending doctor who is eventually diagnosed with Alzheimer's disease. The role earned him an Emmy nomination.

Alan starred as the President of the United States in Michael Moore's political satire "Canadian Bacon" in 1995. The movie poked fun at the relationship between Canada and the U.S.

Beginning in 2004, Alan took on the role of presidential candidate Arnold Vinick on "The West Wing," which he played until the show ended in 2006.

Alan co-starred alongside Leonardo DiCaprio in the 2004 drama "The Aviator," playing a conservative senator. The role earned him his first Academy Award nomination.

Alan's first memoir "Never Have Your Dog Stuffed," was a funny and compelling look at the many colorful chapters of his life. It was published in 2005 and became an instant bestseller. I love this book!

Aside from being a good guy, Alan has a big heart. He's an avid supporter of St. Jude Children's Research Hospital, and has participated in an hour-long TV special to support the hospital called "Fighting for Life." He has also attended events that raise money for St Jude. Here we are pictured together at such a gala in Los Angeles in 1996.

Alan received a Tony Award nomination for Best Featured Actor in a Play, starring as Shelly Levene in the Broadway revival of "Glengarry Glen Ross." Here, he is on stage on opening night of the play. Also pictured are Jeffrey Tambor, Jordan Lage and Frederik Weller.

Alan's second memoir "Things I Overheard While Talking to Myself," was inspired by a near-fatal medical emergency that left him pondering the meaning of life. The audiobook version of his story was nominated as a Best Spoken Word Album at the 2008 Grammy Awards.

In 2011, Alan played against his nice-guy image as a shady Wall Street businessman involved in a Ponzi scheme in the comedy "Tower Heist." The movie, which was well received, also starred Ben Stiller, Casey Affleck and Matthew Broderick.

Alan took on a different type of role in the 2012 comedy "Wanderlust," playing the founder of a free love commune. Here he is at work, on the set with Jennifer Aniston.

Alan and his wife Arlene have been married for 55 years - almost unheard of in the entertainment industry. Their devotion sets them apart from the publicized dramas of many famous couples and shows that you can in fact have a happy marriage in show business. They inspire everybody, including me!
Add Marlo On Facebook:
Follow Marlo on Twitter:

Weekly Newsletter

Sign up to receive my email newsletter each week - It will keep you up-to-date on upcoming articles, Mondays with Marlo guests, videos, and more!

Sign up here