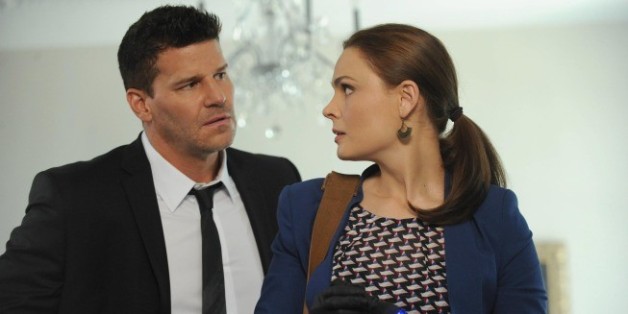 Fox
"Bones" returns for its Season 9 premiere tonight (Mon., Sept. 16 at 8 p.m. ET on Fox), and it's certainly been a long summer for fans of Booth (David Boreanaz), Brennan (Emily Deschanel) and the rest of their crime-solving team.
Whether you're in need of a refresher after May's dramatic finale or a newcomer hoping to jump in for the first time, here's what you need to know about where Season 8 left off and what's ahead this year.
Where We Left Off
Commitment-phobic Brennan finally decided she was ready for marriage and proposed to Booth in the Season 8 finale, which thrilled our heroic FBI agent ... right up until serial-killing hacker Christopher Pelant (Andrew Leeds) called him and told him to break the engagement, unless he wanted the blood of five innocent people on his hands. Even worse, Pelant insisted that Booth couldn't tell Brennan the real reason behind his change of heart -- otherwise Pelant would continue his killing spree -- leaving the formerly happy couple heartbroken in the episode's final moments.
What's Ahead
The Season 9 premiere, titled "The Secrets in the Proposal," picks up a few months after the events of the finale, and although Brennan was understandably devastated after Booth's rejection, producer Stephen Nathan recently promised that "the reality is [Brennan] couldn't imagine living without Booth," and that "Booth knows what it will take to right his relationship with Brennan and to right the injustices that have been rained down on him."
To that end, the producers have promised that there will be a wedding between the star-crossed duo, and it may come a little sooner than you think -- maybe as early as October, even. The nuptials will feature a cavalcade of returning guest stars, including all your favorite squinterns, Brennan's dad (Ryan O'Neal), Booth's mom (Joanna Cassidy) and grandfather (Ralph Waite) and even Cyndi Lauper, reprising her role as medium Avalon Harmonia, according to TV Guide. The newlyweds will honeymoon in Buenos Aires, but inevitably, even going on vacation won't allow them to escape their grisly jobs entirely.
"Bones" Season 9 premieres Mon., Sept. 16 at 8 p.m. ET on Fox.
Are you looking forward to the return of "Bones"? Share your hopes and predictions below!
FOLLOW HUFFPOST