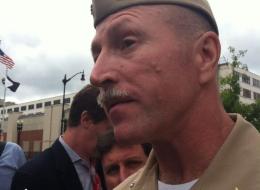 WASHINGTON -- It sounded like someone fired off a cap gun at first -- one, then two, then eventually four shots from within the fourth floor of Building 197 on Monday morning. Nothing too alarming.
But minutes later, after a fire alarm went off and the building had been evacuated for what seemed like a typical fire drill, Navy Cmdr. Tim Jirus was outside in an alleyway running for his life, as the man beside him was shot in the head.
"He dropped in front of me," Jirus told reporters outside the Navy Yard in Southeast D.C. "I took off after that."
Twelve people have been confirmed dead as a result of the Navy Yard shootings. One shooter has been killed, and police are still seeking another individual as a possible suspect; police have determined a third individual who had been sought for questioning was not involved.
Jirus said he didn't know if the shooter on the fourth floor of his building was the same person who later shot the man next to him in the alley. He said he never saw the shooter, though the shots came from above and sounded like they were coming from a handgun.
"I heard the gunshots, and I tried to figure out where they were coming from," he said. "Then I looked down and he was lying in front of me."
Jirus, who spoke calmly and articulately despite having witnessed a horrific scene hours earlier, said he's been in the Navy for 25 years and is used to training for combat operations overseas. He said he's seen dead people before, and it's something that's not shocking to him.
Monday's shootings were different, however.
"Seeing somebody die in front of you, here where you work at, is more of a relationship of you talking to God or you realizing just how fragile life is," he said. "To hear gunshots and realize you were that close to being shot, it makes me like life a lot today. I'm going to hug my kids the next time I see them and have a good day."
Asked about the security of the Navy Yard, Jirus said it's always been tight. People need an ID to get onto the base, and then another ID to get into buildings like his. He said he didn't understand how someone could have gotten into his building with so many weapons. Reports suggest the building shooter had at least one handgun and one long gun, either an assault weapon or a shotgun.
"If you had asked me about [the base's security] at 8 a.m. this morning, I would have said it was very secure," Jirus said. "At 8:30 a.m., when I'm running for my life, it's a completely different answer."
Jirus spoke to reporters a little longer, then said he wanted to return to his building for his next task: figuring out the identity of the man who had been shot just feet away from him.
"I feel horrible. I don't know who the man is," he said. "I want to get back on base to figure out who he is."