Ricky Martin wants kids everywhere to dream big.
To get his point across the Puerto-Rican superstar has put pen to paper to write his first children's book "Santiago the Dreamer in Land Among the Stars," according to a statement released on Monday. The picture book was inspired by Martin's own childhood and will be published in English and Spanish on Nov. 14.
The idea behind the book, which will be illustrated by Patricia Castelao, came from Martin's own love of performing as a kid. The story follows the young Santiago who, after losing the lead role in his school play, must learn how to believe in himself again in order to continue following his dreams.
"I hope this book inspires young readers to believe that dreams woven from their imaginations can become reality," Martin said in a press release. "My greatest wish is that Santiago The Dreamer will occupy a special place in the hearts of children and their parents, with everyone enjoying this uplifting story that shows the fulfillment of dreams begins with self-confidence."
Ricky's own rise to fame began at the tender age of 13, when he joined Puerto Rico's boy band "Menudo" in the mid-80s. After leaving the pop group, Martin found solo success in English and Spanish and dealt with personal struggles that he wrote about in his 2011 memoir "Me."
Now the father of two twin boys, the star marked his return to music with his hit summer single "Come With Me" and is currently working on a new studio album.
Earlier this month, Martin also announced he would be performing the official song for the 2014 FIFA World Cup in Brazil and invited fans to enter a global music contest to compose the anthem.
The Cover of the Book: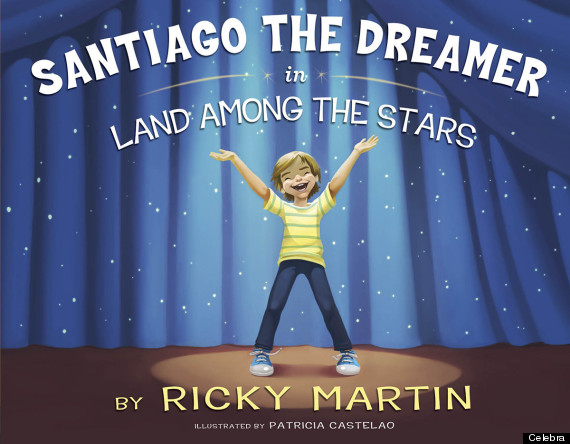 Related on HuffPost:
Loading Slideshow
Ricky at 13 when in 1984 he joined Menudo for five years.

At 13 years old, when in 1984 he joined the Menudo group for five years.

Singing with Menudo in 1984.

Ricky Martin posing next to Robi 'Draco' Rosa, holding a couple of stuffed animals.

Ricky in Menudo, 1986.

Ricky Martin in Menudo, circa 1988.

In his hotel room during a 1988 tour while being part of the musical group sensation Menudo.

With his Menudo friends.

Having fun in Disney in 1990.

Here with Mickey Mouse and Donald.

With Menudo in the late 80s, well coordinated with denim!

Here very handsome!

Singing and dancing with Menudo.

Here Ricky already a teenager with cowboy boots and a lot of leather.

With Mexican actress Angélica Vale.

Ricky Martin living in México in 1990.

Ricky Martin moved to Mexico in 1991 to participate in the <em>telenovela</em> "Alcanzar una estrella II", working next to actors like Angélica Rivera, Bibi Gaytan, Alex Ibarra, Pedro Fernandez and Sasha Sokol (right), with whom he also formed the musical group "Muñecos de papel."

Ricky Martin with Angelica Rivera when he stared in "Alcanzar una Estrella" in 1991.

Ricky Martin in 1991 while starring in his role in the Mexican <em>telenovela</em> "Alcanzar una estrella II".

Ricky Martin and Bibi Gaytán, as part of the "Muñecos de Papel" musical group.

Ricky Martin with his ponytail look in México in 1992.

Ricky Martin with long hair in 1994.

Ricky Martin presents his album "A medio vivir" in 1995, the year he would conquer the charts with his single "Maria".

Ricky Martin with a different hair style at an autograph signing in 1996.

Ricky Martin in Paris in 1997.

Ricky Martin in March, 1998.

Ricky Martin released his album "Vuelve", where he recorded the 1998 World Cup France single "The Cup of Life."

Ricky Martin in july 1998 singing in the World Cup during Brazil's final match against France.

Ricky Martin during his memorable performance at the 1999 Grammy Awards.

Ricky Martin with his Grammy Award for "Vuelve" on February 24, 1999 at the Shrine Auditorium in Los Angeles.

Ricky Martin, Celine Dion y Tony Mottola at pre-Oscar party.

Ricky Martin in 1999, already an international artist.