Rashida Jones has a new man in her life, at least according to Us Weekly: fellow Harvard alum and "Saturday Night Live" writer Colin Jost. The two have been spotted arm in arm, and a source told Us "she's known him for a while ... She likes that he's funny."
When Jones was previously asked when she would be walking down the aisle, she replied, "Maybe never? Marriage doesn't really buy you anything."
Jones dated Tobey Maguire for over three years until 2000, was briefly engaged to music producer Mark Ronson in 2003 and was last linked to Jon Favreau, the director of speechwriting for President Barack Obama.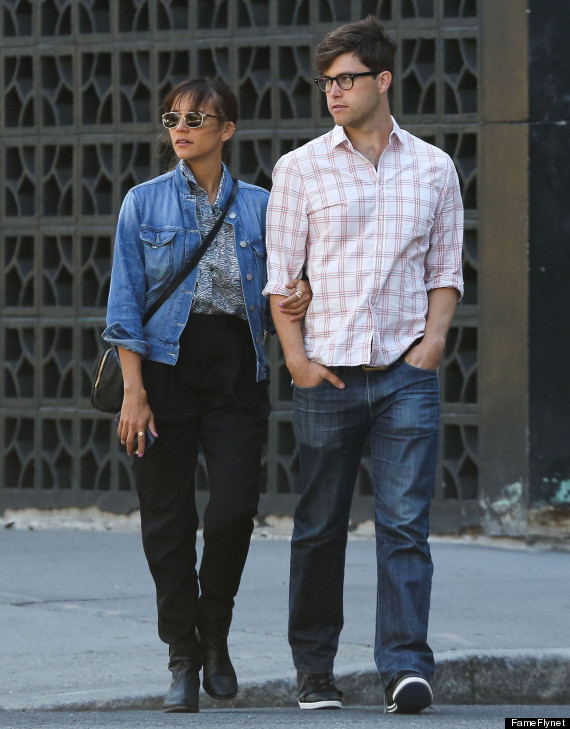 Also on HuffPost:
Loading Slideshow
July 2004

At the world premiere of "Little Black Book."

April 2005

At the Fall 2005 Proenza Schouler Fashion Show benefiting The Rape Foundation.

February 2007

At the 79th Annual Academy Awards.

November 2007

At the Glamour Women Of The Year Awards.

November 2008

Outside the GQ Men Of The Year Party.

February 2009

Sparkling at the Vanity Fair Oscar Party.

March 2009

At the Cinema Society screening of "I Love You, Man."

May 2009

Enjoying the T-Mobile sidekick launch.

April 2009

At the premiere of "Parks and Recreation."

June 2009

At the premiere of "Twelfth Night" at Shakespeare In The Park.

July 2009

At the ESPY Awards.

July 2009

On the red carpet at the premiere of "Funny People."

November 2009

Celebrating the debut of Jimmy Choo's collection for H&M.

January 2010

At the Art of Elysium Gala.

March 2010

Glamming it up at the Vanity Fair Oscar Party.

April 2010

Celebrating at the after party for "Monogamy" during the TriBeCa Film Festival.

May 2010

At the "Parks and Recreation" Emmy screening.

May 2010

Arriving at Victoria Beckham and Eva Longoria Parker Host A Night of Technology at Soho House in West Hollywood.

May 2010

At the Alliance For Women In Media's Gracies Awards.

August 2010

Celebrating the launch of the BlackBerry Torch.

August 2010

At HBO's post-Emmy reception in Los Angeles.

September 2010

At Lincoln Center during Fashion Week.

September 2010

Enjoying the atmosphere at the Michael Kors show.

September 2010

In the front row at Proenza Schouler.

September 2010

At the premiere of "The Social Network" during the New York Film Festival.

October 2010

At the 14th annual Hollywood Awards Gala.

November 2010

At the GQ 2010 "Men of the Year" party.

December 2010

At The Trevor Project's annual Trevor Live show.

"Celeste and Jesse Forever"