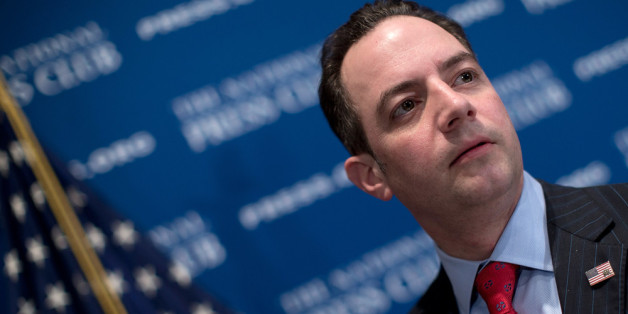 The Republican National Committee Chairman wants his party to stop offending Latinos.
Reince Priebus encouraged Republicans to build bridges with Hispanics, writing in an open letter published Wednesday by the National Review: "If you're not engaging with the Hispanic community, you better get to work."
Engagement begins by not alienating Latinos with an offensive tone, Preibus says.
Hispanics deserve candidates and a party that will fight for their vote. In working to earn Hispanics' trust, though, Republicans have to remember that it's not just about what we say, but how we say it. Our principles are sound, but we have to be thoughtful in how we discuss them. Too often, a candidate's tone can turn off voters, promote divisiveness, and feed mischaracterizations of our party. So if your tone isn't welcoming and inclusive, you're doing it wrong.
Priebus isn't the first to raise the "tone" issue. Marco Rubio (R-Fl.) called on his Republican colleagues to soften their rhetoric on illegal immigration as the GOP presidential primary heated up in 2011. Jeb Bush, another prominent Florida Republican, wrote in a book on immigration published earlier this year that some in his party were "remarkably tone-deaf when it comes to courting Hispanic voters -- to the extent that they court them at all."
But while focusing on tone, Priebus's open letter played down the wide gulf between Republicans and Hispanics on questions of policy. Indeed, Priebus does not explain why Republican attempts to communicate their ideas to people that presumably agree with them would come off as offensive.
There are clear reasons why Latinos would favor the law at a higher rate than the general public. Latinos have the lowest rate of health care coverage, according to the Los Angeles Times. That practical concern is undergirded by a philosophical difference. Some 75 percent of Hispanics favor a larger government that provides more services, rather than a smaller government that provides fewer services, according to the Pew Hispanic Trends Project. That figure contrasts sharply with the 41 percent of the general public that favors a larger government that provides more services.
Whether it's tone or policy that's undermining the GOP performance among Latinos, it's clear that the Republicans need to heed Priebus' call for greater engagement if they want to appeal to Latino voters. The 2012 GOP presidential hopeful Mitt Romney won only 27 percent of the Latino vote, the worst performance among Hispanics since Bob Dole's 1996 campaign. Obama won 71 percent of the Latino vote.
In a curious twist, the RNC Chairman faulted the Democrats for the GOP's disinterest in cultivating the growing Latino vote:
Putting electoral politics aside for a moment, let's recognize that Democrats are doing a disservice to our fellow Americans. When we don't fight for the Latino vote, two things happen. Some Hispanics sit out elections, which was the case in the last election, or Democrats take their votes for granted. As a result, we miss opportunities, and Democrats feel free to prioritize the demands of moneyed special interests over the interests of individuals and families.
Dumbest Commentary About Latinos In 2012
SUBSCRIBE AND FOLLOW
Get top stories and blog posts emailed to me each day. Newsletters may offer personalized content or advertisements.
Learn more