40 Percent Of Miami-Dade School Guns Found In Same 6 Schools: Report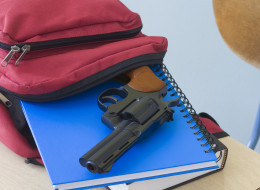 An extensive study by the Miami Herald on guns in local schools made some surprising discoveries.
Examining reports of gun-related incidents at Miami-Dade public schools since 2009, the newspaper found that nearly half of the guns confiscated came from the same six schools.
Charles R. Drew and Carol City middle schools, and Miami Carol City, Miami Central, Miami Northwestern and Norland high schools had 40 percent of the 70 guns found in district schools over the last four years.
Yet despite their high rate of guns found on school grounds, there were no reported incidents of shootings.
Read the full report on The Miami Herald for more findings, including some good news about how Dade compares to the rest of the country.
When shootings do occur in Miami schools, they often involve accidental gunfire.
In May, a Redlands middle-schooler was shot in the leg after another student's gun accidently fired as he dropped his book bag.
And in November 2012, a teen was killed on a school bus when another teen was showing off his firearm to his classmates.