Police Say Trio Of Men, Including One Wearing A Clown Mask, Mugging People In Lakeview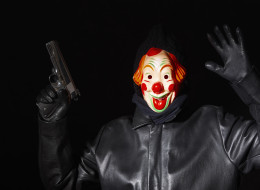 Adding to the terror of being mugged at gunpoint, police say one Chicago criminal is committing his crimes while wearing a clown mask.
Police issued a community alert for Lakeview residents after a string of strong-armed robberies on the North Side this past weekend.
The incidents happened just 30 minutes apart early Saturday morning. NBC Chicago reports victims were approached by three men and robbed of their cell phones, money, purses and wallets at gunpoint.
The first robbery happened at about 2:15 a.m. on the 700 block of West Melrose Street, the Sun-Times reports. The second followed half an hour later in the 3100 block of North Clifton Avenue.
The suspect wearing the clown mask reportedly had the victims kneel on the ground during one of the hold-ups. Citing the community alert, DNAinfo reports another victim said the gunman who wore the clown mask repeatedly struck him enough to leave a bruise.
The suspects were only described as black men, possibly in their 20s, between 5-foot-8 and 6-foot-1. All three wore hooded sweatshirts while two wore a ski mask or scarf to hide their face.
Anyone with information is being urged to contact detectives at 312-744-8263.