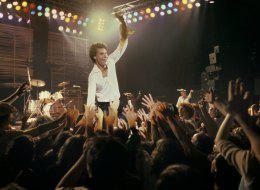 Famed British rock band The Kinks may be set for a reunion.
Formed in the '60s, the "Tired of Waiting for You" singers haven't released a full studio album since 1993. In the years since, amid turmoil, members of the band have pursued solo careers and a reunion has seemed highly unlikely.
Dave Davies, who led the band with his brother Ray Davies, recently spoke to Rolling Stone, hinting at the possibility of another go-around.
"I'd say the odds of that happening are 50/50," Dave told the publication. "The ball is very much in Ray's court."
Unfortunately, Ray seemed less enthused about getting back together with The Kinks when he spoke to The Independent in 2009. When asked if he would play with the band again, he said, "No, but I will continue to play with ex band members like [Kinks drummer] Mick Avory from time to time. With Dave, a lot of it is psychological. I'll guide him in, and coerce and nurture him, and when the time is right I suppose I'll even shout at him again."
From left to right: en:Pete Quaife , en:Dave Davies , en:Ray Davies , en:Mick Avory (the band's lineup Feb 1964–June 1966, Nov 1966–Mar ...

From left to right: en:Ray Davies , en:Mick Avory , en:Pete Quaife , unidentified, en:Dave Davies . | Source Promotional photograph. ...

British rock band The Kinks performing in December 1965.

British rock band The Kinks. L-R Mick Avory, Ray Davies, Pete Quaife and Dave Davies.

British rock band The Kinks. L-R Ray Davies, Dave Davies, John Gosling, John Dalton and Mick Avory.

The story of The Kinks, one of the UK's most important and influential bands, as told from the vaults of the BBC archive. From their humble beginnings in nor...

The Kinks - Apeman 1970 I think I'm sophisticated cos I'm living my life like a good homosapien But all around me everybodys multiplying Till theyre walking ...

The song "Lola" by The Kinks. Awesome song that I grew up singing. NOTE: Yes, the song is about a transvestite. I don't want any flaming or otherwise hateful...

live, Shiding 1965. very old...But the kinks are cool.

Put your feet up and get out the Custard Creams - Have a Cuppa Tea with the Kinks, from January 1972.

Groovy! Come Dancing is a 1982 song performed by British Rock group The Kinks, released as a single in that year in the UK and 1983 in the US and included on...

the kinks- you really got me.

The Kinks - This Time Tomorrow.

Live video.

Artist: The Kinks Song: A Rock 'N' Roll Fantasy Album: Misfits.

a bunch of Kinks pictures and 1 of their hit songs all wrapped into 1 video! 40000 views--- July 1st, 2008 50000 views--- July 26th,2008 60000 views--- Au...