The inhabitants of Easter Island consumed a diet that was lacking in seafood and was, literally, quite ratty.
The island, also called Rapa Nui, first settled around A.D. 1200, is famous for its more than 1,000 "walking" Moai statues, most of which originally faced inland. Located in the South Pacific, Rapa Nui is the most isolated inhabited landmass on Earth; the closest inhabitants are located on the Pitcairn Islands about 1,200 miles (1,900 kilometers) to the west.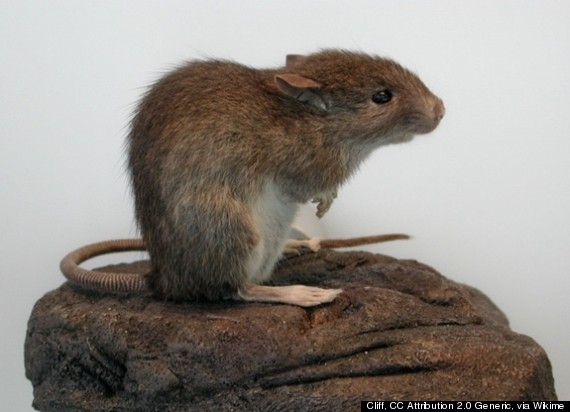 The Polynesian rat (also known as kiore) is somewhat smaller than its Europeans counterparts and, according to ethnographic accounts, was tasty to eat. New research reveals that they formed an important part of the diet for the inhabitants of Easter Island.
To determine the diet of its past inhabitants, researchers analyzed the nitrogen and carbon isotopes, or atoms of an element with different numbers of neutrons, from the teeth (specifically the dentin) of 41 individuals whose skeletons had been previously excavated on the island. To get an idea of what the islanders ate before dying, the researchers then compared the isotope values with those of animal bones excavated from the island. [Photos of Walking Easter Island Statues]
Additionally, the researchers were able to radiocarbon date 26 of the teeth remains, allowing them to plot how the diet on the island changed over time. Radiocarbon dating works by measuring the decay of carbon-14 allowing a date range to be assigned to each individual; it's a method commonly used in archaeology on organic material. The research was published recently online in the American Journal of Physical Anthropology.
The researchers found that throughout time, the people on the island consumed a diet that was mainly terrestrial. In fact, in the first few centuries of the island's history (up to about A.D. 1650) some individuals used Polynesian rats (also known as kiore) as their main source of protein. The rat is somewhat smaller than European rats and, according to ethnographic accounts, tasty to eat.
"Our results indicate that contrary to previous zooarchaeological studies, diet was predominantly terrestrial throughout the entire sequence of occupation, with reliance on rats, chickens and C3 plants," the researchers write in their journal article, noting that the resources from C3 plants (or those that use typical photosynthesis to make sugars) would have included yams, sweet potatoes and bananas.
Rats, not fish
The islanders' use of rats was not surprising to the researchers. Archaeological excavations show the presence of the Polynesian rat across the Pacific. The Polynesian form commonly travels with humans on ocean voyages and, like any other rat, multiplies rapidly when it arrives on a new island. In some cases, the rats were probably transported intentionally to be used as food, something supported by ethnographic accounts stating that, in some areas of Polynesia, rats were being consumed at the time of European contact. Additionally, previous research has suggested the rats were at least partly responsible for the deforestation of Rapa Nui.
What was more surprising to the researchers was the lack of seafood in the diet of the islanders. "Traditionally, from Polynesian cultures you have a heavy predominance of using marine products, especially in the early phase of colonization," said Amy Commendador, of the Idaho Museum of Natural History at Idaho State University, in an interview with LiveScience.
One reason for the lack of seafood may have to do with the island's location and topography, Commendador said. The northern end contains steep cliffs and would be difficult to fish from. Additionally, the island's southerly latitude makes it somewhat cooler and may affect fishing. "Because of their geographic location and climate conditions, there just weren't as many marine products for them to get," Commendador said.
Rats should not be underestimated in their value as a resource, study co-author John Dudgeon, also at Idaho State University, told LiveScience. They could eat anything and multiply rapidly within a few generations. For the people who lived on Rapa Nui, "it was probably easier to go get a rat than it was to go get a fish," Dudgeon said.
Fish elites?
Though the study results showed the islanders' diet was mainly terrestrial, a few individuals, dating after A.D. 1600, appeared to have been eating more fish than the others. [The 7 Perfect Survival Foods]
These fish eaters may have lived on a part of the island where the fishing was easier, Commendador suggested. Another possibility the team raises in their paper is that access to marine resources varied due to the social and political constraints people faced. For the islanders, eating fish might have been a mark of "higher status" individuals, an elite person who was allowed more plentiful access to seafood.
Statues facing inland
One curious coincidence is that most of the Moai, the statues erected by the islanders, face inland rather than out to sea. Now, this new research suggests the people of the island also turned inland, rather than to the sea, to get their food.
Commendador and Dudgeon don't think any direct relationship between the Moai statues and the islanders' diet exists. Previous research has suggested the statues were positioned facing inland due to ancestor worship, so that the statues could watch over their descendents.
Another, more speculative, idea is that by having the statues facing inland, the islanders were also "saying we're turning inwards and not turning outward," Dudgeon said. While this probably doesn't relate to the islanders' decision to eat rats rather than fish, it shows the mindset the people of Rapa Nui may have developed before the arrival of Europeans. Their lifestyle as well as their diet may have become focused on the land rather than the sea.
Follow us @livescience, Facebook & Google+. Original article on LiveScience.
Copyright 2013 LiveScience, a TechMediaNetwork company. All rights reserved. This material may not be published, broadcast, rewritten or redistributed.
Also on HuffPost:
Loading Slideshow
Who is this budding theoretical physicist?

This stylish baby genius grew up to figure out a very important theory.

It's Albert Einstein!

(1879-1955) Most famous for developing his theory of relativity and for the world's most famous equation, E = mc². Here he is on his 72nd birthday.

Who is this future evolutionary theorist?

Who do you think this little boy, clutching a plant, could be?

It's Charles Darwin!

(1809 – 1882) This English naturalist proposed a theory of evolution based on natural selection after studying species aboard the HMS Beagle.

Who's this future chemist?

Hint: This sassy lady's findings were quite radioactive.

It's Marie Curie!

(1867-1934) Famous for discovering polonium, uranium, and coming up with a theory of radioactivity, Marie Curie was the first woman to receive the Nobel prize.

Who's this legendary American inventor?

This boy had some very <em>bright</em> ideas...

It's Thomas Edison!

(1847-1931) Prolific inventor and businessman with over 1,093 patents, here Edison holds his most famous invention: the light bulb.

Does this boy look like future "father of the hydrogen bomb"?

His research turned out to be explosive...

It's Edward Teller!

(1908–2003) Early member of the Manhattan Project, this controversial nuclear physicist helped invent one of the first atomic bombs and spearheaded the development of the H-bomb.

And does this boy look like "father of the atomic bomb?"

This boy wound up fighting with the scientist from the previous slide.

It's Robert Oppenheimer!

(1904-1967) J. Robert Oppenheimer puffs on a pipe during an interview at the Institute for Advanced Study in Princeton, N.J., April 5, 1963. Oppenheimer, scientist with the Manhattan Project that developed the first atom bomb, regretted his participation in the program in his later years. (AP)

Who is this future chemist, and the father of molecular biology?

Can't you tell from these amazing PANTS that he became a peace activist, too?

It's Linus Pauling!

(1901-1994) Considered one of the most influential chemists in history, Pauling founded the fields of quantum chemistry and molecular biology. He was awarded the Nobel Prize in Chemistry in 1954 and the Nobel Peace Prize in 1962.

Who's this future primatologist?

This baby loved chimps from the very beginning -- and she's never stopped.

It's Jane Goodall!

(Born 1934) Considered the world's leading expert on chimpanzees, Goodall has studied their behavior ever since 1960. She has become a prominent advocate for conservation and animal welfare issues.

Who's this future innovator?

Would you believe that this prim boy ended up with 350 patents?

It's Alfred Nobel!

(1833-1896) Swedish chemist, engineer and innovator, Nobel invented dynamite. He is most famous for the prizes funded posthumously in his name.

Who is this future DNA pioneer?

It would be easier to make a pun about his discovery if he were wearing <em>jeans</em>.

It's James Watson!

(Born 1928) One half of the Watson and Crick duo (and let's not forget Rosalind Franklin too), this molecular biologist, geneticist and zoologist helped discover the structure of DNA.

Who's this future geneticist?

She was a-<em>maize</em>-d by chromosomes.

It's Barbara McClintock!

(1902-1992) Considered the world's most distinguished cytogeneticist, McClintock studied what happens to chromosomes during the reproduction of maize. She is the only woman to have received an unshared Nobel Prize for Physiology or Medicine.

Who's this future math lover?

Can you guess who this is from her calculating look?

It's Ada Lovelace!

(1815-1852), Born Ada Augusta Byron, she was literary legend Lord Byron's only legitimate child. She was an avid mathematician and wrote what is considered the first computer program -- an algorithm intended to be processed by a machine.

Who is this future physicist?

We'd make a pun if the little boy were holding a cat in this photo...

It's Erwin Schrödinger!

(1887-1961) This Austrian quantum physicist is most famous for his namesake "Schrodinger's cat" formulation, and for his work on wave mechanics.

Who is this future neurologist?

His pensive look here might foreshadow his future obsession with the unconscious...

It's Sigmund Freud!

(1856-1939) This neurologist and founding father of psychoanalysis developed many theories about the unconscious. While many of his ideas were controversial, they are considered to be some of the most influential of the 20th Century.

Who's this psychoanalyst (in the middle)?

A hint: She followed in the footsteps of the last guy...

Anna Freud

(1895-1982) Considered one of the founders of child psychoanalysis, Anna followed in her father's footsteps. Although she never pursued formal scientific training, she did receive an honorary M.D. and Sc.D.

Can you guess this future cosmologist?

This little boy in a sweater vest is still doing important work in physics today.

Stephen Hawking

(Born 1942) Famous for his work on the radiation emitted from black holes -- now called Hawking radiation -- this theoretical astrophysicist set forth a cosmology that unites the theory of general relativity and quantum mechanics.

Who's this future mathematician?

This child prodigy could already divide eight-digit numbers in his head when he was only six years old...

It's John von Neumann!

(1903-1957) An applied mathematician, von Neumann made contributions to many academic fields -- including mathematics, physics, statistics, economics, computer science, and even genetics.

Who's this future astronaut?

That's one small step for a boy...

It's Neil Armstrong!

(1930-2012) As the first man to walk on the moon, this astronaut and aerospace engineer is most famous for uttering the phrase: "That's one small step for [a] man, one giant leap for mankind."