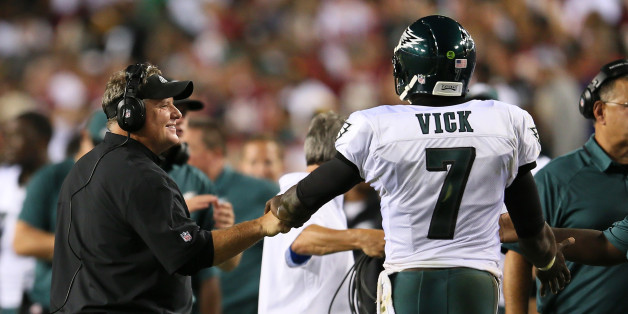 It's only week 4 of the NFL season, and some teams are already in panic mode. Clubs such as Washington, Philadelphia, Minnesota, Pittsburgh, and Atlanta all thought they were going to be in the hunt for a division title. The way things have started out, that's not the case. If they lose another game, they could be on the outside looking in after only a quarter of the season. This week is very important for all these teams if they hope to turn around slow starts.
Many thought the Redskins would be the NFC East's best team. The offense has moved the ball, averaging over 370 yards a game and they have scored at a rate of 22 points a game. The problem has been too many missed opportunities that have cost them. The defense is giving up over 485 yards a game and can't get off the field.
The Raiders may be without Terrelle Pryor, but they have a strong rushing attack. That's something Washington can't stop. Even if Matt Flynn has to play, the Raiders may be able to put up yards and points. If the Redskins lose another and go to 0-4, the season is just about over.
Probably one of the biggest surprises of this young season is the Falcons starting 1-2. Atlanta is banged up and won't be completely healthy for this game. New England is 3-0 but they really haven't played anyone yet. They were lucky to beat Buffalo in the opener and their other wins were against the Jets and Tampa Bay. Tom Brady has the most inexperienced group of receivers he has ever had. He has no one he can count on. This game is in Atlanta, and I look for the Falcons to bounce back and even their record at 2-2.
The fast paced offense of Philly has been just about as good as people thought it would be. They have picked up large chunks yardage and can score points quickly. The problem is the defense can't stop the Little Sisters of the Poor. The odd part of this is the Eagles spent millions in free agency to shore up the defense.
Denver has looked like the class of the AFC West in starting out 3-0, and Peyton Manning is playing like his old self. It will be interesting to see how Philly's offense reacts to playing at a quick pace in the thin air of Denver. They may have to slow things down for their own good. I look for Denver to win this game easily.
A month ago this game looked like it may be the game of the week. It is the game of the week...in London. Who would have thought that both teams would be 0-3? Pittsburgh has struggled on offense but did show signs of life last week in the second half against Chicago. The usually stout Steelers' defense has been giving up points and yards. That should be good news for the Vikings, but they will be playing without starting quarterback Christian Ponder. With Matt Cassel at quarterback this week, who knows what to expect. He was a huge disappointment during his time in Kansas City. While Adrian Peterson is one of the most dangerous running backs in the NFL, except for one big run on opening day, he has been ordinary so far this year. In my eyes, this game is even, but the Steelers' pride might be the difference in the end.
SUBSCRIBE AND FOLLOW
Get top stories and blog posts emailed to me each day. Newsletters may offer personalized content or advertisements.
Learn more