Trends come and go, but some fashions never go out of style. In our new series, we're paying homage to the signature items that have turned our favorite stars into style icons.
The icon: Jane Birkin
The item: A wicker basket
Why we love it: Forget Hermès, the true "Birkin bag" can be bought at your local craft store. Jane Birkin made a splash in Paris when she arrived toting a wicker basket as a purse during the swinging '60s -- no wonder she stole Serge Gainsbourg's heart. The best part? There's no waiting list involved.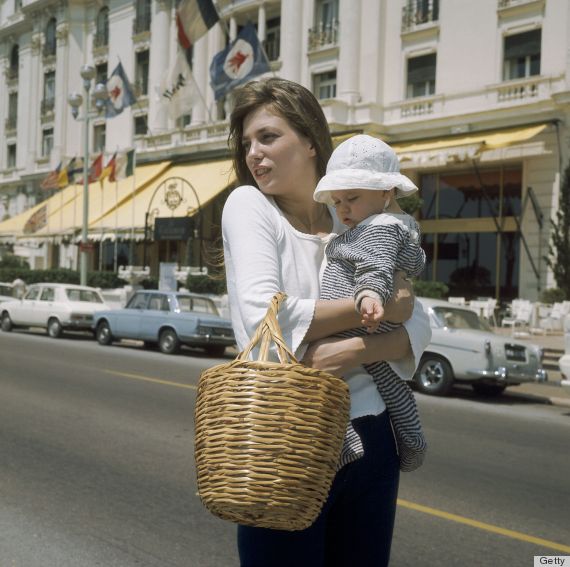 More icons who knew a thing about French style:
Loading Slideshow
Emmanuelle Alt: Casual does not mean sweatpants

French women have low-key style days, too, but those days rarely include sweats or fleece. Instead, they do casual the classy way -- an oversized Oxford shirt and a pair of slouchy pants.

Audrey Tautou: Don't be afraid of layers

Tautou's dress looks stunning and elegant with all its ruffled layers.

Carine Roitfeld: When in doubt, black is always the answer

Neon, patterns and bright colors are great, but when in doubt black is always a timeless and chic option.

Catherine Deneuve: Natural beauty is de riguer

You'll rarely catch a Parisian in heavy foundation and thick eyeshadow. Instead, they keep it light and natural, playing up their best features with a swipe of mascara or a nude lipstick.

Carla Bruni: Choose an eye-popping accessory

To break up an all-black outfit, follow Bruni's lead and sport a bright necklace.

Vanessa Paradis: Style is all in the subtleties

Upon first glance, Paradis' outfit is pretty basic. A black blazer paired with a high-waisted skirt is hardly innovated, but when you look at all of the details, you realize how fashion-forward her look really is. The shoulder pads in the jacket, combined with the textured skirt and embellished top take this ensemble from ordinary to extraordinary.

Laetitia Casta: Push boundaries

A veil is a bold move when you're not walking down the aisle, but when paired with red lips and the right attitude, it can never fail.

Brigitte Bardot: Bedhead is always better

The French have perfected bedhead hair. And not only is it insanely sexy, but it's also insanely easy.

Charlotte Gainsbourg: Keep your "sexy look" classy

Gainsbourg is quite revealing with her low-cut shirt and tight skirt, but she balances it out to keep it sophisticated.

Caroline de Maigret: Develop a signature style

You can almost always see Maigret in long tapered pants and her blunt bangs.

Marion Cotillard: Invest in one classic piece

Instead of having stacks and stacks of clothes that you probably won't wear, invest in a few key pieces that look great on their own.

Lou Doillon: Tomboy style is always cute

As long as you have a confident and strong attitude, you can totally rock a t-shirt, jeans and combat boots.

Bérénice Marlohe: A good smoky eye always works wonders

Marlohe's eyes are perfectly dark-rimmed to create a sexy and alluring effect.

Virginie Ledoyen: Color block with a tasteful dress

Ledoyen's dress is both classy and unique.

Julia Restoin Roitfeld: Leather is a go-to fabric

Roitfeld's billowy pants could have been a little questionable, but the leather attributes keep them classy.

Virginie Mouzat: Mix looser shirts with tight skirts

Yes, the French are extremely sexy, but Mouzat shows us that balance is key.

Clémence Poésy: Bows make every outfit look ultra-feminine

You can add a sweet bow to a stiff tweed suit outfit to add a girly flair.

Inès de la Fressange: Don't take fashion too seriously

Fressange had some fun with the hot pink scarf she was wearing on this day.

Elisa Sednaoui: Bold prints work with pregnancy

Don't be afraid of fun and outspoken prints during your pregnant months. Sednaoui shows how great it looks.

Designers Tips on French Style

Sophie Donelson interviews Michael McKinnon, Robert Couturier, Joan and Jayne Michaels, Izak Zenou, Valerie Pasquiou, Laurent Fuchs and Carolyn Englefield at the Holiday House, which benefits Susan G. Komen for the cure.
Want more? Be sure to check out HuffPost Style on Twitter, Facebook, Tumblr, Pinterest and Instagram at @HuffPostStyle.