Move over, ramen burger. Take a hike, cronut burger. We've seen a lot of different things in this age of food mashups galore, but this just might be one of the most incredible artery-clogging concoctions yet.
Behold, the "Mac Attack."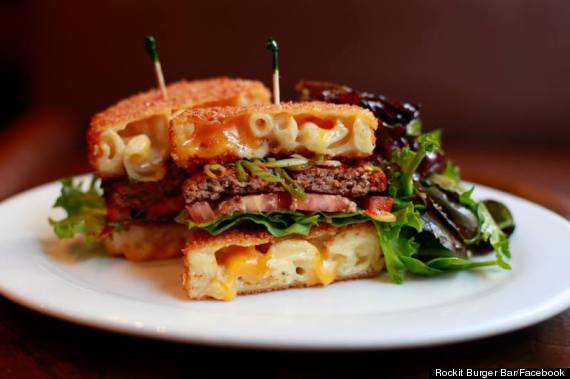 The new burger, being served up at Rockit Burger Bar in Chicago's Wrigleyville neighborhood, entails a burger topped with scallions, lettuce, tomato and Sriracha ketchup and smacked between two buns composed of, you guessed it, deep-fried macaroni and cheese.
Let's take a look at that again, with something of a dream-like filter: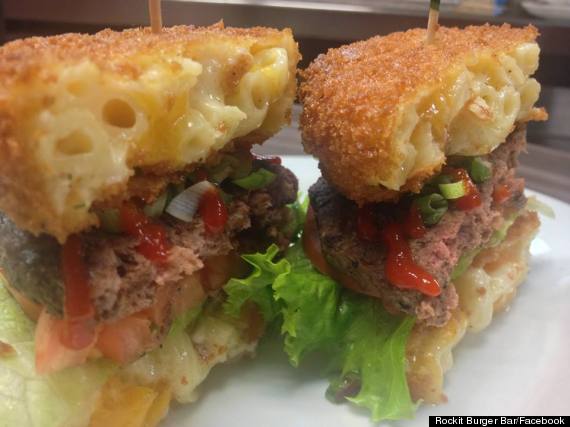 Woah.
The burger is available for a limited time only -- Tuesday, Oct. 1 through Sunday, Oct. 6 -- at Rockit, 3700 N. Clark St.
Also on HuffPost:
Loading Slideshow
Dominique Ansel Bakery

At 6 a.m. on a June Wednesday, a line began to form outside Dominique Ansel Bakery in Manhattan. By 6:30 a.m., it stretched down the block.

The Cronut Craze

People are waiting to buy "cronuts," the croissant-doughnut hybrid that has become New York's latest food craze.

Tired Customers

Tired customers take a break from standing.

The Bakery Opens

Renowned pastry chef Dominique Ansel opens the doors to his bakery at 8 a.m.

Customers File Into The Bakery

"I read a post on the Trump Soho's Facebook page," says Jisoo Oh, a tourist from South Korea. "It said cronuts were to die for ... so I had to try it."

Cronut Scarcity

The bakery produces a limited number of cronuts each day. Ansel told <a href="http://nymag.com/daily/intelligencer/2013/05/cronut-business-has-a-scaling-problem.html" target="_blank">New York Magazine</a> that he does not want his bakery to become a "cronut store."

Dominique Ansel Bakery Employees

Employees help prepare pastries for the influx of customers.

Cronuts

Cronuts cost $5.00 each.

Pastry Chef Dominique Ansel

Ansel helps prepare orders for customers.

Customers Try A Cronut

"Sugary," says one woman trying the lemon-maple flavor.

Worth The Wait

"I once waited in line for nine hours to see Liza Minelli," says Emily Oakley (left). "This is nothing."

Cronut Scalpers

Moments after purchasing four of the flakey treats, Joe and Danny Bird were approached by a woman who wanted to buy them. They flipped the pastries for $20 a piece.