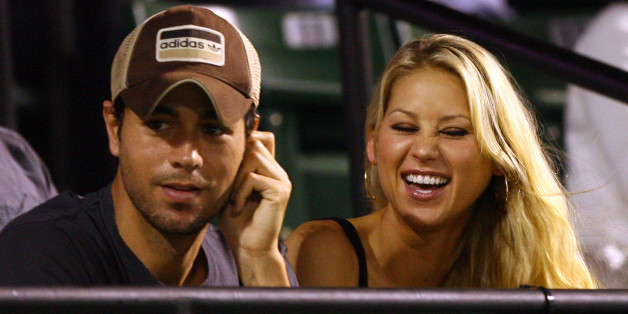 Are Enrique Iglesias and Anna Kournikova headed for a split after 12 years together? That might be the case, according to a recent report.
The New York Post's Page Six exclusively reports that Kournikova has had about enough with Iglesias not popping the question. "Anna is getting tired of waiting for him to decide if he wants to marry her or not," a source told Page Six. "They've been together for so long, she feels like it's never going to happen. She is ready to move on."
But, adds the source, "This issue has come up before, and they have managed to smooth things over and get back together. Time will tell."
Back in May, rumors swirled that the two were on the cusp of saying "I do" and would tie the knot the following week in Miami. "This is going to be a huge wedding in front of their celeb pals. They are going all out – it's going to be a massive ceremony with an over-the-top reception," The Sun reported.
This, despite Iglesias' own admission a year prior that he had no plans to marry his longtime love. In an interview with Parade magazine in March 2012, the Latin crooner said, "I've never really thought marriage would make a difference. Maybe it's because I come from divorced parents, but I don't think you love someone more because of a piece of paper. And nowadays, it's not taboo to have kids and not be married. What makes a difference is that you're a good parent, period."
A few months before that, Kournikova told Women's Health that marriage isn't important to her. "I'm in a happy relationship -- that's all that matters," she said. "I believe in commitment. I believe in being open and trusting each other and respecting each other completely."
Request for comment made to both Iglesias and Kournikova's reps were not immediately answered.
ALSO ON HUFFPOST:
PHOTO GALLERIES
Celebrity Couples