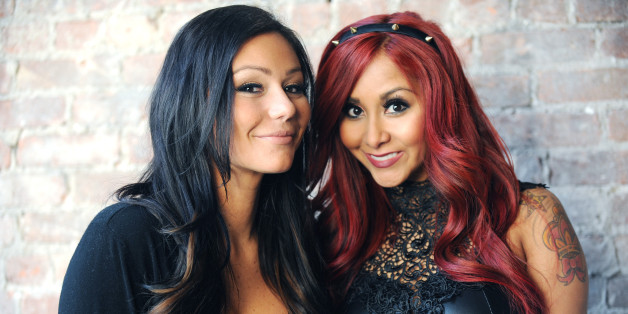 Jersey diplomats Snooki and JWoww had some choice words for Chris Christie when TMZ asked what the BFFs thought of the New Jersey governor calling himself a "fighter" on CBS Sunday morning. JWoww almost definitely had no idea what the camera man was talking about, but she didn't hesitate to insult her old rival. "He's retarded," she said.
Snooki mostly kept quiet, looking super tiny (at least, next to the statuesque JWoww). In video footage of the incident, the two stumble a bit, attempting to find their car. Before they do, JWoww adds, "He's a disgrace to New Jersey ... just like we were."
The original run-in happened earlier this month, after Snooki and Christie met on the Jersey boardwalk. "I just wanted to meet you, and just, hope you start to like us," Snooki said of Christie's anti "Jersey Shore" sentiments, before uploading a photo of their meeting, captioned: "Getting told why we are bad for jersey. Amazing."
Poor New Jersey. Something tells us Bruce Springsteen would not approve.
PHOTO GALLERIES
Snooki Over The Years