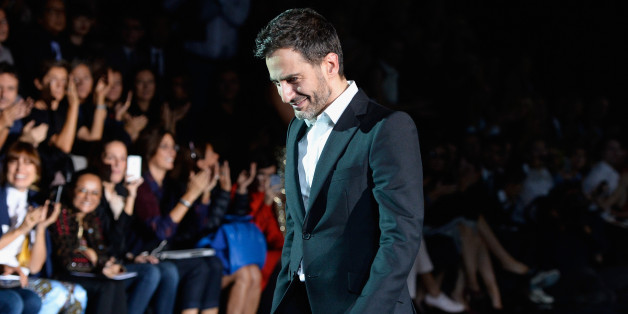 Marc Jacobs is leaving Louis Vuitton after 16 years with the brand -- and it's not to go to Coach. Women's Wear Daily confirmed Wednesday morning that Jacobs is exiting Vuitton to focus on an IPO for the Marc Jacobs brand, which could come some time in the next three years.
Rumors of Jacobs' exit began in June, when reports circulated that Jacobs would be leaving Vuitton to take Reed Krakoff's creative director spot at Coach. That gossip was debunked when Coach hired Stuart Vevers later that month, but buzz reignited last week during Paris Fashion Week. A source told Reuters, "His contract may not be renewed," and Fashionista wrote that their sources cited Nicolas Ghesquière, formerly of Balenciaga, as Jacobs' Vuitton replacement.
WWD reports today that Ghesquière is not confirmed in the new role, though he remains a frontrunner. But Jacobs as well as his business partner Robert Duffy are most certainly exiting Vuitton after nearly two memorable decades, a decision that marks the official start of Jacobs' IPO.
The move to go public follows several similar decisions by high-profile fashion brands. Prada raised $2.14 billion in its initial public offering back in June 2011, and Michael Kors followed suit to much fanfare that December with a buzzed-about IPO that raised $944 million. As of late, brands such as Tory Burch, J Brand, Valextra and Furla have all been floated as the next big fashion IPO.
Clearly, Marc Jacobs dwarfs them all. According to WWD, "LVMH officials believe the Marc Jacobs business could explode given sufficient investment and support, including the undivided attention of Jacobs and Duffy." Duffy's Vuitton contract is also set to expire in 2014 along with Jacobs'.
So what will an IPO mean for the company we all know and adore -- and what will happen to Louis Vuitton? That remains to be seen. Keep your eyes peeled as Vuitton seeks to fill Jacobs' very large, very stylish shoes and read more at WWD.com.
Take a walk down memory lane:
Marc Jacobs' Style Evolution
Want more? Be sure to check out HuffPost Style on Twitter, Facebook, Tumblr, Pinterest and Instagram at @HuffPostStyle.
SUBSCRIBE TO & FOLLOW LIFESTYLE
We're basically your best friend… with better taste. Learn more