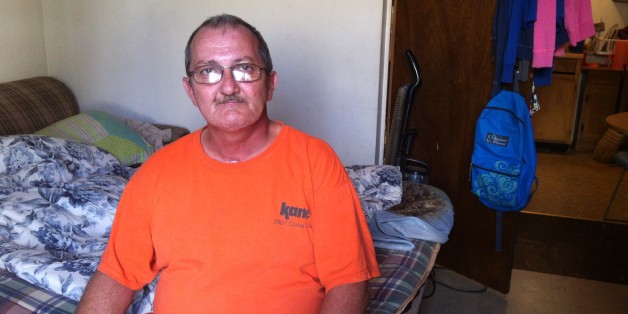 HAGERSTOWN, Md. -- Downtown Hagerstown did not seem to notice the importance of the historic moment, the first morning in which tens of millions could start signing up for health insurance under President Barack Obama's landmark Affordable Care Act. Coffee shop cashiers continued to ring up orders. Bank tellers made transactions. A skateboard shop opened for business. A construction crew went on fixing a Methodist church façade in the warm sun.
But Joseph Kriner, a 53-year-old truck driver, got off work early and showed up at the Department of Social Services. Dressed in his work uniform, with a pack of Camel menthols in his breast pocket, he came to see about signing up for Obamacare. He had recently gained custody of his 11-year-old twin granddaughters. Neither he nor the twins have health insurance.
Kriner was ushered into a large conference room, where he was greeted by a small squadron of anxious Obamacare navigators hired by Maryland's Health Benefit Exchange. Kriner looked anxious, too. Before taking a seat, he asked, "This is Obamacare?" He wanted to make sure he had come to the right place.
"I come here today for my granddaughters, because you never know," Kriner explained.
"They need a healthy grandfather who cares for them," Rosalind Martin, an assistant director with social services, told him from across the table, her voice smooth with just a hint of starch. Martin seemed to settle Kriner's nerves.
Kriner is one of the more than 16,000 people in the surrounding western Maryland county who are uninsured. At least on the first afternoon of the Obamacare insurance exchange, he was the one and only person to show up at Social Services looking to sign up. He has diabetes and high blood pressure severe enough to require costly medications that he sometimes can't afford. Off meds, he said, "I feel like I'm going to die."
Kriner brought no Social Security cards, no birth certificates, no custody paperwork. Instead, he pulled out his wallet and placed on the table portraits of his grandchildren. He offered their date of birth. But even something as simple as birthdays he second-guessed.
"Let me make sure I'm right," Kriner said. "They are 11. When would they be 12? Next, sure? That sounds about right."
On its inaugural day, Maryland's health exchange proved unprepared for the crush of visitors to its website. The navigators decided it would be better to have Kriner come back when the website wasn't slowed by glitches. They had him fill out a basic paper application and make an appointment for the following Tuesday to return and officially sign up.
Kriner, just before finishing the application, was unsure about having to come back. "You all going to put me in for this right now, right?" he asked.
It seemed only fitting that the new health law added one more confusing wrinkle. Kriner was told to bring at least four weeks of pay stubs and to try to find his grandchildren's Social Security cards and birth certificates. He has made only $16,000 so far this year, according to the latest pay stubs he found in his apartment.
Kriner noted the appointment on a sticky note. He didn't know how to spell appointment. "You can just put app," a navigator told him. "I'll be here and we'll finish everything up," she said.
"Maybe you can meet the granddaughters, too," Kriner said.
Kriner has to rush off to meet his granddaughters at his efficiency apartment in a converted motel. In his childhood, he said the place was known as "the Heartbreak Hotel." The vibe has stuck. The only car access to his $100-a-week apartment is through an alley behind a liquor store, a bail bondsman, and the New Hope Praise Ministry. A warning sign in the alley threatens that any illegal dumping will be prosecuted. A dirty box spring and mattress prove the sign has lost whatever effectiveness it once had.
Hardly anyone was around in the early evening. There was just Kriner's car and a few others in the lot. His door was open. Kriner stood shirtless in the kitchen frying potatoes and onions in an electric pan. A lot of meals are fried potatoes and ramen noodles . His granddaughters sat at the small table talking with a girlfriend from the neighborhood.
The room is dominated by the foldout bed they all share. No one likes the arrangement. The girls complained that they need their own room. Kriner did not disagree.
Kriner took a seat next to the bed. He said he really went to Social Services hoping that Obamacare would mean medical attention for his granddaughter, who has red bites all over her body. "They seem like flea bites," he hollered. "What the hell's going on? What is it? She needs medicine! You can put that in your newspaper!"
Kriner ordered the granddaughter to show off her bites. He wondered if he would have gotten health insurance on the spot if he had showed the Obamacare navigators his granddaughter's bites. "Maybe I should have brought the kid down with me," he said. "I'm scared it's going to spread."
Soon, his granddaughters took to their bikes and pedaled down the alley to the next block where they met up with friends. Kriner said he's had custody of his granddaughters since June on account of his daughter ending up in jail. He said she is looking at prison time. But he got the girls into middle school, where they get free breakfast and lunch.
None of the presidents ever cared about him, he said. He's not quite convinced the current president will come through, either. "I'm a poor boy," he said. "I haven't lived my life in a suit like a lawyer. I get dirty when I work. I felt the grime of life. The only way I'm going to be a success is to win the lottery."
In place of the lottery, Kriner has medical debts of well over $25,000 for gall bladder emergencies -- a life survived without insurance. His father died when he was 42. His mother died of cancer at 49 after avoiding doctors until it was too late. A brother was found rotting away for two days, dead at 49. He's outlived them all, but worries he's not far behind.
On the wall above the small table near the stove, cockroaches found a final resting place inside a picture frame. One scurries under the bed. It's time to eat.
The secret to frying potatoes is getting one layer of them good and soft in the grease before tossing in a layer of onions and then another heaping layer of potato slices, Kriner explained. He put down a blanket of American and cheddar cheese and he's got dinner. "It fills your stomach pretty good," he said.
Asked if he's going to keep his appointment and finish signing up for Obamacare, he didn't hesitate.
"Definitely," he said. ""I'm not backing down now."
ALSO ON HUFFPOST:
PHOTO GALLERIES
Lies And Distortions Of The Health Care Debate