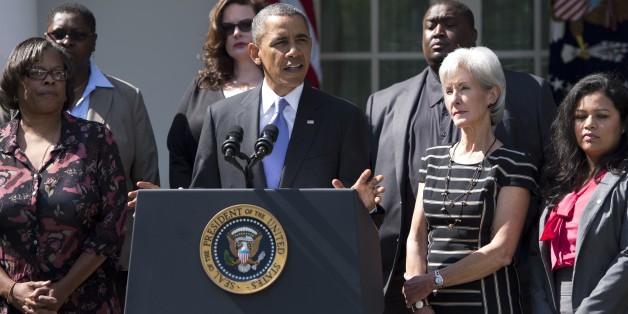 In their second day open to the public Wednesday, Obamacare's health insurance marketplaces took baby steps toward becoming fully operational, even as technological stumbles stymied consumers.
Millions of Americans had visited HealthCare.gov, the federal portal for health insurance in more than 30 states, and the websites for 17 state-run exchanges by Wednesday afternoon, the day after the health insurance exchanges debuted for the uninsured and people who don't get health benefits at work.
Despite the technical glitches, Americans like Peg Perl, 38, of Denver were still able to begin taking advantage of the health insurance exchanges to seek health plans for next year. Perl and her husband, who have health coverage from their jobs, plan to buy coverage for their two school-aged children, she said.
"It's definitely a lot more affordable than things I was looking at in 2010, 2011 and 2012," Perl said. Low-level "bronze" plans for her kids would cost $170 to $200 a month and mid-level "silver" plans $200 to $300, she said. Her household will probably earn too much to qualify for tax credits to reduce their premiums, which cut off at four times the poverty level (about $94,000 for a family of four this year).
After dealing with rejections, expensive COBRA coverage and a costly state-run insurer-of-last-resort for her husband in recent years, Perl was pleased to see Connect for Health Colorado, her home state's exchange, offered a variety of plans she could compare by price, benefits and out-of-pocket costs, she said.
"The fact that there are options is also very nice, because before, basically, I found one program that was take it or leave it." Perl's husband and son have pre-existing conditions that caused health insurance companies to reject them in the past. "I don't consider them super-serious but they were enough to make it really hard to find coverage," she said.
Perl visited Connect for Health Colorado early Tuesday morning to comparison shop and avoided technical problems that some Coloradans found on the site by putting off creating an account for now, she said.
After learning more information, like whether her children can still see their current doctors, Perl wants to buy a plan for her kids by Nov. 15. "As a working mom, I don't need anything extra at all to do in the holiday season," she said.
Federal and state officials reported small numbers of people enrolling into health plans even though the sign-up period runs until the end of March and consumers have until Dec. 15 to pick coverage that kicks in Jan. 1.
The Department of Health and Human Services said HealthCare.gov had successfully enrolled customers into health insurance, but likely won't say how many until the middle of November, according to spokeswoman Joanne Peters. By Wednesday evening, HealthCare.gov had received 6.1 million unique visitors, according to White House spokeswoman Tara McGuinness.
Kentucky's health insurance exchange, Kynect, enrolled almost 3,000 households into health coverage by 4:00 p.m. Eastern Time Wednesday, and nearly 110,000 people viewed more than 1.6 million pages on the website, Gov. Steve Beshear (D) announced in a press release. Kynect had started almost 10,800 applications and completed more than 6,900 of them, according to the press release.
Rhode Island's Health Source RI already has signed up some consumers, Kaiser Health News reported Wednesday, and Connecticut's Access Health CT reported enrollments Tuesday.
Colorado postponed online sign-up for the first weeks of enrollment, but about 6,900 people created accounts on Connect for Health Colorado and the website saw 104,000 unique visitors as of 3:15 p.m. Mountain Time on Wednesday, the exchange announced on Twitter.
More than 18,000 people created accounts on Nevada Health Link and more than 63,000 people visited the site by 12:00 p.m. Pacific Time, according to a statement on Twitter. More than 120,000 people went to Covered Oregon, which is not yet accepting online enrollment, by 8:00 a.m. PDT Tuesday, according to a statement on its website, as officials asked consumers for patience, the Oregonian reported.
New York State of Health received more than 10 million page views Tuesday, a number that executive director Donna Frescatore described as "abnormal" in a press release, and which made accessing the website difficult. Covered California logged 514,000 unique visitors Tuesday, according spokeswoman Sarah Sol.
This level of interest has come with a downside for the heath insurance exchanges. HealthCare.gov, New York State of Health, the Maryland Health Benefit Connection and other websites remained unreliable as the exchanges scrambled to adjust to higher than expected demand.
HealthCare.gov functions like account registration failed for some users throughout the first two days of the six-month enrollment period. The Department of Health and Human Services won't say whether technological factors other than high traffic are to blame.
Visitors to Maryland Health Connection, New York State of Health, Cover Oregon and other health insurance exchange websites were greeted with warnings about trouble logging in and long wait times online and for call-center help. The Evergreen State's Washington Healthplanfinder experienced "unexpected user activity" Tuesday that required fixes, CEO Richard Onizuka said in a press release Wednesday, and some consumers were still experiencing delays Wednesday.
This story has been changed to reflect updated figures on web traffic from Covered California.
RELATED ON HUFFPOST:
PHOTO GALLERIES
Countries Spending The Most On Health Care