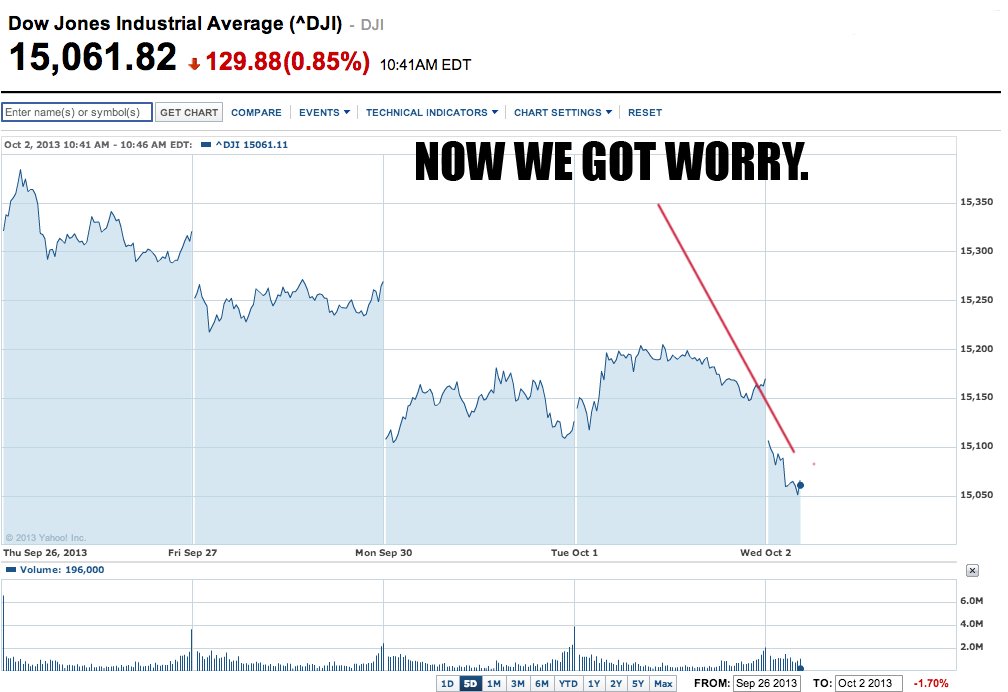 On the first day of the government shutdown, financial markets seemed blissfully oblivious. On the second day, they seem to be waking up to the idea that things could get really ugly.
The risk is that an economically destructive government shutdown will turn into a flat-out nightmarish debt-ceiling crisis in just a couple of weeks. Wall Street has been vaguely aware of that risk for a while now. But on Wednesday, it seemed to come into clearer focus.
The Dow Jones Industrial Average was down about 135 points about an hour into trading on Wednesday morning, while the broader Standard & Poor's 500-stock index was down about 0.8 percent. In the bond market, where traders often run to safety, the interest rate on a 10-year Treasury note was down to 2.60 percent, suggesting traders were getting nervous. Bond prices and rates move in opposite directions.
"Things are not good in Washington and it appears, as of this morning, they are worse than they originally appeared," Dan Greenhaus, chief global strategist for the New York brokerage firm BTIG, told clients on Wednesday. "The probability that the government goes right up to the wire on the debt ceiling, thus causing some destabilization in equity markets, is higher than we previously thought.
"We had said we were starting to get nervous," Greenhaus added. "If this continues, nervousness will have to give way to fright."
Well, go ahead and get your scaredy pants pressed, sir, because this is almost definitely going to continue. The Tea Party caucus in the House is entrenched in its position that it will not let the government get back to work without first putting a major dent in the Affordable Care Act, which lurched into glitchy operation on Tuesday.
For some reason these Republicans seem to think they are winning the argument, despite a flood of opinion polls and disapproval of many in their own party. That raises the still-low chance that Tea Partiers will refuse to raise the government's borrowing limit by October 17, when the Treasury Department says it won't be able to borrow any more money to pay old bills.
A catastrophic U.S. government default could follow. Even without such a default, anxiety about it could lead to a market panic like the one we saw in August 2011.
"We believe this is very much a negative-sum game: the odds of a major shock to the economy and a full-blown correction to the stock market have risen," Ethan Harris, global economist at Bank of America Merrill Lynch told clients on Wednesday.
Updated to add: We should be pulling for Wall Street to freak out a lot more, and sooner. It may be the only way to get Washington's attention.
Update II: HuffPost's Zach Carter has some more examples of Wall Street starting to vent anxiety -- including the rising cost of buying insurance against a U.S. government default, which is perhaps more telling than the ups-and-downs of the stock market.

ALSO ON HUFFPOST:
PHOTO GALLERIES
Epic Product Fails