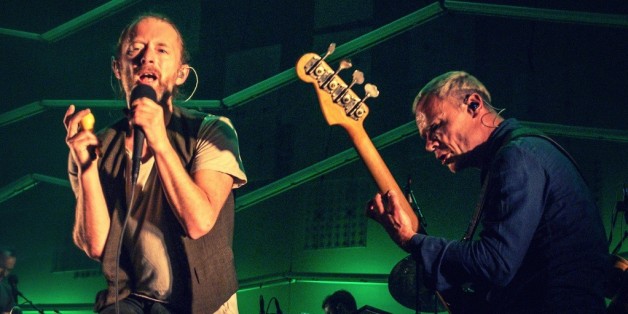 Never heard of Atoms for Peace? Let's break it down for you: Thom Yorke of Radiohead and Flea of Red Hot Chili Peppers. Together. On stage.
Yorke, Flea and company hit Chicago on Wednesday night, joined by bandmates Nigel Godrich (Radiohead), Joey Waronker (Beck and R.E.M.) and Mauro Refosco.
Despite that star-packed lineup, turnout was less than may have been expected, but the band delivered an energetic two-hour set pulling largely from Yorke's 2009 solo album ("The Eraser") and the band's debut ("AMOK") that was released earlier this year, friend of HuffPost Joshua Mellin wrote in Indie Shuffle.
Mellin shared some of his favorite shots from the show with us below.
PHOTO GALLERIES
Atoms For Peace In Chicago