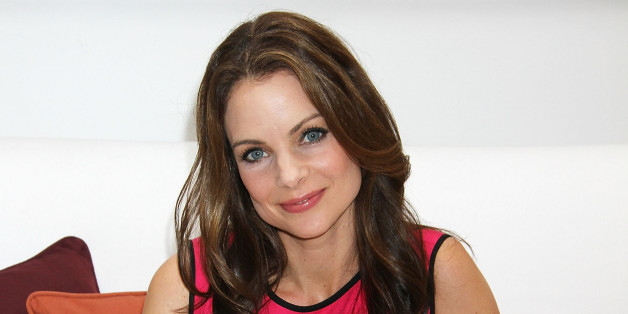 These days, our knowledge of celebrities too often originates with paparazzi images and snarky quotes by anonymous "insiders." After a while, it's easy to forget that stars are real people. That's why HuffPost Celebrity decided to launch its all-new #nofilter quick-fire question-and-answer series. Because how well do you know someone until they've shared their guiltiest pleasures?
Kimberly Williams-Paisley first won over audiences starring alongside Steve Martin in "Father of the Bride" two decades ago. More recently, the actress has become known for her small-screen work on "According to Jim" and "Nashville," on which she currently plays Peggy, the mayor's mistress. The busy mom, who has two sons with husband Brad Paisley, has also partnered with the Hershey Company to celebrate the versatility of dark chocolate. While hosting "Dark Chocolate: The New Dessert" in Manhattan Thursday, she shared some of her culinary pleasures and discussed her hit ABC series.
Why did you want to team up with Hershey?
Hershey asked me to work with them to get the message out about a balanced lifestyle. They've got a great website, themoderationnation.com, which has all kinds of tips for living a balanced lifestyle, which makes a lot of sense for me because I've never been able to really adhere to any extremes. I'm much better with moderation. I've always allowed myself to have dessert, for example. And it was a great fit with Hershey. I love chocolate. They've got great portion-friendly dark chocolate. Tons of different options. They've got Scharffen Berger. So it's been really fun for me to help them out with this effort.
What's the unlikeliest meal that you've paired dark chocolate with?
I was at a restaurant the other day and they brought me a salad, a delicious salad. And on the side of the plate was a piece of dark chocolate. I'd never seen that before. It just came with the salad. And I thought that was awesome. I didn't feel the need to order dessert after that and it was the perfect finish to the meal.

If you were on death row, what would your last meal be?
I would say a great kale salad and wild salmon and dark chocolate, but part of that is because I know it makes me feel really good and gives me a lot of energy. But I suppose on death row, you don't really care about that.
How did you get on death row?
I went crazy, because I didn't get enough sleep?
What's your guiltiest pleasure?
Probably hot chocolate. What I love is Mexican hot chocolate, like a spicy hot chocolate -- adding cayenne pepper to the Hershey's cocoa and making a spicy-sweet treat.
What did you have for dinner last night?
Last night, I had chicken soup and a quinoa salad with arugula.
What's one item that's always in your refrigerator?
I always have green tea, the Honest Tea green tea, and I like it without sugar.
What smells like home to you?
Hot chocolate, chicken soup and a fire in the fireplace.
Who's your ideal drinking buddy, living or dead?
I'd like to have a drink with Obama. He had that beer summit.
What's one way you relate to your "Nashville" character, Peggy, and one way you don't?
I relate to how in love she is with the man she's with. She's very in love with her man and I get that. The stuff I don't relate to are the choices she makes about that. If I had to work that hard to be loved back, I may have made many different choices than Peggy.
What's the most fun part of playing Peggy?
How bad she is, how many bad choices she makes. She just steps in it, and it gets worse and worse for her. And so it's fun to visit that world but not really live in it.
Can you tell us what's to come this season?
There are a lot of surprises. I can pretty much guarantee there are some things that'll happen, especially with Peggy, that you might not expect. So you're going to have to just keep watching.
What shows are always on your DVR?
We, of course, have "Nashville" on there. We love "The Newsroom" on HBO. We love watching "Homeland." We love "Veep," Julia Louis-Dreyfus' show. She's amazing.
What movie could you watch over and over?
"When Harry Met Sally"
What's the last song you downloaded?
The Killers' latest album
What's your biggest pet peeve?
Trying to talk to someone who's texting while I'm talking to them.
What's the most important quality in a mate?
Someone who has a sense of humor.
If you could give advice to a younger version of yourself, what would it be?
To enjoy the ride more. Always enjoy the ride, because you don't know where it's going but it's going to be all right.
ALSO ON HUFFPOST:
PHOTO GALLERIES
They said WHAT? #nofilter