JetBlue partially changed its seating chart. Justin Bieber refused to walk the Great Wall of China. And now the government has shut down?! We need a break.
Desperate times call for desperate measures. We asked, and you answered (and we answered, too). After a nationwide call-out for your favorite #RelaxationVacation, we've made the ultimate list of zen-worthy places in which to rest, relax, and ride out these crazy days. What does #RelaxationVacation mean to you?
If relaxation means style...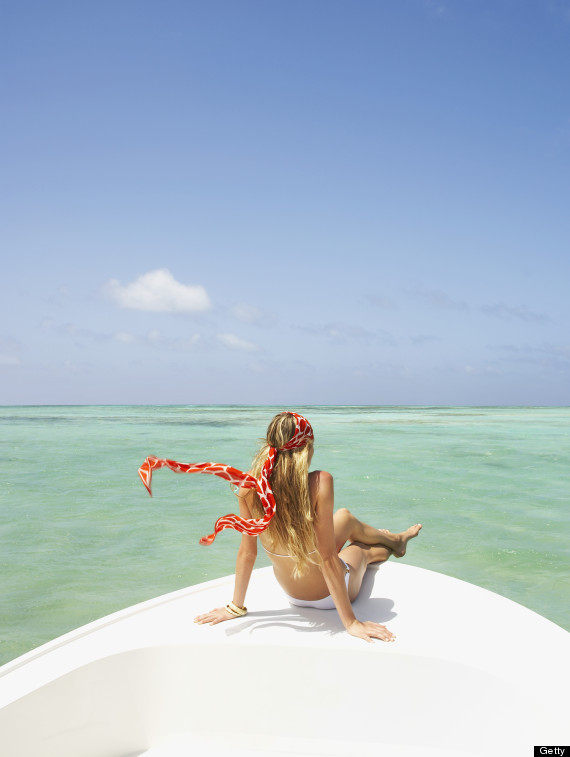 Head to St. Barts. If this isle of chicness can calm Lindsay Lohan down, imagine what it could do for you. First, your biplane will touch down literally 20 feet from the ocean (at supposedly the third most dangerous airport in the world, but whatever). Then, you'll check into a cottage at the Hotel Guanahani, where your butler will hand you a designer candle and a pair of flip-flops. If crystal turquoise water isn't your thing, saunter indoors for a life-changing jet lag treatment at the spa. St. Barts has no stoplights, little crime, and no taxes, so it's pretty much heaven.

If relaxation means imagination...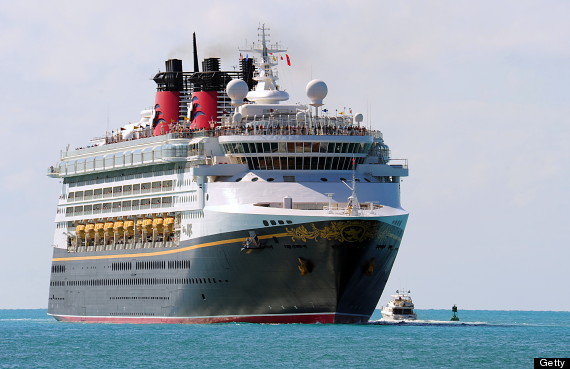 Cruise to Disney's Castaway Cay in the Bahamas. Twitter users @scottacampbell and @iplandisney told us Disney destinations are their ultimate relaxation spots. The parks can get a bit hectic, but Mickey's private island is a little oasis of imagination. Bahamian and Caribbean cruises dock at Serenity Bay Beach, which offers cabana massages on an adults-only strip of sand. After your body calms down, unwind your tired mind at breakfast with the characters or a dance party with Lilo and Stitch.

If relaxation means being eco-friendly...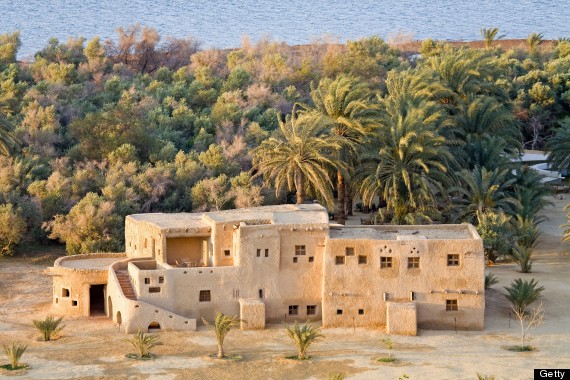 Go remote in Siwa, Egypt. Adrere Amellal is a wonderful sustainable hotel; the majority of reviewers on TripAdvisor prefer to call it "heaven". The little sand village hugs the bottom of a cliff in a desert playground of sand dunes and salt lakes. The resort works to preserve its dream-like setting by serving only locally-grown dinners in its pillow-covered dining grotto and burning only beeswax candles (there's no electricity) in bedrooms lined with romantic stone tiles.

If relaxation means family...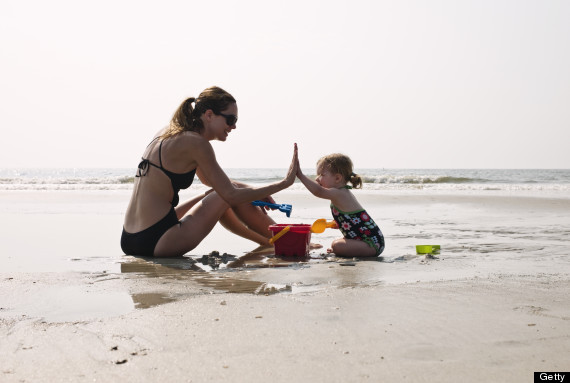 Try Hilton Head Island in South Carolina. Named amongst most relaxing family beach towns, Hilton Head serves up seaside fun with an extra-heavy side order of chill. The fall forecast still reads in the 70s and 80s, but waterfront cabanas go for cheap at the Westin and golf courses become open plains of warm, crowd-less bliss. Stop and smell the jellyfish on a beach walk with the kiddos before a round of complimentary Chardonnay among trickling fountains at the Main Street Inn & Spa.

If relaxation means getting active...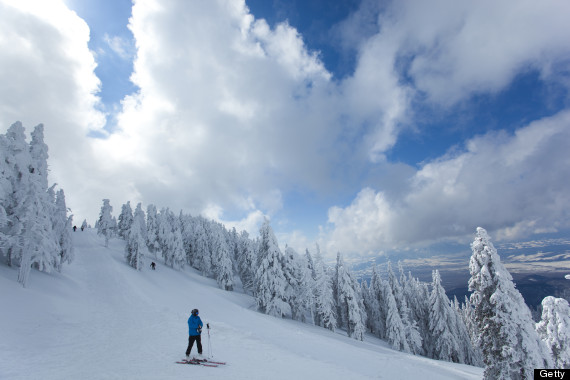 Head to Poiana Brasov, Romania. HuffPost Travel Twitter follower @larisamanescu said the mountains of Romania are her go-to when she needs to "chill" (both literally and figuratively, it seems). It's almost snowtime in Transylvania, which means you can escape to the slopes of Poiana Brasov resort ASAP. Ski the towering Carpathian Mountains or window shop in the coziest of small towns.

If relaxation means pampering...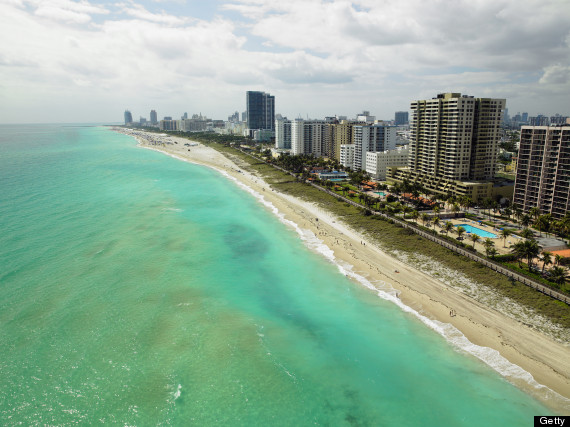 Head to Miami. A wellness expert escapes to The Standard Hotel for its "world-class spa." A veritable Disneyworld of spa features -- from mud pits to sound pools to rain showers to Turkish baths -- will make you forget the outside world exists. If you need extra help leaving reality behind, sign up for Inspirational Reinvention, a three-day spa experience where two hypnotists crush your "mental barriers" between meditation baths.

If relaxation means inner peace...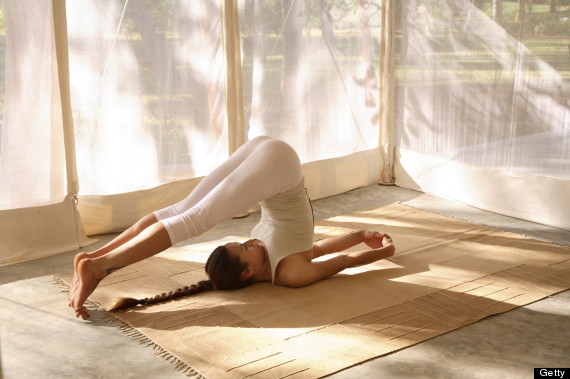 Try Shreyas Yoga Retreat in Bangalore, India. Yoga is, like, the purest essence of relaxation, and Shreyas is among the 10 best Indian yoga getaways. Awaken in the plush white linens of your garden tent and step straight from the shower onto a private palm-lined courtyard. Spend the day in yoga and meditation sessions, or learn to plant herbs in the resort's organic garden. At night, everyone comes together for vegetarian cuisine round the bonfire. Namaste, indeed.

If relaxation means being alone...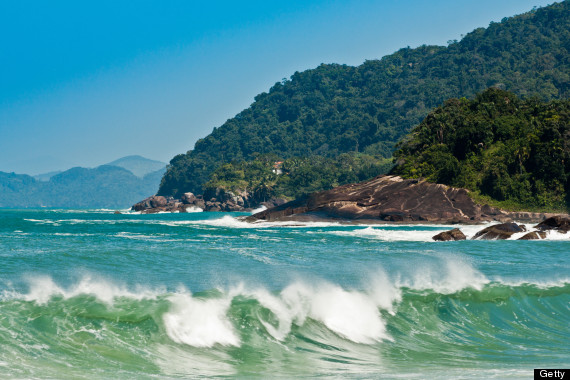 You belong in Ubatuba, Brazil. It's weird they haven't filmed "Survivor" here yet-- this island oasis is too remotely pristine (and pristinely cheap!) to be true. Perfect surfing waves kiss white-sand beaches while waterfalls trickle down tree-covered hillsides. Pousada Picinguaba, a favorite low-cost resort, offers rainforest treks and bird watching excursions. Take a kayak into calmer waters, and you'll feel like the only person on Earth.

If relaxation means music...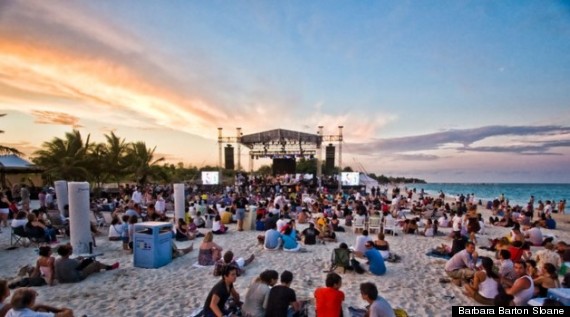 Get to Riviera Maya, Mexico. Twitter user @danielabr3 told us the culture of Riviera Maya relaxes her more than anything. Book now, and you'll catch November's Riviera Maya Jazz Festival, when low-key (read: not incredibly famous) artists play on the sand at sunset. Sip sweet hibiscus tea at the Grand Velas Riviera Maya, where the spa's Water Journey treatment will make you feel like you're "lying up in the heavens."
Also on HuffPost:
Loading Slideshow
Cumberland Island, Georgia

The pristine white sand beaches of <a href="http://www.nps.gov/cuis/index.htm" target="_blank">Cumberland Island National Seashore </a>draw many visitors to Cumberland Island, the southernmost and largest coastal island in Georgia. In addition to the some of the most undeveloped beaches in the country, visitors to the 18-mile-long Golden Isles destination can enjoy the historic <a href="http://www.greyfieldinn.com/" target="_blank">Greyfield Inn</a> (the only lodging on the island besides campsites), thousands of acres of marshland, nature reserves, and slow pace of life.

Sanibel Island, Florida

World-famous for its shelling beaches and coconut palms, <a href="http://www.sanibelisland.com/" target="_blank">Sanibel Island </a>is a beautiful tropical escape located conveniently off the coast of Fort Myers in southern Florida. Visitors take advantage of the island's many recreational and adventure activities, historic lighthouse and boardwalk, and the J.N. "Ding Darling" National Wildlife Refuge & Bird Sanctuary. Both romantic and family-friendly, Sanibel is a popular spot for weddings and honeymoons.

Nantucket, Massachusetts

Quieter than its neighbor Martha's Vineyard, the small island of <a href="http://www.nantucket-ma.gov/pages/index" target="_blank">Nantucket</a> -- located 30 miles south of Cape Cod -- is the perfect destination for a relaxing New England getaway. With a charming mix of colonial homes, quaint downtown areas, and beautiful sand dunes and beaches, the summer colony attracts thousands of tourists each year. Although Nantucket has become an upscale vacation spot comparable to the Hamptons, the island has maintained much of its original charm.

Orcas Island, Washington

Deemed the "gem of the San Juan Islands," <a href="http://www.visitsanjuans.com/the-islands/orcas-island" target="_blank">Orcas Island</a> is known for its miles of wilderness, winding coastal roads and endless outdoor activities. Visitors can get their fix with hiking, biking, canoeing, kayaking, fishing, whale-watching and more. Located in the Salish Sea off the coast of Washington, the group of islands remains largely untouched. Fly into Seattle-Tacoma and make a trip of exploring the archipelago on your way to Orcas to experience the beauty of the Pacific Northwest.

Mount Desert Island, Maine

The natural beauty of the Maine coastline attracts regular visitors to <a href="http://www.visitmaine.com/attractions/state_national_parks/acadia_national_park/mount_desert_island/" target="_blank">Mount Desert Island</a>, part of Acadia National Park and home to the popular vacation town of Bar Harbor. The <a href="http://www.visitmaine.com/attractions/state_national_parks/acadia_national_park/mount_desert_island/" target="_blank">sixth-largest island in the country</a>, Mt. Desert offers miles of hiking trails and virtually untouched forests and beaches, including Cadillac Mountain, the first place in the continental U.S. that the sunrise hits each day. Rent one of the island's many summer cottages and enjoy fresh Maine lobster for the full experience.

Key West, Florida

If you can manage to avoid the tourists, the Southern Florida artists' colony of <a href="http://www.keywestcity.com/" target="_blank">Key West </a>(formerly home to Ernest Hemingway) can be a relaxing island getaway. Just 90 miles from Cuba, the bohemian island is full of local color, from the vibrant cottages and inns to local cultural events to the turquoise water. Try the local seafood, bike around the island, and be sure to stop at the beautiful <a href="http://www.hemingwayhome.com/" target="_blank">Hemingway Home & Museum.</a>

Shelter Island, New York

Time seems to slow down on <a href="http://shelterislandchamber.org/" target="_blank">Shelter Island</a>, a tiny island nestled in (and "sheltered" by) the other islands of the Hamptons. The island has been well-preserved to maintain a rural, small-town feel -- roughly one-third of the island is owned by the Nature Conservancy and kept in its original, undeveloped state. The island is accessible from nearby Sag Harbor by car ferry.

Kaua'i, Hawaii

To enjoy the serene beauty of the Hawaiian island without the crowded beaches and tourist traps, head to the secluded coasts of <a href="http://www.kauai-hawaii.com/" target="_blank">Kaua'i</a>, known for its <a href="http://www.forbes.com/sites/melaniehaiken/2011/11/28/7-reasons-kauai-is-the-best-hawaiian-island/" target="_blank">stunning sunsets </a>and pristine nature reserves. Until three decades ago, the island was still a sugar plantation -- and it remains the least touched of all the destinations in the state. Hike through coasts and canyons, or get some R&R on one of the island's many uncrowded beaches.

Kodiak Island, Alaska

Separated from the mainland by the Shelikof Strait, <a href="http://www.kodiak.org/" target="_blank">Kodiak Island</a> is apart of a 5,000 square mile archipelago off the southern coast of Alaska. Visitors can experience incredible natural beauty of the Gulf of Alaska -- and a true wilderness experience -- with outdoor adventures like boating, fishing and bear-watching. Kodiak is a far cry from a relaxing tropical destination, but the stunning scenery and pristine natural landscapes make it the perfect getaway from a stressful urban lifestyle.

Bald Head Island, North Carolina

Take a trip to "Old Baldy," the oldest standing lighthouse in North Carolina, when you visit <a href="http://www.baldheadisland.com/" target="_blank">Bald Head Island</a>, located across the Cape Fear River from Southport, NC. Hop on the ferry to the small, southernmost Cape Island, and enjoy 10,000 acres of quiet, serene beaches, marshlands and maritime forests. At the island's marina, take a break from beaching with shops, restaurants, spas and island clubs.