It may just look like a simple, retro Coca Cola advertisement -- and hey, it basically is -- but the familiar black-and-white pop piece is actually an iconic painting by the one and only Andy Warhol. And before you start thinking, "Hey, that poster would look fantastic in my bedroom," you might want to check the price tag.
Yes, you read that right. It could set you back up to $60 million.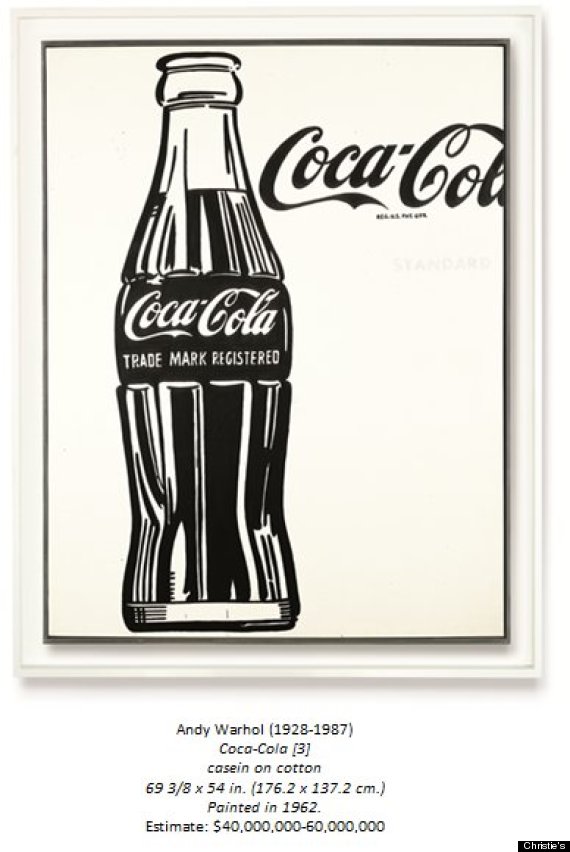 Created in 1962, the massive, human-sized canvas is heading to auction in New York City this fall, as part of Christie's Post-War and Contemporary Art sale. The work had been housed in a previous collection for the past two decades, making cameo appearances at almost every Warhol retrospective in recent memory, Christie's explained in a press statement. But the stark soda masterpiece is officially up for grabs on November 12, 2013. That is, if you have $40 to $60 million sitting around.
"What's great about this country is that America started the tradition where the richest consumers buy essentially the same things as the poorest," Andy Warhol once quipped. "You can be watching TV and see Coca Cola, and you know that the President drinks Coca Cola, Liz Taylor drinks Coca Cola, and just think, you can drink Coca Cola, too."
But if you happen to catch sight of Warhol's "Coca-Cola (3)" -- which will be on view in London from October 12-18, don't be fooled. We're pretty sure only the wealthiest of consumers can afford this one. Warhol is probably high fiving a million angels as he contemplates the irony of his own fate.
Stay tuned to see how much the painting reels in. Given that Mr. Warhol was the world's biggest seller in 2012, we have high, high hopes. In other news, Eric Clapton might make $25 million off the sale of a Gerhard Richter painting.