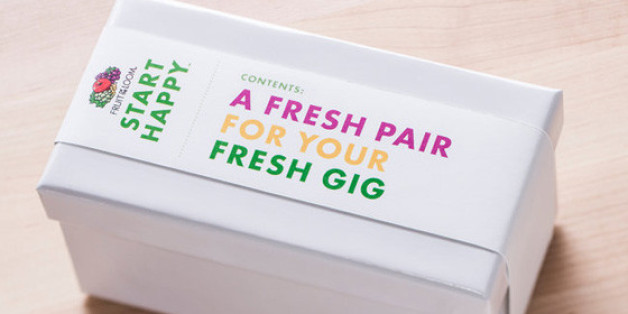 If the first day of school means new shoes, one brand is doing everything in its power to make the first day at a new job synonymous with a less obvious clothing item: underwear.
Fruit of the Loom has teamed up with LinkedIn for a cheeky campaign that gives thousands of users who have landed a new job a free pair of underwear along with a $5 coupon, the New York Times reports. At 5,000 pairs a week for five weeks, the company is giving the newly employed their choice of size and even style -- boxers or boxer briefs for the gents, and bikini, boy short or high cut for the ladies.
But why free underwear you may ask?
"[It] speaks to the fact that the wrong pair of underwear can really bum you out," Matthew Butlein, president of online underwear retailer Freshpair told the Times.
Click over to the New York Times for the full report.
But there's more substance to the promotion than the puffs of cotton used to make the brand's underwear. It comes alongside an effort to reboot the company's marketing.
Those ads dating back to the 1970s featuring actors comically dressed up in giant fruit costumes are out. A more modern take emphasizing the joy of comfortable underwear is in.
Ads featuring a stuntwoman, a stock car racing pit crew and happy couples in tightie-whities make up the campaign so far. There's even a new tagline, "Start Happy."
"A great-fitting pair of underwear can make you feel like you can do anything," Scott Greene, Sr. Vice President of Brand Management for Fruit of the Loom said in a press release provided to The Huffington Post. "We want America to start with the right pair of underwear, putting on confidence and positivity one leg at a time."
Tell us a-butt it!
ALSO ON HUFFPOST:
PHOTO GALLERY
BEFORE YOU GO
9 Horrible Product Makeovers
PHOTO GALLERY
9 Horrible Product Makeovers