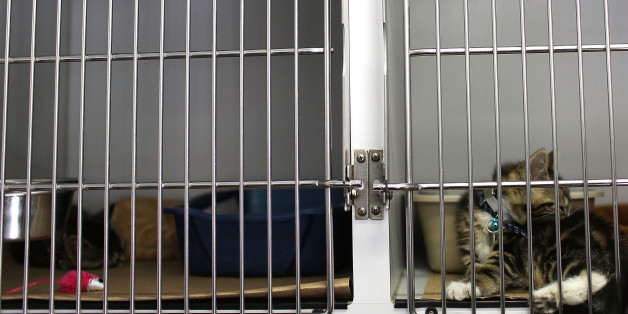 Workers at Riverhead Brake Service on East Main Street in Long Island uncovered a grisly scene in their backyard Tuesday morning.
Four black-and-gray striped kittens with slashed throats were tossed over the back fence of the auto-repair business sometime between 5 p.m. Monday and 6:30 a.m. Tuesday
A worker found the bodies of the kitten scattered on the ground, in small puddles of blood.
Co-owner of Riverhead Brake Service Francis Bujnicki told Newsday that, "He thought it was a couple of rags on the ground. They were so tiny, they didn't even have a lot of blood in them."
The chief of the Suffolk County SPCA Roy Gross says that the kittens appeared to be about three weeks old. "The slaughter of these innocent kittens, when their eyes haven't even been opened to the world yet, we find this very disturbing," said Gross.
Gross believes the suspect could be a dangerous person since "most people who hurt animals hurt people."
If caught, the suspect could face a felony charge of animal cruelty, which is up to two years in jail for each animal killed.
The Suffolk SPCA recovered the bodies and is offering a $1,000 reward to find those responsible.
Anyone with information can call the SPCA at 631-382-7722. All calls are confidential.