Madonna penned an essay in Harper's Bazaar's "Daring Issue" for November, and in it, she recounts a horrifying story about her early years in New York.
In the essay, Madonna conjures up her early years as a daring nonconformist, attests to her "strangeness" and says she didn't have very many friends. She then explains she moved to New York to become a "REAL artist ... To be able to express myself in a city of nonconformists. To revel and shimmy and shake in a world and be surrounded by daring people."
What followed was something more horrible than she had ever expected:
New York wasn't everything I thought it would be. It did not welcome me with open arms. The first year, I was held up at gunpoint. Raped on the roof of a building I was dragged up to with a knife in my back, and had my apartment broken into three times. I don't know why; I had nothing of value after they took my radio the first time.
Though she admits nothing in her Rochester, Mich., upbringing had prepared her for her experiences at the time, Madonna says that in New York she "felt like I had plugged into another universe. I felt like a warrior plunging my way through the crowds to survive. Blood pumping through my veins, I was poised for survival. I felt alive."
She recaps her essay by coming full circle with the Big Apple. "[H]ere I am, divorced and living in New York," Madonna writes. "I have been blessed with four amazing children. I try to teach them to think outside the box. To be daring. To choose to do things because they are the right thing to do, not because everybody else is doing them."
Surprisingly, this isn't the first time Madonna has chosen to relive that difficult story. In a 1995 interview with New Musical Express, Madonna revealed for the first time that she was raped at the beginning of her music career, according to the Chicago Tribune. "Although it was devastating at the time, I know that it made me a much stronger person in retrospect. It forced me to be a survivor," she told the British magazine.
To read Madonna's essay in Harper's Bazaar in its entirety, head over to HarpersBazaar.com.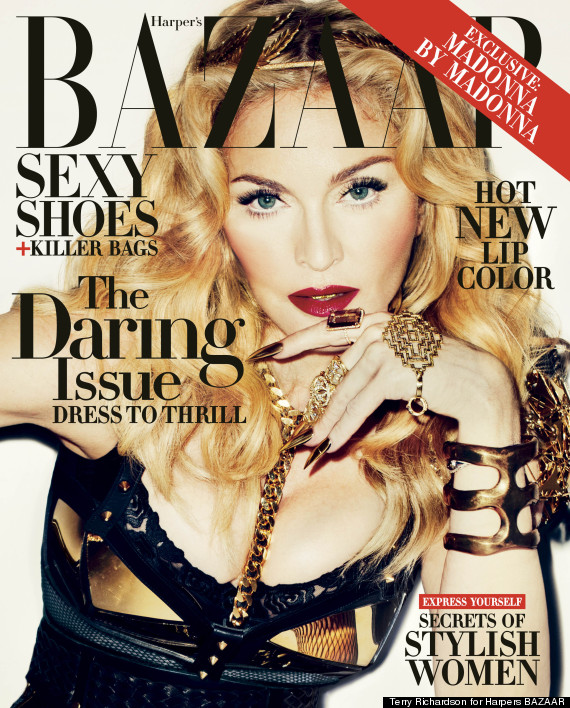 Also on HuffPost:
Loading Slideshow
Madonna, "The Virgin Tour", June 1985

Madonna performs at Live Aid, July 1985

Madonna on the cover of Playboy, 1985

Madonna performing in Paris, Aug. 1987

Madonna performs during her 'Girlie Show' in Bercy Omnisport Palace in Paris, Sept. 1993

Jan. 1990

Madonna on her "Blonde Ambition" tour, April 1990

Madonna blows the crowd a kiss after receiving the award for Best Female Video 07 September during the 1995 MTV Video Music Awards, Sept. 1995

1996 VH1 Vogue Fashion Awards

Madonna at Vogue Fashion Awards, Jan. 1998

Madonna, "Ray of Light" video, Sept. 1998

41st Annual Grammy Awards, Feb. 1999

Performing at 2000 MTV Europe Music Awards

Madonna, 'Drowned World Tour', July 2001

2003 MTV Video Music Awards -- The kiss that rocked the world.

Madonna, April 2003

Madonna reads from her new children's book "Mr. Peabody's Apples", Dec. 2003

Madonna's "Re-Invention" Tour, May 2004

U.K. leg of Madonna's "Re-Invention" Tour, Aug. 2004

Madonna performs at Live 8 London, July 2005

Madonna and her then-husband, Guy Richie, at the TIFF Gala Premiere of his film "Revolver", Sept. 2005

Premiere Of Madonna's Documentary "I'm Going To Tell", Oct. 2005

Awards Room at 2005 MTV Europe Music Awards, Nov. 2005

Madonna plays G-A-Y at Astoria, Nov. 2005

48th Annual Grammy Awards, Feb. 2006

Madonna plays Wembley Arena during her "Confessions" world tour, Aug. 2006

Madonna performs in Germany in the European leg of her "Confessions" world tour, Aug. 2006

Live Earth London, July 2007

"I Am Because We Are" Premiere at Cannes, May 2008

Madonna performs at Dodger Stadium, with a special appearance from Britney Spears, Nov. 2008

Madonna with daughter Lourdes at the New York premiere of "NINE", Dec. 2009

Madonna holds hands with her adopted daughter Mercy James as she arrives at the 'Raising Malawi Academy for Girls' in Chinkhota, Malawi, April 2010

Macy's "Material Girl" Collection Launch with daughter Lourdes and "Material Girl" model Taylor Momsen, Sept. 2010

2011 Vanity Fair Oscar Party with daughter Lourdes, Feb. 2011

Madonna attends the 'Alexander McQueen: Savage Beauty' Costume Institute Gala at The Metropolitan Museum of Art on May 2, 2011.