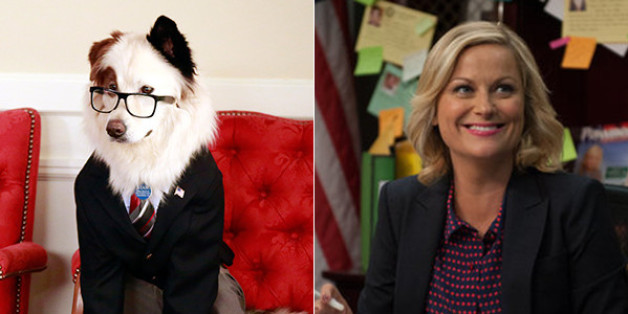 "Dog With a Blog" had a bigger audience than "Parks & Rec."
The Disney Channel series about a talking dog ... with a blog had 3.5 million viewers on Friday, Oct. 4. The Thursday, Oct. 3 episode of "Parks & Recreation" (which featured Kristen Bell) had 3.1 million viewers.
Yes, the audiences are very different and "Parks" does get a boost in online viewing and DVR, but here it is again: "Dog With a Blog" had more viewers than "Parks & Rec."
Looks like we live in a world where DOG WITH A BLOG (3.5 million on Friday) attracts more viewers than PARKS AND REC (3.1 million on Thurs.)

— Michael Schneider (@franklinavenue) October 7, 2013
The critically-acclaimed NBC sitcom has been struggling in its new 8 p.m. ET timeslot. Now in its sixth season, "Parks" is anchoring what used to be known as "Must-See TV" night on NBC. It's going up against ratings champ "The Big Bang Theory" -- which pulled in 18.2 million viewers and a 5.2 rating in the 18-49 demo in its most recent outing -- as well as young-skewing "The Vampire Diaries" and "The X Factor."
NBC hasn't slacked on its "Parks" promo and placed Amy Poehler and co. right alongside its new Thursday night stars in print ads, commercials and billboards ... but it's not like that did the new comedies any favors. The series premiere of "Welcome to the Family had 3 million viewers and a 1.1 rating. The debut of "Sean Saves the World" had 4.4 million viewers and a 1.4 rating.
Are you watching "Parks & Rec"?
"Parks & Rec" airs Thursdays, 8 p.m. ET on NBC.
PHOTO GALLERIES
'Parks and Recreation'