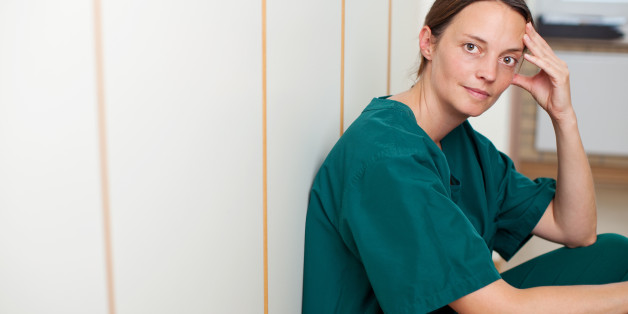 Hospital workers wearing gowns and gloves for contact with all patients could help lower the risk of patients acquiring some antibiotic-resistant bacteria, a new study suggests.
Researchers found that when health-care workers wore gowns and gloves when entering all intensive care unit patient rooms -- and not just those with patients known to be infected with antibiotic-resistant bacteria -- the risk of acquisition of methicillin-resistant Staphylococcus aureus bacteria (MRSA) went down.
However, there was no reduction in the rate of acquisition of MRSA and vancomycin-resistant Enterococcus, another kind of antibiotic resistant bacteria.
Right now, Centers for Disease Control and Prevention guidelines only recommend gowns and gloves be worn by health-care workers when working with patients with antibiotic-resistant bacteria.
"Infection control studies such as this are important to advance the science and lead to important discoveries that can decrease health care-associated infections," study researcher Daniel J. Morgan, M.D., M.S., an assistant professor of epidemiology and public health at the University of Maryland School of Medicine, said in a statement. "In conjunction with the evolution of hospital cleaning practices, increased handwashing frequency and other measures, patients in hospitals can be safer than they've ever been from HAIs [healthcare-associated infections]."
The study is based on data from 92,241 swabs taken from 26,180 patients who spent time in one of 20 medical or surgical intensive care units in 15 states at some point during a nine-month period in 2012. ICUs that took part in the study were randomly assigned to either have all healthcare workers wear gowns and gloves for contact with all patients, or to have all healthcare workers wear gowns and gloves only when having contact with patients infected with antibiotic-resistant bacteria.
While the researchers did not find a statistically significant decrease in rate of acquisition of vancomycin-resistant Enterococcus, an antibiotic-resistant bacteria, in the intervention group, they did find fewer acquisitions of MRSA in the intervention group. However, they noted that this finding "requires replication before reaching definitive conclusions." They also found that rates of handwashing among healthcare workers after leaving patient rooms went up.
In a related editorial, Preeti N. Malani, M.D., MSJ., of the University of Michigan Health System and Veterans Affairs Ann Arbor Healthcare System, wrote: "Although the results of Harris et al failed to demonstrate an overall benefit of universal use of gloves and gowns to reduce acquisition of MRSA or VRE, this approach may be worth considering in some high-risk settings such as surgical ICUs wherein MRSA transmission is high among patients with newly implanted medical devices. If implemented, gloving and gowning should be just part of an overall strategy that includes efforts to optimize hand hygiene and prudent use of antimicrobials."
SUBSCRIBE AND FOLLOW
Get top stories and blog posts emailed to me each day. Newsletters may offer personalized content or advertisements.
Learn more