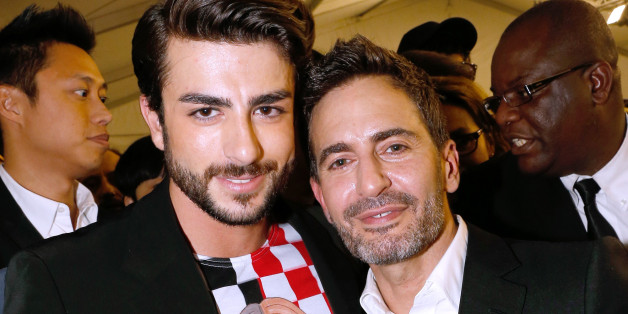 Marc Jacobs' ex, Harry Louis, is not being subtle about the couple's recent breakup.
The Brazilian porn star and model took to Instagram over the weekend to announce he and Jacobs have split. The post featured a photo of the two, taken recently in Paris, in what looks like a shattered frame.
Jacobs and Louis were all smiles when they were photographed together on Oct. 2 at the Louis Vuitton Spring/Summer 2014 show at Le Carre du Louvre during Paris Fashion Week.
In the caption, he described that distance took its toll on the relationship:
The distance and lack of time because of work schedules aren't really something realistic, and he's such a beautiful and amazing person, that I think he deserve a bf who will stay at least in one of the cities that he leaves in... Also, I need that too... We love each other very much, and that it was a decision from both!!!! Every special minute we've spent together will be treasured, and a new chapter of our both lives has started... Both of us focusing in work, and make it work!!!!
"So, for those who were always supportive of us, please don't be sad, live goes on, to all of us," he added. "And for those who were praying that this day were coming, there you have... Marc Jacobs and Harry Louis aren't officially a couple anymore!!!! [all sic]"
The two were first linked back in 2011. They briefly split up in 2012 only to rekindle the romance. Just six months ago, they were spotted wearing speedos and getting cozy on a beach in Brazil, Just Jared noted.
This isn't the only breakup the 50-year-old famed designer has faced recently. Last week, Jacobs announced he is leaving Louis Vuitton after 16 years with the French fashion house to focus on his own label, the New York Times reported.
ALSO ON HUFFPOST:
PHOTO GALLERIES
Celebrities Who've Faced Gay Rumors