After years of anticipation, the Federal Reserve will begin circulating the new $100 bill on Tuesday. And there's a lot to be excited about on the latest Benjamin.
The front of the new bill features a bluish-purple security ribbon that's three-dimensional (the strip is actually woven into the paper). When the bill is moved, a printed Liberty Bell and the number 100 appear to scroll down the ribbon.
A vibrant copper-colored inkwell emblazoned over part of the Declaration of Independence printed on the bill's front side reveals a color-changing Liberty Bell inside it when the bill is tilted.
LOOK: Here are the front and back of the new $100 bill. NewMoney.gov has an awesome interactive display that lets you see the bill's new hologram-like features in action. (Story continues below.)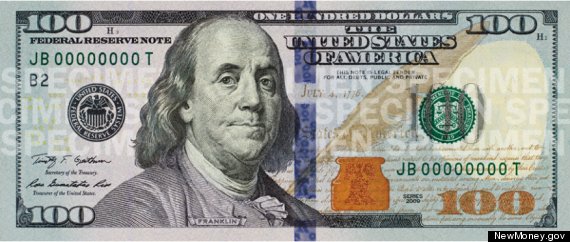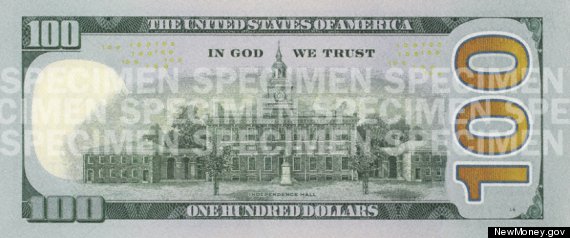 The new design also frees Ben Franklin from the oval border that contained him before, and features a rather large image of the quill used to sign the Declaration of Independence coming out of Ben Franklin's shoulder.
The new design flourishes, which are intended to prevent counterfeiting, don't come cheap. CBS News is reporting that each bill costs around 4 cents more to produce than the old $100 notes, meaning that taxpayers will shell out an extra $100 million this year to print these babies.
The new bill took more than a decade to develop and was originally supposed to be rolled out in 2011, but a couple of printing problems caused its delay, The New York Times notes.

ALSO ON HUFFPOST:
PHOTO GALLERIES
Cool Currencies Of The World