Every day, Marquis Taylor works with low-income, disengaged high school students who are on the verge of dropping out. One 18-year-old had grown up in a family of nine kids and a single mom in Brockton, Mass. He was frequently in trouble and failing most of his classes. But by the time he had gone through Taylor's mentorship program, the boy had raised his GPA almost two full points and started running after-school programs to teach younger kids basketball. He's on track to graduate this May.
Taylor, the 29-year-old founder and executive director of Coaching4Change, has experienced firsthand what these kids are going through. Now he's dedicated his life to helping the next generation with sports and mentors.
Until he was 10 years old, Taylor lived -- and shared a bunk bed -- with his single mother in a 600-square-foot apartment in South Central Los Angeles. He was exposed to drugs, violence and extreme poverty in that inner city neighborhood.
"We grew up in the epicenter of where the LA riots started," Taylor tells The Huffington Post. "It was always a struggle, trying to understand the way of the world and being really confused by a lot of the things I saw and experienced."
Diagnosed with attention deficit disorder at a young age, he had trouble focusing in school. But basketball offered an escape, a community and a place where he could feel successful. Taylor says the sport not only kept him on track, but helped him to start exploring his own talent and potential as a leader.
"I was like a lot of kids -- the goal was being the next Kobe or the next LeBron," Taylor says. "Just being in the NBA was the thing that really motivated me. I was never really good at school, I struggled in school."
But he worked hard on and off the court, earning scholarships to attend private schools. After graduating from Stonehill College, a Catholic liberal arts institution in eastern Massachusetts, he was offered a contract to play professionally in Sweden.
Taylor decided to forgo the opportunity in order to pursue a career in real estate finance. When the real estate bubble burst in 2008, he went to a company that sold low-income housing tax credits on Wall Street, and much of his job involved traveling around the country to low-income housing areas. What he saw would completely change the trajectory of his life and career.
Taylor says it was the first time he understood "why these people can't begin to live the American dream." He realized people weren't economically mobile because they hadn't received the education they needed. They didn't understand home ownership, mortgages or saving accounts, "basic things that they needed," he says.
Taylor had one of his biggest "aha" moments while in the Mississippi Delta, one of the poorest areas in the country. He saw so-called mailbox communities, where most of the residents rely on welfare checks, and he noted how much the kids were struggling in school and at home. A light went off in Taylor's mind: He needed to find a way to use sports -- which proved to be his key to a better life -- to improve the lives of impoverished youth and their communities.
In 2011, while earning his master's degree in education at Smith College, Taylor started the nonprofit organization that would become his full-time passion project. Coaching4Change partners with high schools in the Brockton area to create programs for needy kids. Some of those are in foster care, some are homeless, some have parents in prison, and others are in single-parent homes. More often than not, they qualify for free or reduced-cost school lunches.
Coaching4Change's focus is teens in their freshman and sophomore years of high school -- to catch them before they drop out.
"Our goal is to increase their GPAs and have them exposed to what a college experience is like, to motivate them to do what they need to do to stay on track to graduate," says Taylor.
But younger kids benefit from Taylor's efforts as well. Last year, Coaching4Change ran four programs in Brockton, working with 22 college students, 40 high school students and 167 elementary students. In one initiative, students from Stonehill College and Boston University mentor high school students, and together they create and manage sports programs for the younger kids.
The key to Coaching4Change is fairly simple: The program helps kids succeed by giving them the opportunity to be successful.
"That's what we're able to do through sports -- we give them an opportunity to succeed and to challenge themselves," says Taylor. "Everyone has untapped potential, but how do you begin tapping into it? It's through these small successes."

This post is part of a series produced by The Huffington Post highlighting the contributions of Go-Givers -- people who are looking beyond a "Go-Getter" approach to success and redefining success to include the importance of giving back. To nominate a Go-Giver of the Week, email gogiver@huffingtonpost.com.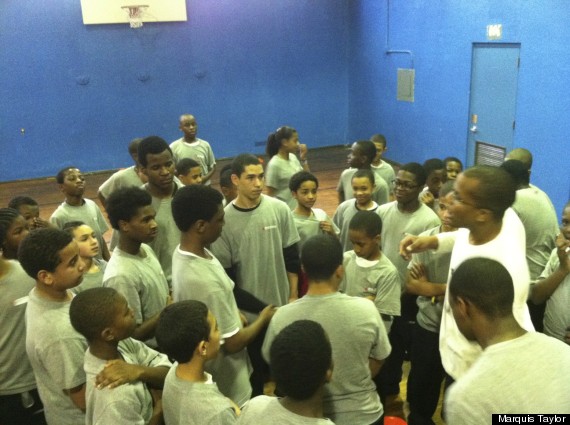 Also on HuffPost:
Loading Slideshow
Handwrite It On Paper

Instead of typing out your notes, write them down on paper for better retention. <a href="http://news.medill.northwestern.edu/chicago/news.aspx?id=177291" target="_blank">Research has found</a> that the act of holding a pen and creating shapes on paper sends feedback signals to the brain, leaving a "motor memory" which makes it easier to later recall the information. Typing or digitally recording did not have the same cognitive effect. So although it may take you longer, hand-writing notes could pay off in the long run.

Switch It Up

Moving locations can help refresh your studying when your mind starts to lag. If you've been studying in your room, try moving to the kitchen table or going to the library when you start to lose motivation. It can help bring a wandering mind back to the task at hand, and also potentially improve your memory of the material. "When the outside context is varied, the information is enriched, and this slows down forgetting," <a href="http://www.nytimes.com/2010/09/07/health/views/07mind.html?bl" target="_blank">psychologist Dr. Robert Bjork told the New York Times</a>.

Try Meditation

Meditation has been shown to boost focus and improve test scores. A recent <a href="http://www.huffingtonpost.com/2013/03/27/mindfulness-testing-focus-reading-comprehension_n_2957146.html" target="_blank">University of California at Santa Barbara study </a>found that mindfulness meditation improved college students' testing ability, and <a href="http://www.huffingtonpost.com/2013/04/20/meditation-better-grades_n_3053719.html" target="_blank">another study</a> found that students who meditated before a lecture got better scores on a post-lecture quiz than students who didn't meditate. In the weeks leading up to your big exam, try sitting quietly and focusing on the breath for just five minutes twice a day, in the morning and evening, to improve focus and mental clarity.

Take A Breather

Studying for longer isn't always better: Studies have found that taking a <a href="http://www.csulb.edu/~thayer/SugarSnackVsWalk.pdf" target="_blank">10-minute walking break</a> can help improve your focus for up to two hours afterwards.

Test Yourself

Giving yourself a practice test can be an effective way to ease pre-exam jitters and identify gaps in your knowledge. <a href="http://lifehacker.com/5975203/improve-your-learning-with-practice-tests-and-skip-less-effective-techniques-like-highlighting" target="_blank">Research has found</a> that active study methods, like taking practice tests, are more effective than other strategies, like highlighting or summarizing. With enough practice, you'll feel like an old pro by the time you sit down for your ACT or calc final.

Drink Lots Of Water

This is especially true if you've been relying on coffee or energy drinks, which can have a dehydrating effect, to get you through long study sessions. Even mild dehydration can <a href="http://www.nature.com/ejcn/journal/v57/n2s/full/1601898a.html" target="_blank">impair cognitive functioning and mental performance</a> -- so make sure to keep a bottle of water next to you at all times when you're studying.

DON'T Cram

Cramming may seem like the best way to make sure you've got everything covered right before the exam, but it's actually counterproductive. Not only will you be exhausted the morning of exam, but your fatigued brain won't be able to recall information as well as if you were well-rested. Trust us: There's no quick fix. Start studying around a month before your exams, pace yourself, and get some sleep the night before.

Make It A Group Effort

Studying in a group can be helpful, if you choose the right group and stay focused on the material so that your studying doesn't veer off-course. Try limiting your group to three or four members (all of whom are serious about getting work done), appoint a group leader, and make an agenda of everything you need to get through and how much time each item will take.

Divide And Conquer

Not all exams are created equal, so don't feel the need to divide your studying equally between different subjects. Assess each exam in terms of difficulty and your own level of knowledge, and spend more time on the sections that you know will be more challenging for you.

Listen To Relaxing Music

Listening to soothing classical or instrumental music can help a wandering mind stay focused. <a href="http://www.nytimes.com/2012/08/12/jobs/how-music-can-improve-worker-productivity-workstation.html?_r=0" target="_blank">Research has found</a> that workers who listened to music completed their tasks more efficiently and came up with better ideas than those who didn't.