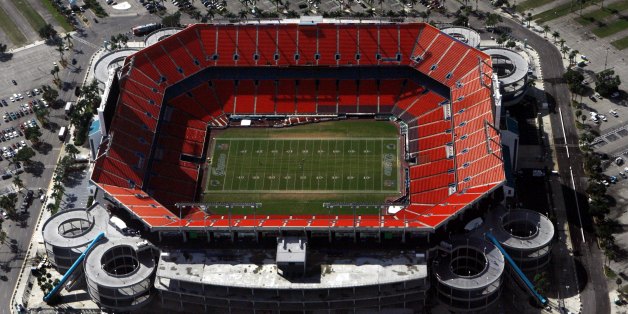 It used to be about sun and the scene. Now hosting the Super Bowl is all about a stadium with modern amenities.
NFL officials reinforced that Tuesday when they bypassed South Florida and named Indianapolis, Minneapolis and New Orleans as finalists for the 2018 Super Bowl.
It is the third time this year that Sun Life Stadium's deficiencies have cost the region a chance to stage a Super Bowl.
"It's very disappointing that we weren't invited to bid. It's very disappointing that the legislature didn't allow Miami-Dade County to vote on [stadium funding]. I think that this is still a part of all that," Rodney Barreto, chairman of the South Florida Super Bowl Committee said in reference to the Miami Dolphins' bid for public funding to help with a stadium modernization project that failed in the Florida Legislature last spring.
Subsequently, South Florida lost out to San Francisco for the 50th anniversary game in 2016 and to Houston for 2017. Commissioner Roger Goodell indicated that the need for significant upgrades to the stadium was the key factor.
Miami was one of six cities that submitted applications for 2018. Dallas and Tampa were also shut out. The host will be selected in May.
"I think it basically kind of validates what we've been saying all along that we've got to stay competitive, we've got to stay aggressive, we can't rest on our laurels," Barreto said. "It is disappointing news for South Florida. Obviously, for Tampa, too. The state of Florida really got the shaft here."
It also strikes a blow to Dolphins' hopes for obtaining public funding for stadium renovations in the near future.
Owner Steve Ross has indicated he will continue to seek a public-private partnership to modernize the 26-year-old stadium.
Ross said last month he is prepared to increase his part of the funding proposal. But he has repeatedly made it clear that he will not foot the bill alone.
"The fact is I offered the best deal that has ever been offered by an owner of a professional sports team," Ross said during a news conference. "My commitment is just as great as it was then, in fact greater, and the facility and the capability of doing that is there. It's a question of working with the facility, with this community, and I think it's for the benefit of this community that we work together."
South Florida has hosted a record-tying 10 Super Bowls, the same as New Orleans, but is now assured of going at least nine years without one (2010 was the most recent).
The longest hosting gap was 10 years, from 1979-89, after the Orange Bowl was deemed no longer a viable venue. Now Sun Life is considered antiquated and inadequate.
Ross pledged to pay more than half of a $350 million plan to revamp the stadium, and sought funds from the Miami-Dade County tourist tax and a state sales tax rebate for the remainder. The funding bill passed in the Senate but died in the House when Speaker Will Weatherford refused to bring it to the floor.
Miami was also rejected in the bidding process for the 2015 Super Bowl, when Glendale, Ariz., was ultimately chosen over Tampa.
Barreto said he was hopeful of at least being permitted to bid for 2018 "given Ross' aggressive offseason with spending a lot of money on the team and that he was committed to doing whatever it took to put together a more aggressive plan for the stadium.
"And that we still have five years. We have plenty of time to revisit this issue."
The Dolphins haven't announced a new plan to pursue stadium improvements. But Ross mentioned he was in discussion with the Orange Bowl Committee about finding resources to accomplish it in order to attract future college football championship games.
"We've had 10 Super Bowls here because it's an ideal market to host big events, but we're now facing more intense competition from multiple modernized facilities," Tom Garfinkel, Dolphins president and CEO said in a statement from the owners meetings in Washington. "We will continue to work hard to attract big events -- and their corresponding economic impact and job creation -- to the State of Florida."
Ross said last month: "I'm prepared to work with the community. I'm prepared to make my offer better, because I think the community needs it. That's what I believe in."
Among the three finalists, New Orleans' Mercedes-Benz Superdome, which hosted this year's Super Bowl, is older than Sun Life Stadium but has undergone a $320 million renovation since 2006.
Minneapolis is nearing an agreement on a new stadium projected to open in 2016. The project moved closer this week to breaking ground this fall with resolution of two funding key issues.
Indianapolis earned praise for its efforts in hosting the 2012 game in Lucas Oil Stadium which opened in 2008. ___
PHOTO GALLERIES
Miami Dolphins Cheerleaders