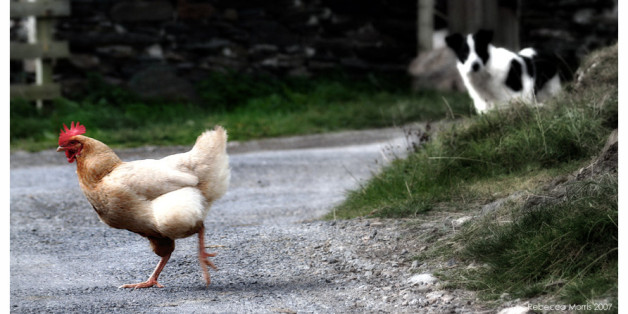 We're taking suggestions for what TV show it resembles with this new development.
Arlington Now spoke with Northern Virginia's most vocal poultry foe about a law under which dogs that commit certain "depredations" against poultry and other livestock may be killed on sight:
Virginia law section § 3.2-6552 allows for citizens to kill any dog caught in the act of killing or injuring poultry. After the fact, Virginia courts have the power to order animal control officers to kill any dog found to be a "confirmed poultry killer."

The little-known law may be a deal-breaker for dog-loving Arlington residents, should the county follow a task force recommendation and require potential hen owners to first win the approval of adjacent property holders.

"That could really cause some problems between neighbors," said Jim Pebley, of the group Backyards, Not Barnyards, which opposes urban chickens in Arlington. "This just adds another reason why relaxing restrictions on raising poultry in residential areas is not a very good idea."
Joan Schaffner, a professor at the George Washington University Law School specializing in animal law, tells HuffPost that the Virginia law "would appear to apply" toward dogs that kill backyard chickens (rather than commercial operations), even though the law's drafters "did not anticipate backyard hens."
"Thankfully, dogs, people and hens co-exist happily in Baltimore, Richmond, Raleigh, and hundreds of other urban communities across the country that embrace henkeeping," Fendley said. "We are confident that in Arlington, too, we can walk and chew gum at the same time."
SUBSCRIBE TO & FOLLOW THE MORNING EMAIL
The Morning Email helps you start your workday with everything you need to know: breaking news, entertainment and a dash of fun. Learn more