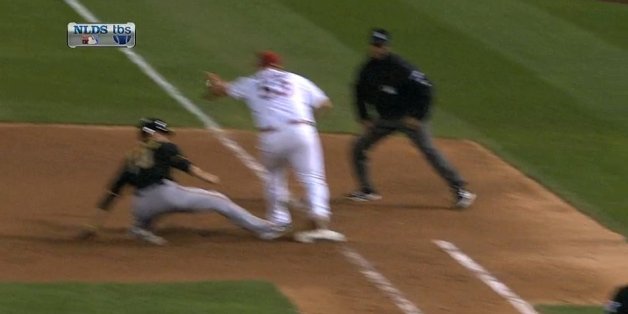 Before the Cardinals padded their lead in the bottom of the eight of the Game 5 on Wednesday night, they may have benefited from a bang-bang call in the top of the inning.
Pittsburgh had a runner on first base with one out when Starling Marte hit a liner right into the glove of St. Louis second baseman Matt Carpenter. He immediately threw the ball to Matt Adams covering first to try and double off Pirates pinch-hitter Jordy Mercer. First Base umpire Paul Nauert called Mercer out after he slid feet first, causing Pirates manager Clint Hurdle to rush out of the dugout and argue.
Inning over. Shortly after the call, Adams hit a two-run homer and the Cardinals went on to win 6-1 to advance to the NLCS.
While it was clearly a very difficult and close call to make, Nauert may have made the wrong call.
Moot pt. b/c homer in the bottom of 8th, but the #Pirates Jordy Mercer sure seems safe on this double play. pic.twitter.com/ErDDqZcZ5n

— Xing Li (@xingtheli) October 10, 2013
Close, but #Pirates were robbed. He was safe. pic.twitter.com/8mFgEYQOXx

— Cork Gaines (@CorkGaines) October 10, 2013
"I honestly didn't think it was even close, and then when he actually raised his arms to give the safe sign and then pulled them back down and called me out, it was a little mind-blowing at first," Mercer said after the loss, via Joey Nowak of MLB.com. "It was a big play right there, and who knows? [Neil Walker's] coming up, and anything can happen."
ALSO ON HUFFPOST:
PHOTO GALLERIES
PHOTOS: Cardinals vs. Pirates Game 5