As if one sexy Cruz woman wasn't enough ... there's two!
Penelope Cruz stepped out with her sister and fellow actress Monica at a dinner for L'Agent by Agent Provocateur and Net-A-Porter at Sibyl Colefax & John Fowler Antiques in London last night (Oct. 9) -- and the siblings undoubtedly turned heads. The sisters, who both gave birth to babies in the last few months, wowed in black ensembles, giving their best sultry stares.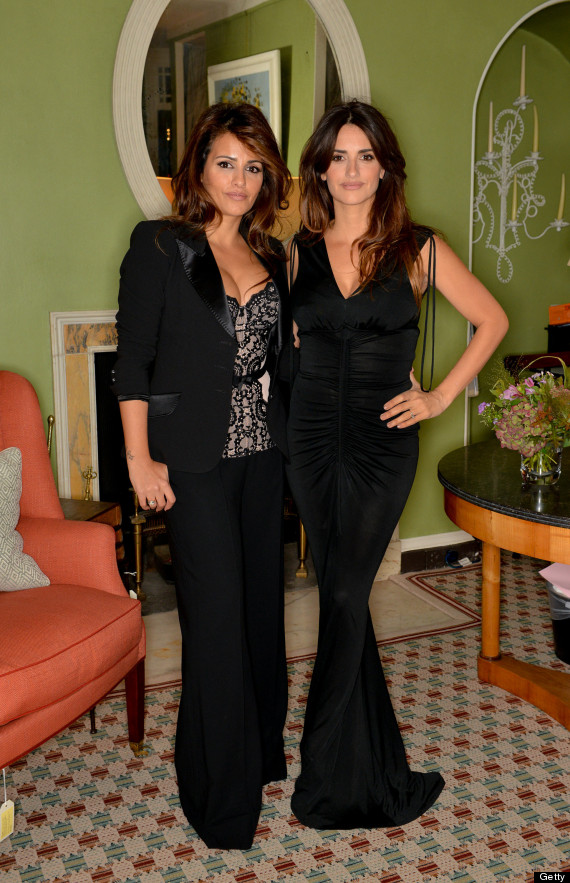 Monica, 36, welcomed daughter Antonella in May and Penelope, 39, gave birth to her second child with Javier Bardem, baby girl Luna, in July.
As for Monica's feelings about her older sister, the Spanish star admits there's no rivalry between them.
"I have been raised to value my family. Penelope and I never fight, we have a really, really good relationship," she told the Daily Mail in 2007. "It makes me angry and sad when people ask if we argue because I can't imagine a family being any other way."
Browse through our gallery of other hot celebrity siblings below:
Loading Slideshow
Monica and Penelope Cruz

Adam and Michael Levine.

Briana and Kaley Cuoco.

Lady Gaga and Natali Germanotta.

Sandra Vergara, Sofia's sister.

Audrina and Casey Patridge.

Kate and Rooney Mara.

Jennifer Lawrence with brothers Ben and Blaine.

Zooey and Emily Deschanel.

Lauren and Breanna Conrad.

Haylie and Hilary Duff.

James and Dave Franco.

Beyonce and Solange Knowles.

Ashlee and Jessica Simpson.

Dannii and Kylie Minogue.

Chris and Scott Evans.

Kendall Jenner, Khloe Kardashian, Kourtney Kardashian and Kylie Jenner.

Sienna and Savannah Miller.

Rafaela, Gisele and Patricia Bundchen.

Julianne and Derek Hough.

Kate and Oliver Hudson.

Annalynne and Angel McCord.

Emma and Alex Watson.

Poppy and Cara Delevingne.

Justin and Sebastian Theroux.

Vanessa and Stella Hudgens.

Whitney and Jade Port.

Chris and Liam Hemsworth.

Elizabeth Olsen is the younger sister of Mary-Kate and Ashley Olsen.

Scarlett Johansson and twin brother, Hunter.

Paris and Nicky Hilton.

Taylor and Austin Swift.

Victoria Beckham's sister, Louise Adams.

Dakota and Elle Fanning.

Andrew, Owen and Luke Wilson.

Nikki and Nathan Reed.

Rihanna's brother, Rorrey Fenty.

Miley and Brandi Cyrus.

Ryan and Mandi Gosling.

Zac Efron's little brother, Dylan.

Blake Lively's older brother, Eric.

Erin and Kendra Andrews.

Jake and Maggie Gyllenhaal.

Brad Pitt's older brother, Doug.

Robert Pattinson's older sisters, Lizzy and Victoria.

Josh and Connor Hutcherson.

Chord Overstreet's older brother, Nash.

Amy, Jenny and Joanne McCarthy.

Michelle Pfeiffer's younger sister, Dedee.

Ben and Casey Affleck.