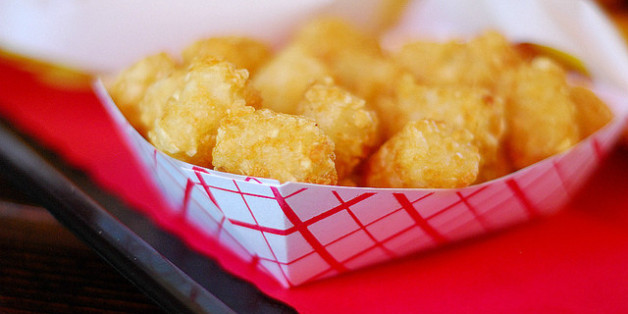 We do not just love the idea of tater tots. We do not want to elevate tater tots. We love tater tots without irony. We love tater tots in restaurants. We love tater tots in totchos. The truth, the real, ugly, honest truth is that there is really no better tater tot than a frozen tater tot. No one believes this more sincerely than the inventors of said potato treats, Ore-Ida, who (this is not a joke) trademarked the name Tater Tots some time ago.
Homemade tater tots are a noble undertaking. Do you know what I mean by that? I mean it's frustrating as hell. It takes time and practice to get them right (if you want a cheat sheet, Serious Eats has an excellent one, with step-by-step instructions). Once you get the correct mushed-potato to chopped potato ratio down, there's also the question of fryer oil temperature, deep-frying at home and disposing of the oil afterward. Call us unambitious, lazy, not dedicated enough to the tater tot cause, but most of the time, we'd rather just slide a sheet tray of frozen potato nuggets into the oven and call it a day.
If we're being really honest, every tater tot that gets dreamed up in a restaurant kitchen or by enthusiastic home cooks, is looking to recreate the original. The Ore-Ida Tater Tot. Are their potatoes filled with chemicals? Maybe. Potatoes are well-known to be some of the most pesticide-saturated produce on the market. For an occasional indulgence, it doesn't freak us out too much (we are neither doctors nor nutritionists, and if dirty potatoes really freak you out, check out organic tater tots). If you, like us, love tater tots for breakfast with scrambled eggs and cheese, for lunch alongside a sandwich or for dinner smothered in nacho fixings, you understand that sometimes the easiest thing is the best thing. For that, we'd like to thank the frozen tater tot for existing, and encourage you to enjoy them every so often. No shame in that game.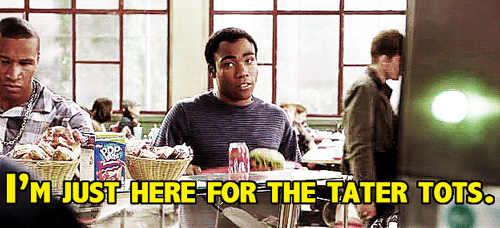 Want to read more from HuffPost Taste? Follow us on Twitter, Facebook, Pinterest and Tumblr.
ALSO ON HUFFPOST:
PHOTO GALLERIES
Totchos Recipes