Labor Day is well behind us, however, this week's best-dressed list was full of stars shining in white. Julianne Moore proved that it is possible to wear a drapey white gown without looking like you're playing dress-up, while Charlize Theron found the perfect silhouette to show off her mile-long legs.
Though there were many A-listers who deserved gold stars this week, the best-dressed award has to go to Jennifer Hudson. The singer looked drop-dead gorgeous in a white peplum dress that showcased her amazing figure and complimented her skin tone.
Check out our picks for best-dressed and let us what you think.
Jennifer Hudson in Yigal Azrouël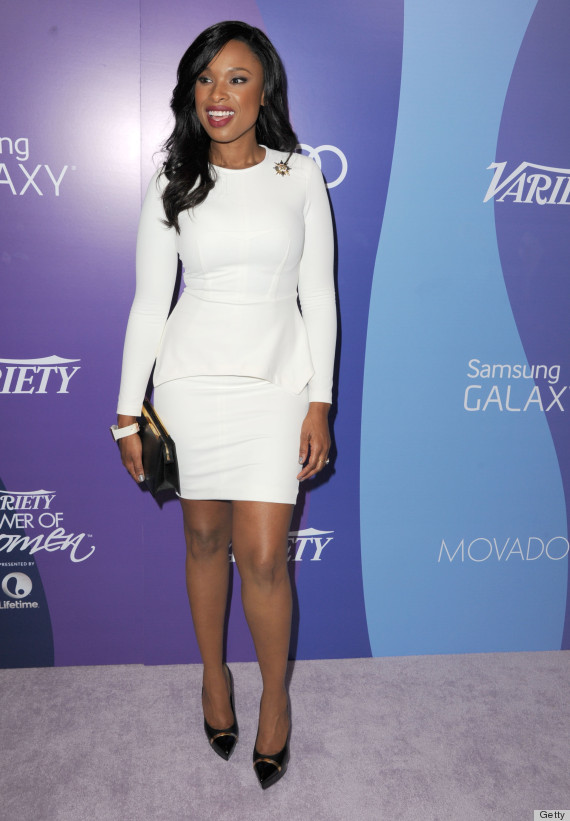 How many ways can you say fabulous? The Academy Award winner stole the show in this figure-flattering white dress. The peplum detail shows off her rockin' body, while her sultry waves and sleek back pumps amp up the sex appeal.
Jessica Alba in Christian Dior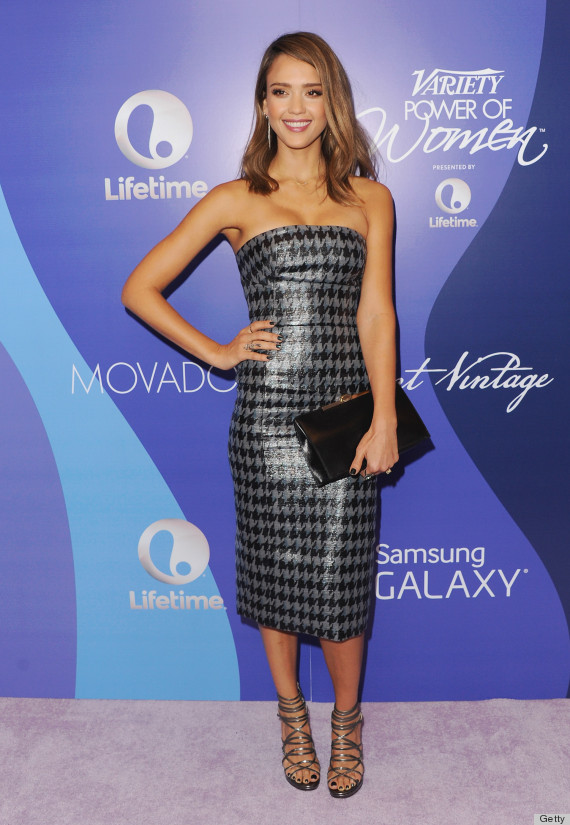 Nothing is more chic than a strapless gown. We love the houndstooth print and simple silhouette -- it really allows for Alba's curves to speak for themselves.
Julianne Moore in Givenchy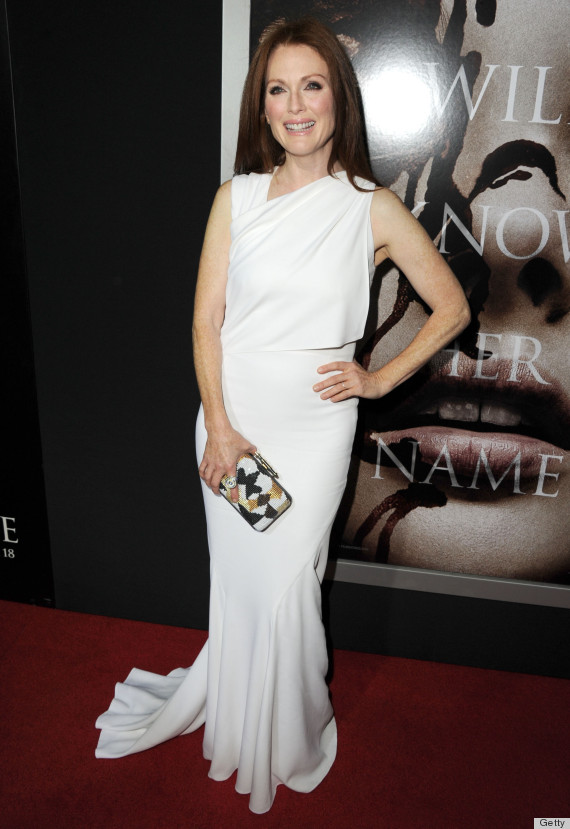 Redheads often face challenges finding colors that compliment their skin tone and hair color, but a white dress is foolproof. This gown could have easily skewed Grecian goddess, but the modern silhouette and expert draping ensure that Moore doesn't look like she is wearing a costume.
Laura Vandervoort in Alex Perry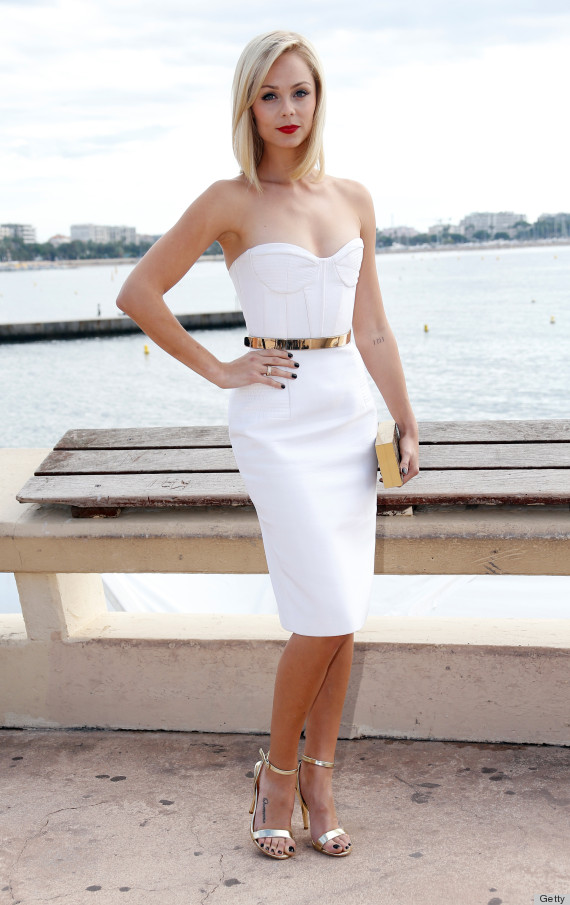 We don't know what we love most about this look. The detail in the bustier, the gold belt, her strappy sandals or that bright red lipstick.
Elizabeth Banks in Dolce & Gabbana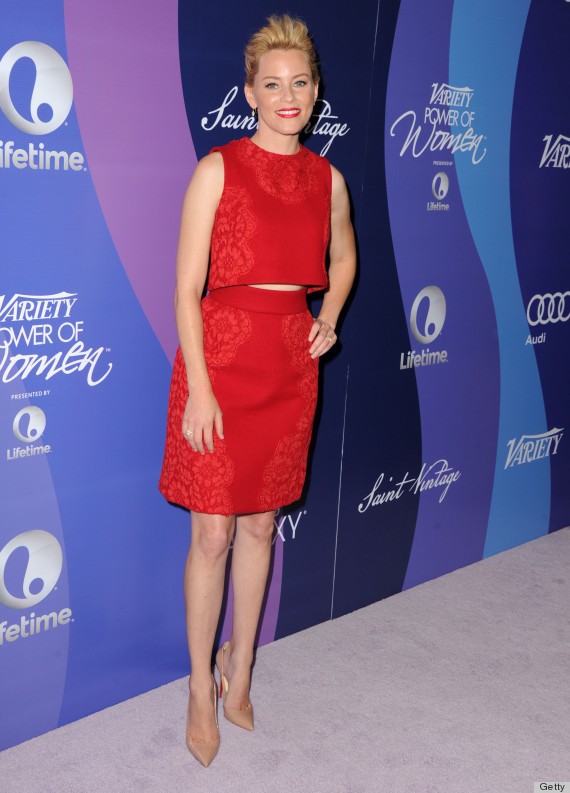 We're not wild about Banks' hair, but her outfit is spot on. The crop top trend is still going strong, and we love this demure take on the fad. The matching top and skirt help to elongate her figure, as do her nude pumps.
Penelope Cruz in Temperley London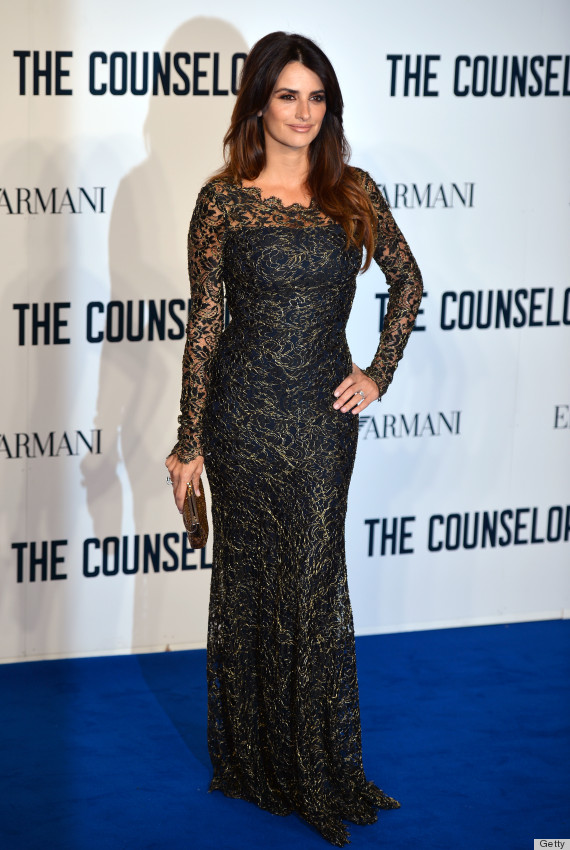 If you've ever questioned whether or not Penelope Cruz is a sex symbol, here is your answer. Her embellished black dress is so alluring, even though there isn't much exposed skin. The sheer detailing up top and the dress' curve-hugging silhouette are more than enough to show Cruz off in all her glory.
Nina Garcia in Balenciaga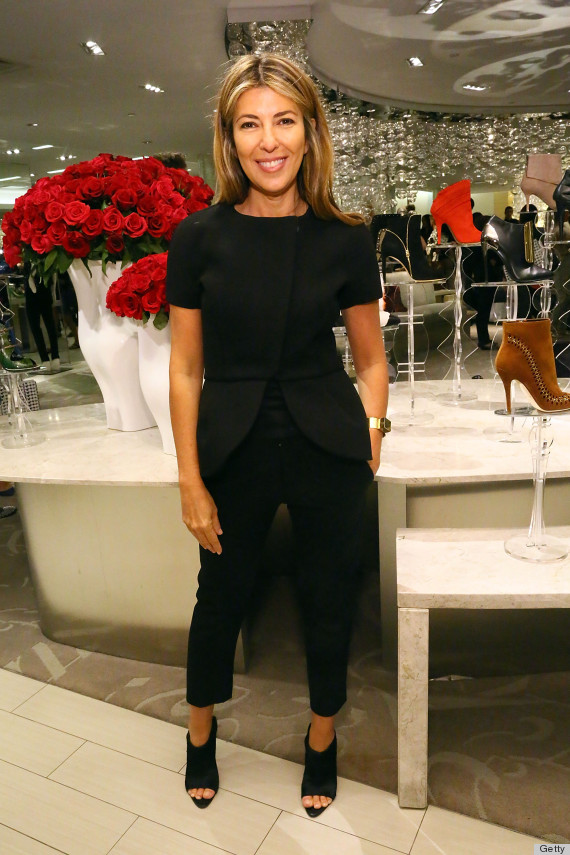 The creative director at Marie Claire proves that all black is often the way to go. Though her outfit is simple, the expert tailoring, minimal makeup and fashion-forward mules make the fashionista a force to be reckoned with.
Kerry Washington in Vince Camuto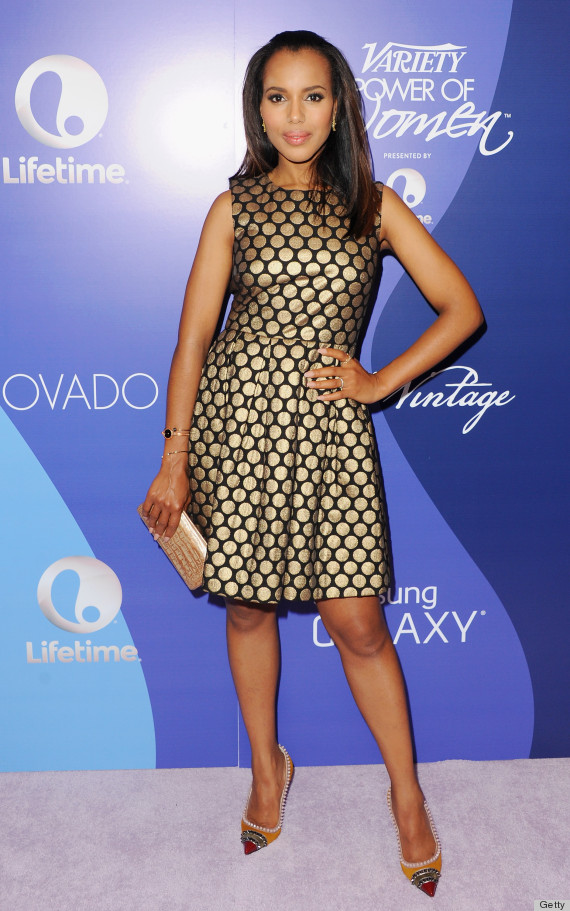 Washington is off the worst-dressed list and right where she belongs. This graphic print dress looks great on the petite star, while her edgy pumps help to toughen up her otherwise feminine look.
Charlize Theron in Stella McCartney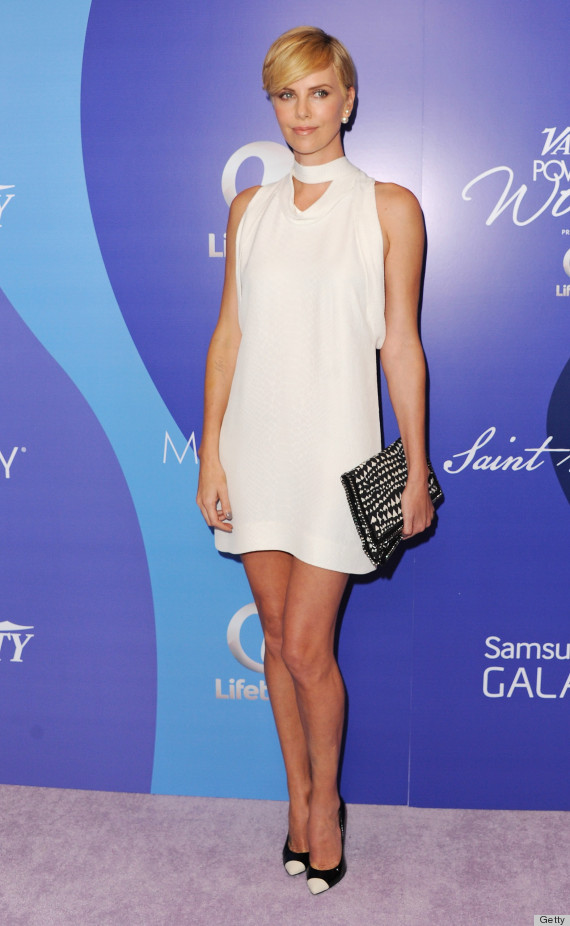 White seems to be the color of the week. We love this short shift dress on Theron, it makes her legs look even longer than they already are.
More celebs who made the best-dressed list:
Loading Slideshow
Michelle Obama in Marchesa

This dress left us awestruck. The emerald off-the-shoulder gown highlights her famous guns, while her delicate diamond necklace draws the attention towards her voluminous locks and flawless complexion.

Blake Lively in Marchesa

Lively looks like a blonde bombshell in this ensemble. Her flapper-style dress hugs her curves, and her retro waves and bold red lipstick make the look very old Hollywood.

Amy Adams in Altuzarra

It's hard to go wrong in an LBD. This one is special because of the lace detailing around the neckline and the long sleeves -- few people opt to cover their arms on the red carpet, but it can actually make a dress very sexy.

Zoe Saldana in Sachin + Babi

Though this ensemble has a lot going on, it works because Saldana stuck to a neutral color palette. The various dots and stripes work together harmoniously and make the actress look fashion-forward.

Jessica Biel In Giambattista Valli

Biel's all black outfit is so special because of the various textures in her outfit, her patterned pumps and that pink lipstick.

Lupita Nyong'o in Elie Saab

This simple red dress is perfection on Nyong'o. The color really pops against her skin tone, and the added sparkle keeps the look interesting.

Naya Rivera

Sometimes all you need is a tight, long-sleeve black top (just ask Audrey Hepburn). The laid-back nature of her shirt, paired with her grey peplum pencil skirt and strappy heels, is the perfect mix of casual and sexy.

Rooney Mara in Lanvin

There is a reason that Mara always sticks to neutral colors -- they look amazing on her. This white gown is very classic, but has a beautiful sculptural shoulder piece, which is the type of fashion risk-taking that Mara has become known for.

Lily Collins

'Tis the season for sparkle. Collins' little shift dress is adorable on her, especially when paired with thigh-high boots, tousled waves and deep red lipstick.

Reese Witherspoon in DVF

This gray dress fits Witherspoon like a glove, and the black lace detailing around the edges is very slimming.

Deepika Padukone in Gauri and Nainika

Mustard yellow is a tricky shade to pull off, especially when worn head-to-toe, but Padukone managed to make it work since she has the perfect coloring for the hue. The dress itself is very classic and when paired with pulled back hair and chandelier earrings, it makes for one glamorous look.

Evangeline Lilly in Catherine Deane

We're not sure whether it's the embroidered top, the flowing skirt or her effortless braid, but there is something about this ensemble that is so mesmerizing,

Alexa Chung

This is a perfect outfit. The oversized, menswear-inspired coat is a great compliment to her feminine, little white dress, while the red lipstick adds just the right amount of sex appeal. Her tousled waves, graphic clutch and platforms round out the look, making the style icon look fashion-forward yet effortless.

Rashida Jones in Proenza Schouler

Though Jones' oversized black dress could have easily skewed sloppy, the deep-V alludes to her slim figure, while her black bralette poking out ensured that she looked sexy.

Lea Michele in Dolce & Gabbana

Lea Michele sure did shine in this dress. Not only is red a great color choice for the season, but the tiny, expertly placed embellishments made sure she was the center of attention.

Naomi Campbell in Zac Posen

This rich burgundy gown looks amazing on Campbell. Not only does the shade work well with her complexion, but the silhouette compliments her long, lean frame.

Lily Donaldson in Marc Jacobs

Donaldson has managed to look demure in a completely sheer gown. Though her dress is revealing, the long sleeves and hemline, combined with the print, keep our attention on the dress and not what's underneath.

Lindsay Ellingson in Sophie Theallet

Aah, minimalism at its best. The blue-grey dress is so simple, yet the fit is spot on, which makes it extremely flattering. The Victoria's Secret model went with barely-there makeup and side-swept, straight hair which made the entire ensemble look very clean and elegant.

Angie Harmon in Angel Sanchez

The "Rizzoli & Isles" actress achieved perfect balance with this gown. The voluminous top works so well because it is offset by the textured, slim white skirt, while her sleek updo is ideal for the strapless neckline.

Princess Charlene of Monaco

Velvet dresses aren't just for the holiday season anymore. Though many people are scared of the fabric because it can easily look outdated, if it's worn in a modern silhouette (and with a fierce red lip), it can be lovely.

Jennifer Lawrence in Christian Dior

The "Hunger Games" heroine's press tour has been rough (there have been a few worst-dressed moments), but she seems to have found her footing in this vanilla-colored strapless gown with a crystal embellishment. It's refined yet beautiful, and the slightly higher hemline in the front of the dress allows us to see her delicate strappy shoes. This is also the best neckline to show off her new short 'do.

Amy Adams in Vivienne Westwood

Sometimes less is more, as proven by Adams. The dress itself is rather simple, but the grape color really pops against her fair skin and makes this a standout look.

Eva Longoria in Victoria Beckham

Longoria's dress is a very wearable take on the popular lingerie trend. The lacey straps on her gown are a subtle nod to the fad, but the actress kept the rest of her look classic, making this an ensemble that can stand the test of time.

Kiernan Shipka in Miu Miu

The 14-year-old "Mad Men" star looked cute and age-appropriate in this matching top and skirt combo. But what really put this ensemble over the top was her tri-colored pumps.

Naomie Harris in Burberry

Long, clean lines are what make this outfit so successful. Harris' pin straight hair and floor-length gown are making her look 10 feet tall.

Julia Louis-Dreyfus in David Meister

This body skimming black dress is a great silhouette for the "Veep" star. It is hugging her in all the right places, while the keyhole embellishment is adding just the perfect amount of bling to her otherwise neutral look.

Elizabeth Banks in Alexander McQueen

Wearing feathers on the red carpet is often a challenge, as they can easily come off as costumey. But here, the "Catching Fire" star paired them with an elegant, long navy dress featuring a sleek halter neckline, which balanced out the playful plumage.

Michelle Jenner in Christian Dior

This jewel-encrusted white dress is a real show-stopper. The interesting neckline is a nice departure from what we usually see on the red carpet, and her graphic pumps kick the look up a notch.

Zoe Saldana in Calvin Klein

Saldana's dress may have been simple and clean, but it definitely wasn't boring. The grid pattern on the dress added a bit of visual interest, while her gold belt, red lipstick and sparkly pumps took the look from ordinary to extraordinary.

Lily Collins in Givenchy

It's not news that slip dresses are having a moment right now, but the challenge is making them look appropriate for the outside world (and not like lingerie that wandered out of the bedroom). Here, Collins opted for a red silk dress with lace detailing, and she made the outfit very glamorous with red lipstick and intricate pumps.

Allison Williams in Misha Nonoo

This outfit is spectacular on every level. First of all, the oversized button-up shirt paired with that black silk faille dirndl skirt is genius -- so simple, yet so elegant. And her beauty look is spot on, too. Her slicked-back hair and red lipstick are the perfect compliment to her effortless ensemble.

Jessica Biel in Christian Dior

This is a great LBD with a twist. The yellow embroidery and white and lilac panels made this a nice dress to transition into cooler weather. We also love that she matched the yellow detail in her shoes to her outfit.

Natalie Portman in Christian Dior

When you wear a jumpsuit, the fit needs to be perfect. And here, Portman made it clear that this one was tailored to fit her body exactly. The fold-over top gives the look dimension, while the bodice fits right against her ribcage, showcasing her curves.

Rita Ora in Calvin Klein

We couldn't be more pleased to see Rita Ora on the best-dressed list this week -- it's about time. The singer finally pared back her look and went with a classic, long black dress, simple makeup and sultry waves. This is the Rita Ora we want to see more of.

Rose Byrne in Jonathan Saunders

This dress is so simple, yet so beautiful. The Australian actress found a great color and silhouette for her body.

Naomie Harris in Vivienne Westwood Gold Label

A print on the red carpet can be tricky to pull off if it's not the right color or the right size. But this graphic black and white pattern is doing wonders for the actress. The cut of the dress, the off-the-shoulder neckline and the darting is extremely figure-flattering, and her choice of turquoise pumps makes the outfit that much more exciting.

Kiernan Shipka in Preen

Seriously, how is the "Mad Men" star only 14 years old? She always kills it on the red carpet, and this white look is no exception. The asymmetrical hemline is a nice detail, while the geometric print on her shirt keeps her ensemble age appropriate.

Poppy Delevingne

We'll admit that Poppy's dress is a little summery for this time of year, but the photo was taken in Los Angeles, so we'll give her a pass. The cut of this frock is what makes it so successful. It is fitted up top and flares out to a midi-length that is so flattering on the tall socialite. We are also in love with her Valentino ankle booties.

Jessica Biel in Chanel

We love the simplicity of Biel's white strapless gown and how her neckpiece is so elegantly draped over her shoulders. This look is just fashion-forward enough without being too much. It looks like Mrs. Justin Timberlake doesn't just have good taste in men.

Kate Hudson in Gucci

There are so many things that are right with this gown. The plunging neckline works so well on Hudson, especially when paired with a more demure skirt. She looks refined and sexy, all at once.

Kat Dennings in Naeem Khan

This dress is amazing on Dennings. The color, pattern and cut all work together to make her look fabulous. Her choice of pumps is also spot-on, as their nude color is making her legs look longer.

Poppy Delevingne in J'Aton Couture

If you ignore the crown (in her defense, she was at a derby), her dress is actually quite pretty. The lace detailing and tiering at the bottom are very delicate and make this a stunning ensemble.

Jennifer Garner in Max Mara

We know, we know, it's after Labor Day, but something that looks this good can't possibly be wrong. While the color choice may not be ideal for November, the cut and fit are. We are obsessed with Garner's minimal jewelry and sleek updo. She deserves an A+.

Li Bingbing in Elie Saab

There is perfect balance in this look, and that's why it works so well. Though the actress went with wide sleeves, they don't overwhelm the ensemble because of the short hemline. We also love how she has injected a little personality into the outfit by wearing red heels and red lipstick.

Kate Beckinsale in Gucci

This pale blue hue is heavenly on the brunette actress. The strapless dress with the nipped-in waist highlights all her best assets, and her side-swept locks help to draw attention towards her bold brows and minimal makeup.

Taylor Swift in Elie Saab

Now this is a dress. Red looks great on Swift (no wonder that's the title of her latest album), and the embellishments and long train on the gown are just enough drama for the red carpet.

Jana Kramer in Theia

The country music singer hit it out of the park with this outfit. The combination of the full, printed skirt with the long-sleeved black top is so laid back, yet so effortlessly chic. It is very reminiscent of Audrey Hepburn.

Kelly Rowland

A LBD is a classic, but we love how this particular one has a plunging back. It keeps us on our toes and makes things interesting.

Natalie Portman in Dior

So simple, yet so elegant. The princess-style dress looks gorgeous on the "Thor" star. Portman is the picture of Hollywood glamour.

Blake Lively in Balmain

It's rare that we see off-the-shoulder done so well on the red carpet. Lively's bouclé houndstooth dress looks stunning against her complexion. The sparkly, gold-accented is fashion-forward, while the flouncy skirt helps to keep the look young and fun. Clearly, she has learned something from her "Gossip Girl" days.

Dita Von Teese

If anyone understands sex appeal, it's Dita Von Teese. This outfit is so alluring, without being too sexy. Her head-to-toe black ensemble shows off her curves (thanks to that belt), while her leather gloves, red lipstick and expertly coiffed hair pull everything together.
Want more? Be sure to check out HuffPost Style on Twitter, Facebook, Tumblr, Pinterest and Instagram at @HuffPostStyle.