The Colosseum in Rome is sporting a scaffolded look this fall while awaiting renovations to its exterior. Work recently began on a three-year project that will clean the site, rebuild the exterior arches and reportedly open 25 percent more of the Colosseum's tunnels and cages to tourists.
Tod's, Italy's luxury shoe brand, is footing the 25 million euro cost of the project -- that's 33 million dollars! -- in exchange for "promotional opportunities." The restoration should be complete by 2015.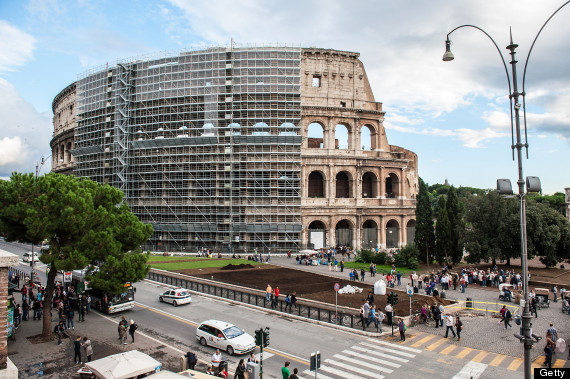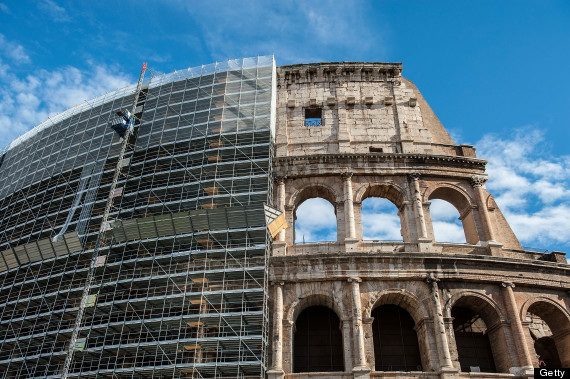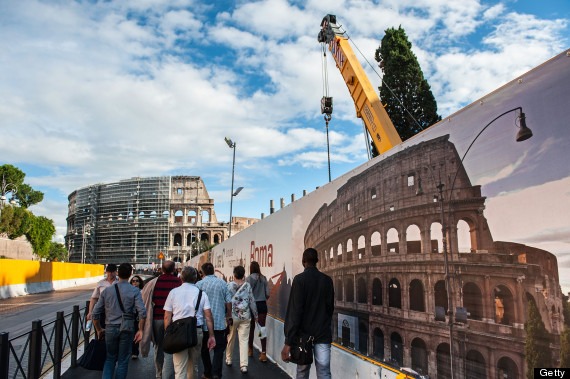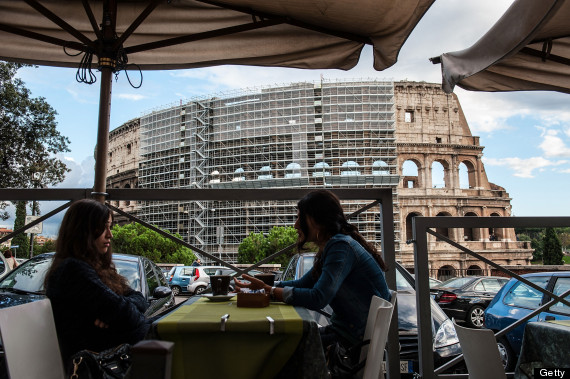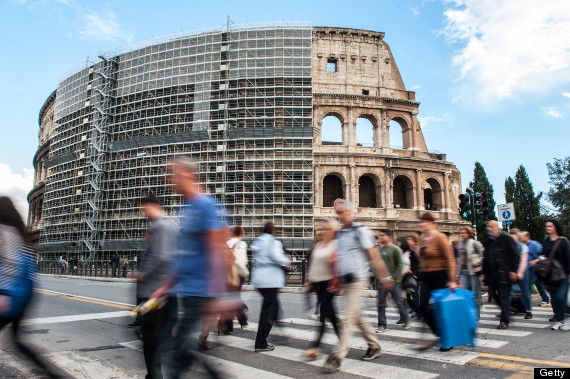 Loading Slideshow
This picture shows visitors inside of the Colosseum during a preview of the night tour 'The moon over the colosseum' late on May 2, 2013 in Rome. 'The moon over the colosseum', a guided tour at night of the Flavian Amphitheatre will take place from May 5 to October 6, 2013 every Thursdays and Saturdays.

Women belonging to historical groups march dressed as ancient Romans during a parade in front of the coliseum to mark the anniversary of the legendary foundation of the eternal city in 753 B.C, in Rome on April 21, 2013.

ROME, ITALY - APRIL 21: Actors dressed as ancient gladiators march in front of the Coliseum in a commemorative parade during festivities marking the 2,766th anniversary of the founding of Rome on April 21, 2013 in Rome, Italy. The capital celebrates its founding annually based on the legendary foundation of the Birth of Rome. Actors dressed as the denizens of ancient Rome participate in parades and re-enactments of the ancient Roman Empire. According to legend, Rome had been founded by Romulus in 753 BC in an area surrounded by seven hills.

People unfold a giant rainbow flag as they march past the Colosseum during the Gay Pride parade in Rome, Saturday, June 15, 2013.

Protesters walk past Rome's Colosseum during a demonstration staged by the Italian Labor Unions to protest against Government's labor policies, Saturday, June 22, 2013.

This file picture taken on January 18, 2013 in Rome shows a placard reads 'No entrance during works' in front of the Colosseum. Italy's culture minister assured UNESCO on June 30, 2013 that efforts were being made to restore the long-neglected Roman city of Pompeii, after the United Nations organisation urged the country to speed up repairs. Long-delayed repairs to the 2,000-year-old Colosseum in a project funded by Italian billionaire Diego Della Valle to save the crumbling monument didn't start so far.