Charlie the Great Dane is so much more than a pet to a family from County Clare in Ireland.
The primary role he plays is that of bodyguard to their 3-year-old daughter Brianna Lynch.
Story continues after photo.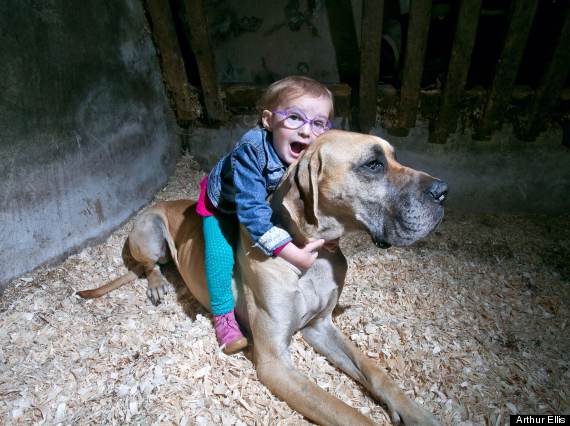 Brianna suffers from epilepsy and experiences frequent seizures, the Clare Champion reports.
"She is quite a complex child," her mother, Arabella Scanlan, told the Champion, "She forgets to breathe and then goes into seizure. She has gone through eight different types of medicine and it now looks like she needs brain surgery."
Her family watches out for her 24 hours a day as a result of her condition, but they can't always act preemptively to keep her from injuring herself during her episodes. That's where Charlie comes in. The 2-year-old pooch's keen senses allow him to detect Brianna's seizures 20 minutes before her symptoms manifest. He'll then hold her gently against a wall until someone can administer a sedative.
"Charlie is so sensitive to her needs -- if the other dogs get boisterous, he will stand by her side to ensure she doesn't get knocked over," Scanlan told the Irish Times. "We know, when he is acting strange, she is going to have a seizure."
Charlie's story comes less than a week after a rescued pit bull made the news for saving a 4-year-old boy's life. The boy's family rescued the dog hours before he was set to be euthanized, and just days later, he alerted them when their son's blood sugar levels dipped dangerously low in the middle of the night.
This post has been updated to reflect that Dan Danaher is a staff reporter with the Clare Champion.
ALSO ON HUFFPOST:
PHOTO GALLERIES
Little Boy And His Bulldog Are Best Friends