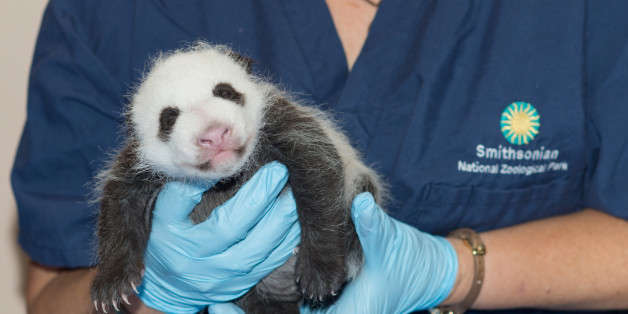 If there's one thing that's black and white about the government shutdown, it's that we are desperate for news about the National Zoo's baby panda.
With the panda cam no longer trained on mother panda Mei Xiang and her baby girl -- two months old in a little over a week -- we turned to the only place we could.
Sonja Grace is a self-described animal psychic and "energy surgeon" based in Oregon. Going into week three of no news from the zoo itself, Grace tells HuffPost she made a psychic connection with the panda on Monday morning, and -- phew! -- that "I do see the baby as being fine. I don't think there's any problems."
Grace says that she was "a little worried" when she first saw the baby -- who was 3.07 pounds, with eyes still sealed shut, when last we heard -- because she was "laying on the floor."
But a heartbeat was quickly established, and Grace -- who believes the shutdown will end on Wednesday -- says that to her the panda's eyes seem to be open and the baby is a little bigger than in her last photos. When Grace asked the cub how she's feeling, she got a mixed response: "I got there was some congestion in her nose and lungs, and I did clear them out. I also really got the sense, when she communicated with me, she said, 'I'm not real interested in being here in captivity.'"
"She's really cute," Grace says, adding another uncontroversial observation.
"This baby panda, it so symbolizes hope for this country. And our country is in such a state right now with the government shutdown that we all are looking for that ray of hope," she says. "And all I can say, and you can quote me on this, is turn the camera back on."

PHOTO GALLERIES
Panda Overload!