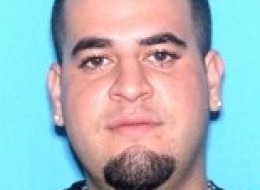 A Miami man who jumped from a moving commuter train last week to retrieve his forgotten cellphone has died.
Hospital staff told The Palm Beach Post that Eddie Diaz, 26, was taken off life support Friday after sustaining critical injuries on October 6.
Diaz had just boarded a Tri-Rail train at a West Palm Beach station when he realized he left his phone on a bench, police report. He then broke the glass on the emergency stop cord and pried open the front passenger doors.
(In the above video, watch footage of Diaz from onboard the train just before he jumped.)
When he leaped from the train, police say he landed on a wet platform and sustained a serious head injury.
One passenger with a background in sports medicine came to his aid.
"It looked like he was going into shock. It was just the back of the head and his nose was bleeding," she told WPTV. "He was not able to talk but I asked him if he was able to blink or move his mouth and he was able to move his mouth for me."
"It's just not worth it to risk your life for something so frivolous," a Tri-Rail spokesperson told WPEC.
The Post reports that the family is donating his organs.