Bishop T.D. Jakes Rebukes Reality Show 'Preachers Of L.A.' (VIDEO)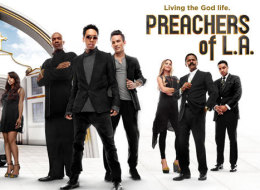 "You see my Bentley, and you see my glory, but you don't know my story!" are the unforgettable words spoken on a promo trailer for the Oxygen's latest reality series, "Preachers of L.A."
And while the show, which centers around the lavish lives of a group of Los Angeles megachurch pastors, reportedly netted the network's strongest Wednesday premiere on October 9 with 1.1 million viewers, Bishop T.D. Jakes has made it clear that he doesn't want to hear any stories told by the Primetime ministers.
This past weekend, during Jakes' Sunday morning service at his Potters House church in Dallas, the influential spiritual leader set aside a portion of his sermon to address the cast in addition to declaring that he's "not bling-blinging" and that he's far from being a "shake and bake" preacher.
"Now, I know you been watching that junk on TV. I want to tell you right now, not one dime of what you're sowing right now will buy my suit. I want you to know my car is paid for. I want you to know I got my house on my own. I want you to know I'm not bling-blinging. I am not shake and bake. I had money when I came to Dallas and I plan to have some when I leave.

You did not buy what I got. I had it when I came here. You know I had it when I came here. The devil is a lie! I have sold enough books and produced enough movies. I don't need your offering to pay for this little slimy suit. So I rebuke that spirit in the name of Jesus Christ."
Check out more of Bishop T.D. Jakes' sermon in the clip above.