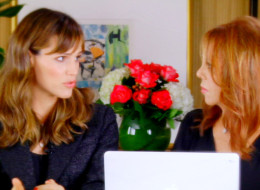 How does Jennifer Garner talk to her kids about bullying? This week on Mondays With Marlo, she told me that she reads books with her children that deal with the subject of bullying. The books introduce the concept of bullying, and Jennifer asks them what they would do in certain situations.
Check out Jennifer's newest film, "Dallas Buyers Club," coming to theaters in November.
See below for more on Jennifer's life in and out of the spotlight:
Actress, producer, child advocate and supermom, Jennifer Garner does it all! Here, she arrives at the "Dallas Buyers Club" premiere at the 2013 Toronto International Film Festival.

Jennifer stopped to take a photo with an adoring fan at the premiere of "Dallas Buyers Club" in September 2013.

In August 2013, Jennifer testified before the Assembly Judiciary Committee alongside Halle Berry in support of a bill that would limit the paparazzi from photographing the children of celebrities. The bill passed in late September.

Jennifer has been married to fellow actor Ben Affleck since 2005. The couple has three children together -- Violet (7), Seraphina (4) and Samuel (2). Here they arrive at the 85th Academy Awards in February 2013.

There's a reason that Jennifer was named Celebrity Mother of the Year by "Today's Parent" magazine in 2012! The attentive mom is known to be hands-on with her kids and is often considered one of the most relatable celebrity moms.

Jennifer stunned on the red carpet at the EE British Academy Film Awards in February 2013.

In 2012, Jennifer appeared in "The Odd Life of Timothy Green," about a magical boy who changes the perspectives of those he encounters.

As a doting mother, Jennifer is often spotted with one of her three children in her arms. Here she is with Seraphina in October 2011.

In 2011, Jennifer produced her first film, "Butter," about the drama surrounding the Iowa State Fair butter-carving contest. She also starred in the film, taking on the role of antagonist Laura Pickler.

Jennifer attended the premiere of "Arthur" in 2011 with costars Greta Gerwig, Russell Brand and Helen Mirren.

Ben and Jennifer may be movie stars, but they make sure to spend quality time with their kids. Here they are with Violet and Samuel in August 2013.

Jennifer shared a laugh with Anne Hathaway at the premiere of their movie, "Valentine's Day," in 2010.

Jennifer with St. Jude patients, Asia, Ethan and Samantha in 2009.

Jennifer walked the red carpet with costars Ricky Gervais and Rob Lowe for the premiere of "The Invention of Lying" in 2009.

In 2007, Jennifer appeared on Broadway in the revival of "Cyrano de Bergerac" alongside Kevin Kline.

Jennifer and Jamie Foxx arrived at the London premiere of "The Kingdom," an action-packed thriller, in 2007.

In 2007, Jennifer received the Glamour Magazine Women of the Year Award. She was honored for her impressive ability to successfully juggle her acting career and family life with grace.

Ben Affleck is a huge Boston Red Sox fan, and Jennifer has become one too during the course of their marriage. The pair can often be spotted catching a game at Fenway Park.

Jennifer is the middle child -- she has an older sister, Melissa, whom she has cited as a source of inspiration and a younger sister, Susannah. Here the siblings appear on "The Jay Leno Show" in 2003.

Jennifer's role as double agent Sydney Bristow on the hit TV show "Alias" propelled her into the spotlight. She accepted the award for favorite new television dramatic series on behalf on the cast at the 28th Annual People's Choice Awards in 2001.
Add Marlo On Facebook:
Follow Marlo on Twitter:

Weekly Newsletter

Sign up to receive my email newsletter each week - It will keep you up-to-date on upcoming articles, Mondays with Marlo guests, videos, and more!

Sign up here