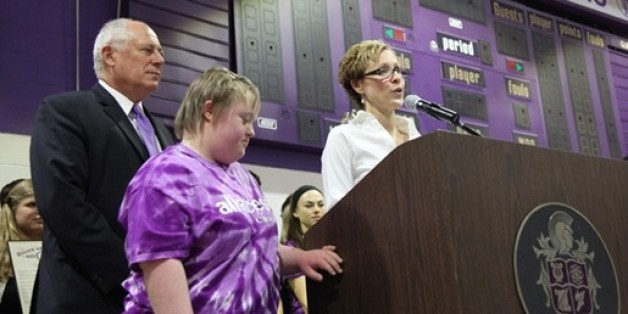 One Illinois high school's selection for homecoming queen was deemed so "inspiring," the state's governor moved to honor all the school's staff and students.
Tuesday, Illinois Gov. Pat Quinn proclaimed Oct. 15 "Downers Grove North High School Day in Illinois" after the students rallied to elect 18-year-old senior Annie Wagner as their homecoming queen the previous month.
Wagner has Down syndrome and battled leukemia during the last few years. Her diagnosis forced her to miss half of her sophomore year and nearly all of her junior year as she recovered.
"We believe in inclusion, everybody in, nobody left out," Quinn said during a Tuesday ceremony honoring Downers Grove North. "Your high school, I think, showed in a very vivid, meaningful way, what including everyone is all about. And I want to make sure we continue that in the state of Illinois."
It was recognition Annie and her family did not take lightly.
"It's a memory that we're going to treasure forever," Annie's mother, Amy, told CBS Chicago. "So many students have learned from these kids about unconditional friendship, innocence and self-acceptance. I would love to see that others would follow their example."
Annie's friend, Mary Doro, is the one who came up with the idea of nominating the teen. Doro said she couldn't think of a "more perfect person" to win the honor than Annie and sought her mother's permission to make the nomination.
"When you are the parent of a child with special needs, it is unfortunate but true that the idea of your child being given the honor of homecoming queen is quite honestly not in your realm of thinking," Amy Wagner told the Daily Herald. "There are so many facets to this story because not only did the senior class recognize and honor someone's differences, but they also recognized another friend's struggles and admired Annie's courage and strength as Annie has been battling leukemia for the last year and a half."
Annie was awarded her title in a September homecoming ceremony. Amy Wagner told the Tribune her daughter said, "I won. I have friends here." Wagner added, "She knows the support she has here."
ALSO ON HUFFPOST:
PHOTO GALLERIES
People Receive The Best News Ever